This recipe for zephyr pancakes will wow your pancake-loving family! Incredibly light and tender, they literally melt in your mouth!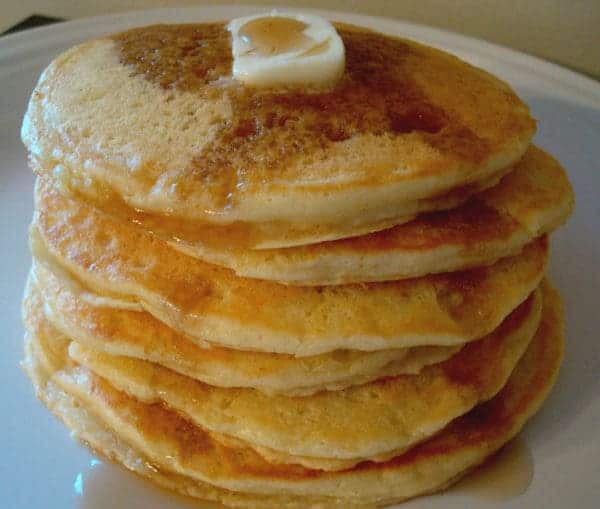 I don't like pancakes. I repeat: I don't like pancakes!
They are my least preferred breakfast option, but regardless of that preference, I decided to make these Zephyr Pancakes for my kids one night for dinner when my husband was gone all evening.
And I could not stop eating them.
Really. I ate at least 5 (ok, 7). True to their description (from the King Arthur Flour Baker's Companion), they are "incredibly light and tender and literally melt in your mouth." They are so, so delicious.
Granted, they aren't the healthiest pancake around, but I gladly ignored that while I gorged myself.
Maybe next time I'll add whole wheat flour to make myself feel better.
Additionally, these pancakes puff up abnormally high. While they were cooking on the griddle, my 3-year old exclaimed, "Look mom! That pancake is growing up!"
Yield: 6-8 servings

Prep Time: 10 minutes

Cook Time: 10 minutes

Total Time: 20 minutes
Ingredients
2 cups (8 1/2 ounces) all-purpose flour
2 1/2 tablespoons (1 3/4 ounces) sugar
1 1/2 teaspoons baking powder
1 teaspoon baking soda
1/2 teaspoon salt
3 large egg yolks
1 1/4 cups (10 ounces) heavy cream
1 1/4 cups (10 ounces) buttermilk
2 tablespoons (1 ounce) butter, melted
1 teaspoon vanilla extract (optional)
Instructions
In a medium-sized bowl, whisk together the flour, sugar, baking powder, baking soda, and salt. In a separate bowl, whisk together the egg yolks, cream, buttermilk, melted butter, and vanilla. Whisk the wet ingredients into the dry, just until combined - it's okay if there are a few lumps.
Preheat and lightly grease (I didn't grease my griddle and they didn't stick) a heavy skillet or griddle. Scoop the batter onto the griddle with a 1/4 cup measure or a large spoon. Make sure the heat is slightly less than medium. The pancakes will puff up very high. When the first side is golden brown and the edges start to look dry, turn the pancakes over to finish cooking the second side. Remove the pancakes from the griddle and keep them in a warm serving dish until you have enough to feed everyone.
Recommended Products
As an Amazon Associate and member of other affiliate programs, I earn from qualifying purchases.

Recipe Source: from the King Arthur Flour Baker's Companion