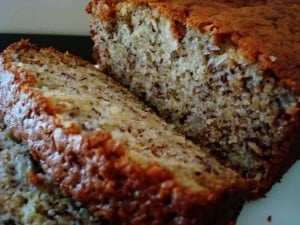 Just an FYI: this week is moving week! We are headed out to our new home in Wisconsin (we lived out there a few years ago) and because of the cross-country trip and settling into a new home, my posting will be sporadic for a bit. I'll tell you this, though, I can't wait to test out my new kitchen with some great recipes – and then the posting will pick up, I'm sure!
I've been meaning to post this banana bread recipe forever. It is utterly delicious. I know most everyone has a favorite banana bread recipe, but this is definitely worth a try. I have a go-to banana bread recipe from my Aunt Marilyn that I love – it produces a light, golden banana bread that is buttery and delicious. Having said that, I loved this "new" recipe from Leigh Anne. It was moist and tender and I loved the contrast from the recipe I usually use. I can see myself alternating between both recipes from now on!
Ingredients
1 cup sugar
1/2 cup oil
2 eggs
1 cup mashed ripe bananas (about 3 ripe bananas)
1/2 cup sour cream
1 teaspoon vanilla
1 1/2 cup flour
1 tsp. baking soda
1/2 teaspoon salt
Directions
Heat oven to 350 degrees. Grease and flour bottom only of a loaf pan (or use 3 small loaf pans). In a large bowl, beat together sugar and oil. Add eggs, bananas, sour cream and vanilla; blend well. Lightly spoon flour into measuring cup; level off. Add flour, baking soda and salt; stir just until dry ingredients are moistened. Pour into prepared pan.
Bake at 350 degrees for 50-60 minutes (about 40 minutes for smaller loaf pan) or until toothpick inserted in center comes clean. Cool 5 minutes; remove from pan. Cool completely. Wrap tightly and store in refrigerator. Makes 1 loaf.
https://www.melskitchencafe.com/sour-cream-banana-bread/
Printed from Mel\'s Kitchen Cafe (www.melskitchencafe.com)
Recipe Source: from Leigh Anne