BBQ Macaroni Salad
A unique twist on classic macaroni salad, this meaty BBQ version is utterly addicting; its perfect for a potluck, BBQ or a simple meal.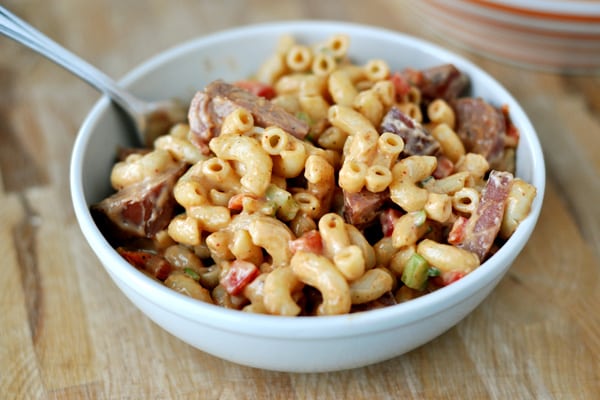 A deliciously unique twist on classic macaroni salad, this meaty BBQ version is utterly addicting and is perfect for a potluck, summer BBQ or just a simple weeknight meal.
The pasta salad, chock full of seasonings, meat (optional for all you non-meat-lovers out there) and crunchy vegetables, manages to be both flavorful and light.
The creamy BBQ/mayo sauce combined with the smoky seasonings coats the noodles with a tangy, sweet blend of flavor and tastiness.
After trying this recipe, I'm not sure I will ever want to get all crazy and venture out to make regular old classic macaroni salad again. And judging by how this was absolutely inhaled at the church potluck I brought it to – well, I'd say the BBQ version is here to stay.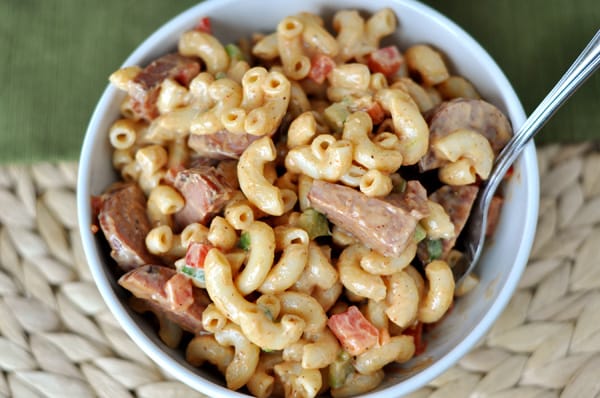 One Year Ago: Summer Garden Vegetable Soup
Two Years Ago: Foil Packet Chicken with Snow Peas and Carrots
Three Years Ago: Fusilli alla Caprese
Yield: 8-10 servings

Prep Time: 15 minutes

Cook Time: 12 minutes

Total Time: 27 minutes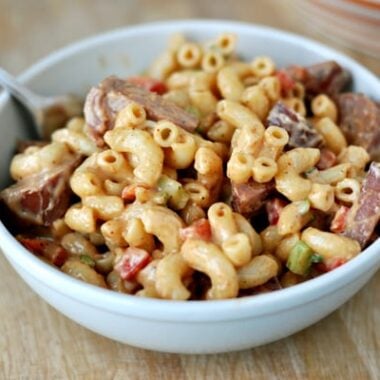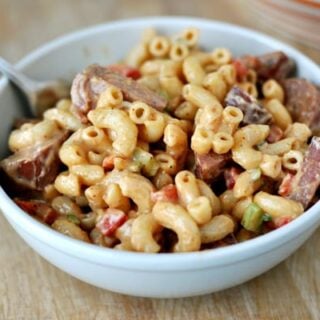 Ingredients
8-12 ounces turkey kielbasa, diced
1 pound elbow macaroni
1 red bell pepper, seeded and finely chopped
1 celery rib, finely chopped
4 green onions, sliced thinly
2 tablespoons cider vinegar
1 teaspoon hot sauce
1 teaspoon chili powder
1/8 teaspoon garlic powder
Pinch of cayenne pepper
1 cup low-fat mayonnaise
1/2 cup BBQ sauce (I used my favorite homemade recipe)
Instructions
In a large nonstick skillet, heat 1 teaspoon canola oil over medium heat until shimmering. Add the chopped turkey kielbasa and cook until browned, about 5 minutes. Transfer the meat to a paper towel-lined plate and let it cool slightly before using in the recipe.
In a large pot, bring 4 quarts of water to a boil. Add 1 tablespoon salt and the macaroni and cook until nearly tender, about 6 minutes. Drain the pasta in a colander and rinse with cold water until cool, draining again briefly. Transfer the moist pasta to a large bowl.
Stir in the kielbasa, bell pepper, celery, green onions, vinegar, hot sauce, chili powder, garlic powder, and cayenne pepper. Let the pasta sit for about 5 minutes to absorb the flavors. Stir in the mayonnaise and barbecue sauce. Season with salt and pepper to taste and serve. The salad can be covered and refrigerated for up to 2 days. Check the seasonings before serving and stir in a few tablespoons of warm water before serving, if needed to bring the salad back to it's creamy texture.
Notes
Meat: for a less meaty version, you can leave out the kielbasa entirely. Alternately, you can substitute many different types of meat for the kielbasa: deli ham, smoked sausage, etc.
Recommended Products
As an Amazon Associate and member of other affiliate programs, I earn from qualifying purchases.

Recipe Source: adapted slightly from The Cook's Country Cookbook
Disclaimer: I am a participant in the Amazon Services LLC Associates Program, an affiliate advertising program designed to provide a means for me to earn fees by linking to Amazon.com and affiliated sites. As an Amazon Associate I earn from qualifying purchases.