Candy Apple Pie
This candy apple pie is different from the classic, but is so easy, and you still get a buttery, golden crust with tender, sweet apples.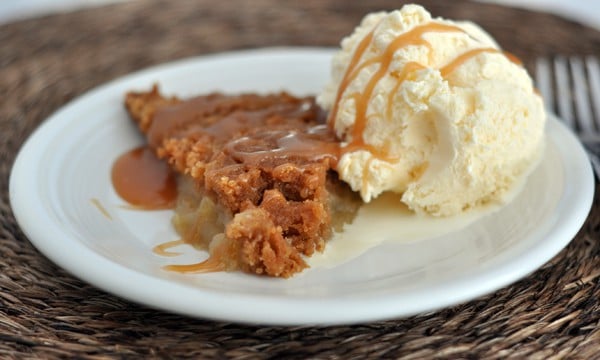 Apple pie without all the work? Um, sign me up, man.
Huh, what? You are saying this isn't really apple pie? Because the crust is on top? Jeez, details, details.
Ok, I'll give you that one. The crust is on top and it is a heck of a lot easier to work with than a traditional pie crust.
This apple pie, albeit different from the classic, is delicious, easy as (you know what's coming) pie to throw together and you still get a buttery, golden crust with tender, sweet apples.
Served with ice cream and a drizzle of caramel sauce and you have a pretty epic apple pie dessert.
You just have to think out of the apple pie box here. Take some deep breaths and you'll be fine because I promise, this candy apple pie is crazy good.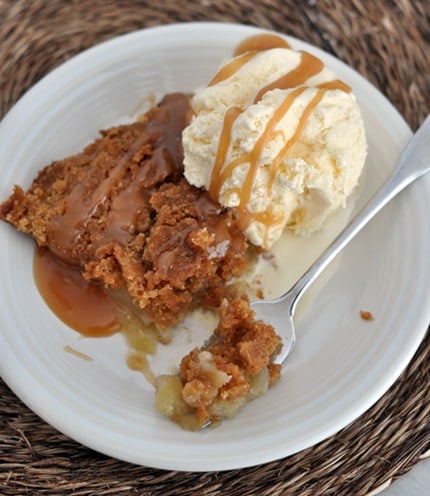 One Year Ago: Creamy Fettuccine with Ham and Peas
Two Years Ago: Apple Crisp
Three Years Ago: Creamy Orzo with Chicken, Mushrooms and Red Peppers
Yield: 8 servings

Prep Time: 15 minutes

Cook Time: 1 hour

Total Time: 1 hour 15 minutes
Ingredients
3 large Granny Smith apples
1/4 cup granulated sugar
1 cup all-purpose flour
1 cup packed light brown sugar
1/4 teaspoon salt
1/2 teaspoon ground cinnamon
Dash nutmeg
1/2 cup (8 tablespoons) butter, cut into pieces
Caramel sauce (here's my favorite homemade version)
Vanilla ice cream
Instructions
Preheat the oven to 350 degrees F.
Peel and core the apples and cut into 1/4- or 1/2-inch thick slices (depending on how tender you want the apples to be after baking). Lightly grease a 9-inch pie plate with nonstick cooking spray. Layer half of the apples the pie dish. Sprinkle with the granulated sugar.
Layer the other half of apples on top of the first layer. Process the flour, brown sugar, salt, cinnamon and nutmeg in a food processor until combined. Add the butter and pulse until the mixture is crumbly and the butter is evenly distributed in tiny pieces. Press the flour mixture evenly over the top of the pie.
Bake for one hour. Let the pie sit for 15 minutes before cutting into slices and serving warm with ice cream and caramel sauce.
Recommended Products
As an Amazon Associate and member of other affiliate programs, I earn from qualifying purchases.

Recipe Source: an old, wrinkled recipe card in my recipe binder
Disclaimer: I am a participant in the Amazon Services LLC Associates Program, an affiliate advertising program designed to provide a means for me to earn fees by linking to Amazon.com and affiliated sites. As an Amazon Associate I earn from qualifying purchases.