Toffee Crumble Caramel Apple Pie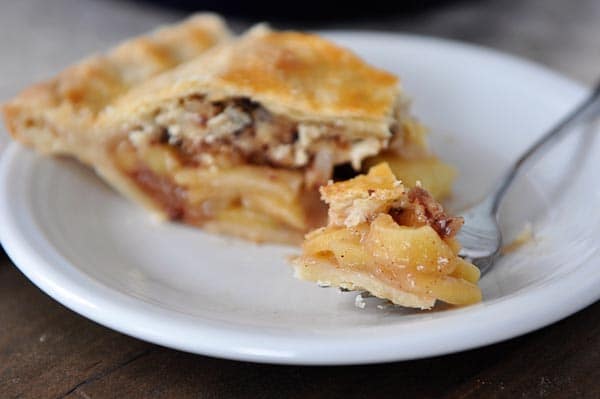 Need another apple pie recipe? Of course you do! I know I just posted another fabulous apple pie (a sour cream crumb-topped version) but this toffee crumble caramel apple pie needs a little attention, also. Actually, it needs a lot of attention – it's that good.
I've been making this pie for years, thanks to my brother, Nate, who passed the recipe along to me.
In fact, I made it for Thanksgiving this year and was reminded, again, how much I adore it.
It's unique, just enough, to make you think you might not be able to go back to traditional apple pie ever again. (But of course you will, and so will I, because apple pie should be enjoyed in all it's forms and that's the gospel truth.)
The caramel factor in this pie is subtle – magic that happens when the apples are sauteed in a bit of butter with brown sugar, a touch of flour and a few warm, delicious spices.
The process coats the apples in a creamy, golden sauce that bakes into a light caramel coating all throughout the apples.
If that weren't enough, the real reason I love this pie is the toffee chocolate crumble that sprinkles over the apples before the top crust is added.
It's like layers and layers of caramel apples with very short bursts of toffee and chocolate all encased in tender, flaky pie crust.
In honor of this pie, I created a simple flowchart answering the simple question of whether you should make this or not.
As you can see, most roads lead toward making this phenomenal pie.
Now please go through the rest of your day pretending that I didn't just spend 45 minutes making a flowchart about apple pie. While you do that, I'll work on getting a life.
Also, if you are wanting an extra boost in pie making confidence, check out my Pie Boot Camp Series HERE! The series includes:
All About Pie Making Equipment Essentials
How to Make Pie Crust (Foolproof Recipe, Rolling Out, Crimping + Video Tutorial)
All About Blind Baking + How to Do It and Why (Bonus: Chocolate Ganache Cream Pie Recipe)
Double Crust Pies and How to Make an Easy Lattice Crust (Bonus: Printable for Easy Reference to Sum Up Pie Boot Camp)
Yield: 9-inch pie

Prep Time: 25 minutes

Cook Time: 1 hour

Total Time: 1 hour 25 minutes
Ingredients
1 double crust pie dough (I use this recipe)
Filling:
6 cups sliced or diced apples, about 1/4- to 1/2-inch thick (see note)
1 tablespoon lemon juice
1/2 cup packed light brown sugar
1/2 cup granulated sugar
1/4 cup all-purpose flour
1 teaspoon cinnamon
1/4 teaspoon nutmeg
1/4 teaspoon salt
1 teaspoon vanilla
4 tablespoons heavy cream
4 tablespoons butter
Crumble:
1/2 cup all-purpose flour
3 tablespoons granulated sugar
1 tablespoon butter
3 ounces (about 1/2 cup) milk chocolate covered toffee bits (such as Heath brand) or chocolate covered toffee bars, finely chopped
1 large egg white
Granulated sugar for sprinkling
Instructions
Roll out and place one pie crust into the bottom and sides of a 9-inch pie plate, trimming to the edge of the pie plate all the way around. Preheat the oven to 375 degrees F.
For the filling, in a large bowl, toss the apples with the lemon juice. In a small bowl, combine the brown sugar, granulated sugar, flour, cinnamon, nutmeg and salt. Stir the dry ingredients into the apples (save the small bowl without washing for a later step). Add vanilla and cream and stir to combine.
In a large pot, melt the butter over medium heat. Add the apple mixture and cook for about 6-8 minutes, stirring often (and adjusting the heat if the apples start to stick to the bottom of the pot) to soften the apples just a bit.
Scoop the apple mixture into the pie shell and spread evenly.
In the same bowl you used for the filling dry ingredients, combine the flour and sugar. Cut in the butter with a fork or your fingers until the mixture resembles coarse crumbs. Stir in the chopped toffee bars. Sprinkle this mixture over the top of the apples.
Roll out the 2nd pie crust and place it on top of the pie. Leave a 1/4- to 1/2-inch overhang all the way around. Fold the top crust over the bottom crust and underneath. Press lightly to seal. Flute the edges (following this tutorial) and cut a few long slits in the top to vent the pie.
Beat the egg white with a teaspoon of water and brush the top of the pie with the egg mixture. Sprinkle lightly with granulated sugar.
Place the pie on a baking sheet (to avoid any potential leaks dripping into your oven) and bake for about 50-60 minutes until the crust is golden and the apples are soft and tender. Serve warm or at room temperature.
Notes
Apples: I have used many different apples over the years in this pie. Just lately, I used a combination of Jonogold and Honey Crisp - delicious. Look for apples that are firm and slightly sweet. If you want to use Granny Smith apples, I would combine them half and half with a sweeter apple.
Recommended Products
As an Amazon Associate and member of other affiliate programs, I earn from qualifying purchases.

Recipe Source: from Mel's Kitchen Cafe (by way of my brother, Nate)