Chicken Corn Chowder with Sweet Potatoes
This simple recipe for chicken corn chowder with sweet potatoes is so unique and delicious! Who chowder would be perfect with sweet potatoes?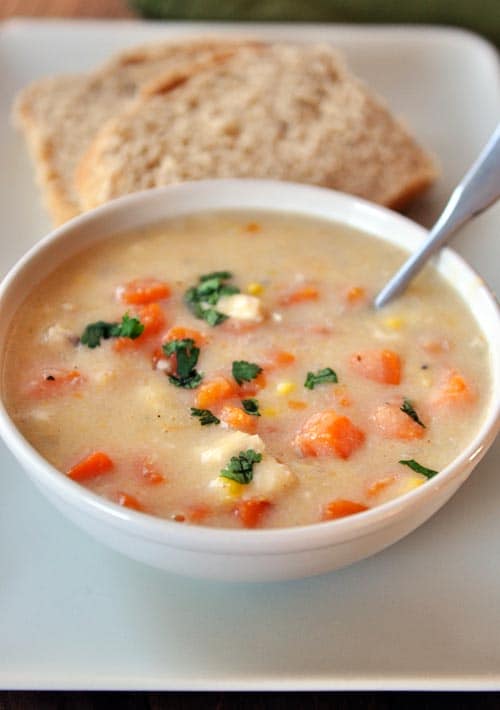 This amazing chicken corn chowder with sweet potatoes has been a family favorite for many years.
It is unbelievably delicious and is really unique with the sweet potatoes and the cornbread-style roux.
The potatoes give a yummy sweetness to the slightly smoky flavor of the chowder. Thick, creamy and hearty – this is definitely one of my favorite soups!
Be sure to season well with salt and pepper and you'll be good to go. I hope you love it as much as we do!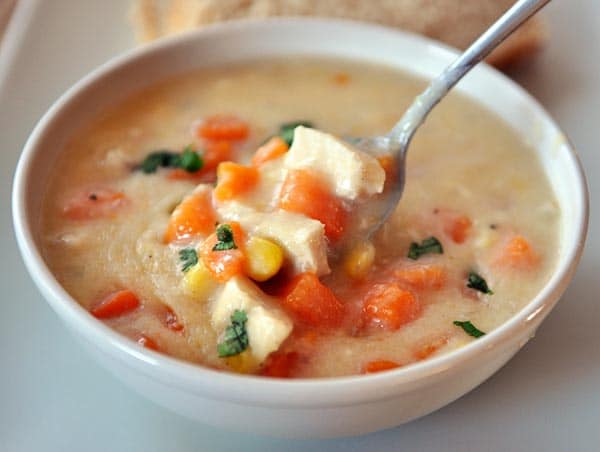 FAQs for Chicken Corn Chowder with Sweet Potatoes
Can I substitute something else for the sweet potatoes?
Yes, you can sub in regular potatoes (like russets or yukon golds).
What if I don't have jiffy mix?
You can use a bit less than 1 cup cornmeal, 1 tablespoon sugar, 1 teaspoon baking powder and a bit of salt.
Can I add more vegetables to this recipe?
Absolutely! Try sauteing carrots, celery and bell pepper with the onion!
Do I really put raw chicken in the soup?
Yes! You use raw chicken and it cooks while the chicken simmers for the eight minutes. Just make sure the chicken is cut into small pieces so it cooks quickly.

Cornbread Muffins or Cornbread and Fluffy Honey Butter
Broiled or griddled cheese quesadillas (for a fancier quesadilla these Crispy Cheese Wraps)
Fresh, seasonal fruit
Chicken and Corn Chowder with Sweet Potatoes
Ingredients
3 cups milk
1 cup dry yellow cornbread mix (see the note above for my homemade version)
2 tablespoons butter
1 onion, chopped fine
3 garlic cloves, minced
1/2 teaspoon ground cumin
1/2 teaspoon dried oregano
2 quarts low-sodium chicken broth
1 1/2 pounds boneless, skinless chicken breasts, cut into 1/2-inch cubes
2 sweet potatoes (about 1 1/2 pounds), peeled and cut into 1/2-inch pieces
1 cup shredded Monterey Jack Cheese
3 cups frozen corn
1/2 cup chopped fresh parsley
Salt and pepper, to taste
Instructions
Mix milk and muffin mix in bowl until well combined. Meanwhile, heat butter in large pot over medium heat until foaming. Add onion and cook until softened, 4-5 minutes. Stir in the garlic, cumin and oregano and cook until fragrant, about 30 seconds. Add the broth, chicken and sweet potatoes. Bring to a boil, reduce the heat, and simmer until the sweet potatoes are just tender, about 5-8 minutes (they'll cook longer in the next step).
Whisk the milk/muffin mixture to recombine and then whisk it into the soup. Simmer the soup, stirring occasionally, until the soup thickens, about 10 minutes, and the potatoes and chicken are tender.
Stir in the cheese and corn and cook, stirring, for another 1-2 minutes. Stir in parsley and season generously with salt and pepper to taste.
Notes
Milk: I usually use 1% milk - you can use whole, 2%, 1% or probably even skim (haven't tried the skim version myself though).
Cornbread: in place of the prepackaged cornbread mix I use: 1/2 cup yellow cornmeal, 1/4 cup white or whole wheat flour, 1 tablespoon sugar, 1/2 teaspoon salt, 1/2 tablespoon baking powder, 1/4 teaspoon baking soda. I whisk it together in a bowl and pour the milk over it to combine in step 1 of the recipe.
Recommended Products
As an Amazon Associate and member of other affiliate programs, I earn from qualifying purchases.
Recipe Source: adapted from Cook's Country
Disclaimer: I am a participant in the Amazon Services LLC Associates Program, an affiliate advertising program designed to provide a means for me to earn fees by linking to Amazon.com and affiliated sites. As an Amazon Associate I earn from qualifying purchases.