Chicken and Vegetable Dumpling Soup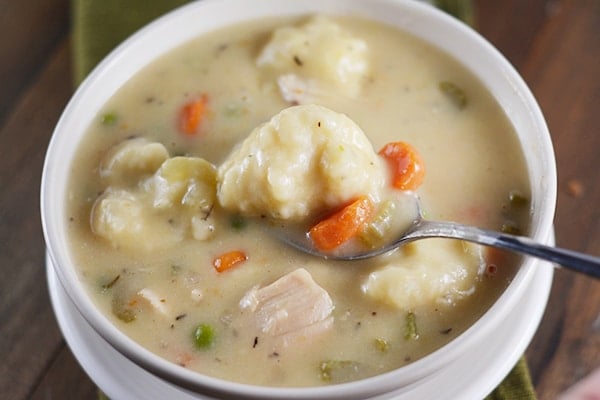 The ultimate in comfort food, this soup was our solace for being trapped in the house far too long with subzero temperatures raging outside (oh, spring, wherefore art thou??).
My Aunt Marilyn sent me the recipe, and there was no doubt I would try it when I knew she had been making it and loving it for years and also has used it as a wonderful take-in meal.
It's is a delicious and unique twist on traditional chicken noodle soup, and the overall flavor is out of this world (not to mention the way my house smelled while cooking it – crazy good).
Slightly creamy and chock full of vegetables and tender chunks of chicken, the chicken soup is elevated to a whole new level by the addition of steamed morsels of dumplings.
Soft and delicate, the dumplings compliment every bite of this tummy-warming soup.
Talk about a hit with my kids. Well, me and Brian, too.
Every time we make this, I wonder why we aren't eating it every single night; it's fantastic (all except the part where we all throw elbows for access to the last dumpling).
Update: after almost five years, this soup needed a facelift! I've updated the pictures and streamlined the recipe to be even easier (didn't change much, just cut back on the oil and eliminated the need to use an extra skillet and also added notes for using leftover chicken in place of uncooked chicken).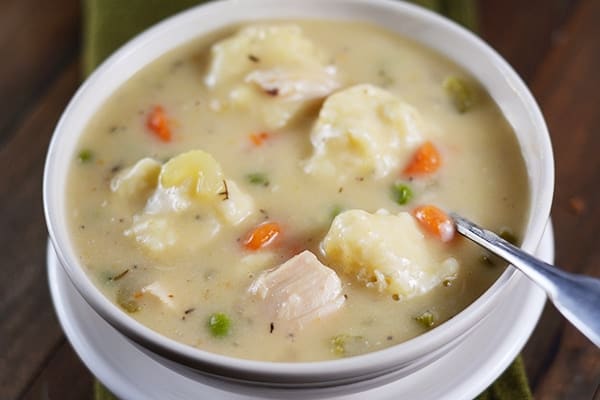 One Year Ago: Lemon and Garlic Grilled Chicken
Two Years Ago: Super Moist Fudge Bundt Cake
Chicken and Vegetable Dumpling Soup
Yield: 6 servings

Prep Time: 15 minutes

Cook Time: 28 minutes

Total Time: 43 minutes
Ingredients
Soup:
1-2 teaspoons olive oil
2-3 stalks celery, chopped
2-3 large carrots (or 8-ish baby carrots), chopped
1 medium yellow onion, chopped
4 cups low-sodium chicken broth
4 cups water
1 1/2 pounds boneless, skinless chicken breasts (2-3 medium) or use precooked chicken (see note above)
1 1/2 teaspoons salt
1 teaspoon dried thyme
1/4 teaspoon pepper
1/2 cup water + 1/4 cup all-purpose flour to thicken
1/2 cup frozen peas
Dumplings:
1 cup flour
2 teaspoons baking powder
1/2 teaspoon salt
1/4 teaspoon dried thyme or sage
1/2 cup sour cream
1/2 cup milk
1 tablespoon vegetable or canola oil
Instructions
In a large pot, heat the oil over medium heat. Add the celery, carrots, and onion. Cook for 2-3 minutes, stirring often. Add the chicken broth, water and chicken (if using uncooked chicken). Bring to a simmer and cook for 10-15 minutes until the chicken is just cooked through. Remove the chicken to a plate. Stir in the salt, pepper and thyme.
In a small bowl, blend the 1/2 cup cold water and 1/4 cup flour with a wire whisk until smooth. Whisking vigorously, slowly add the flour mixture into the hot broth and whisk until well combined. Stir in the frozen peas and bring the soup back to a simmer. Cut up the cooked chicken and add it back into the soup.
For the dumplings, in a medium bowl, stir together the dry ingredients. In a separate bowl, combine sour cream, milk and oil. Add the liquid ingredients to the dry ingredients and stir just until combined (don't overmix, it is ok if there are a few dry spots of flour here and there).
Drop teaspoonful amounts (the dumplings should be fairly small, they'll expand while cooking) of dumpling dough into the boiling soup, covering the entire surface of the soup. Cover the pot and simmer the soup and dumplings for 12-15 minutes. Do not lift the lid of the pot while the dumplings cook.
When the dumplings have cooked fully, remove the lid and gently stir the dumplings to break them apart. Serve.
Notes
Very often, I make this with leftover chicken or turkey. I just omit cooking the chicken in the broth and water at the beginning and add the leftover, cooked chicken with the peas.

Recipe Source: adapted from my Aunt Marilyn