Cream Cheese Chicken and Vegetable Soup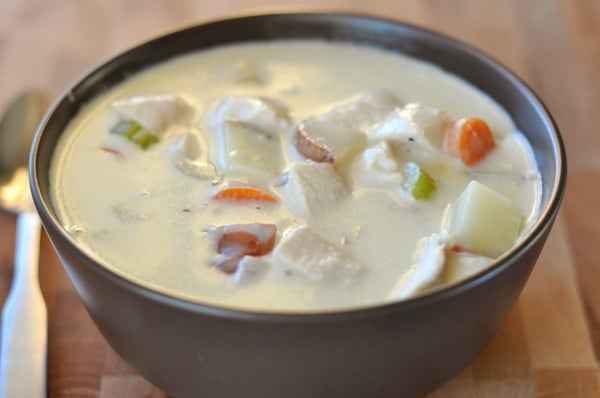 Since this little food blog holds my favorite recipes ever, I continue to make the recipes on this site all the time. Because of that and the fact that I have been posting for nigh on 3 years, I will occasionally update an older recipe with new pictures (heaven help us, my old pictures are bad!), recipe updates, etc.
However, sometimes a recipe warrants an entirely new post. Like this one.
I originally posted this soup in nearly my first month of blogging. And over the last two plus years it has continued to be a family favorite, but as I'm wont to do, I have adapted it and added to it just a bit to make it even lovelier than it was before.
I can easily say this is one of my all-time favorite soups.
It is creamy and chock full of hearty vegetables and tender chicken. The flavor is outstanding and the silky texture of the soup is divine.
Oftentimes, cream-based soups can be fairly high on the caloric quantity scale, but this soup is thickened with cream cheese (you can use light!) and a bit of flour and milk. The result is a thick, creamy soup that is surprisingly smooth and light and is healthy enough, you can be like me and rationalize for seconds on dessert.
Don't worry, I won't tell, if you won't.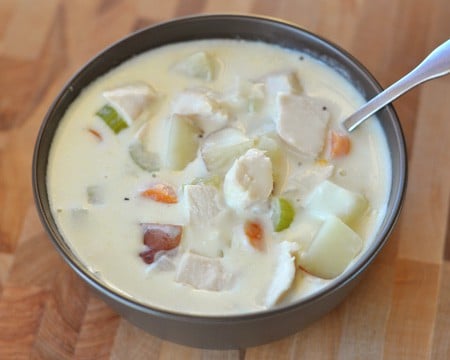 Soft Pretzel Rolls or Chewy Pretzel Bites
Spinach Strawberry Salad with Homemade Creamy Poppy Seed Dressing
Fresh, seasonal fruit
One Year Ago: My Mom's Classic Chili
Two Years Ago: No-Bake Spiderweb Cheesecake
Cream Cheese Chicken and Vegetable Soup
Yield: 4 servings

Prep Time: 15 minutes

Cook Time: 28 minutes

Total Time: 43 minutes
Ingredients
2 tablespoons butter
1 yellow onion, finely diced
2 cloves garlic, finely minced
2 stalks celery, diced
1/2 cup diced carrots (about 2 regular carrots or a handful of baby carrots)
3 cups chicken broth
2-3 potatoes, peeled and finely diced (I like to leave the peels on red potatoes, if using them)
1 cup milk (1% is my milk of choice)
4 tablespoons flour
1 (8 oz. package) regular or light cream cheese
2-3 (about 1 pound) boneless, skinless chicken breasts, cooked and diced
Instructions
In a large pot, melt the butter and add the onion, garlic, celery and carrots. Saute, stirring often, for 3-4 minutes, until the veggies are slightly tender and the onions are translucent. Add the chicken broth and potatoes. Bring the soup to a simmer and cook, partially covered, until the potatoes are tender, about 10 minutes.
In a liquid measuring cup, vigorously whisk the flour and milk together until smooth. Whisk the mixture into the soup, stirring quickly, and cook over medium heat for 3-4 minutes, until the soup begins to thicken slightly. Stir often to ensure the soup doesn't burn.
Soften the cream cheese in the microwave until it is very soft/melty. I usually place the unwrapped cream cheese on a plate and microwave it for one minute at 30% power. I like it really, really soft so it doesn't leave lumps in the soup. Add the cream cheese to the soup in small tablespoon-size pieces. Let the pieces sit in the soup and warm through then whisk or stir the soup until the cream cheese melts and mixes in well.
Add the cooked chicken and heat through. Season with salt and pepper. Serve.
Notes
This recipe calls for already cooked chicken. I usually cook the chicken breasts in the crockpot with a little chicken broth the morning I make this soup, but you could also go ahead and cook the chicken in the first step with the onions and other vegetables that cook together.
Recommended Products
As an Amazon Associate and member of other affiliate programs, I earn from qualifying purchases.

Recipe Source: originally posted here