Chocolate Chip Toffee Bars
Layers of shortbread dough, sweetened condensed milk, toffee bits and chocolate chips make these chocolate chip toffee bars absolutely fantastic!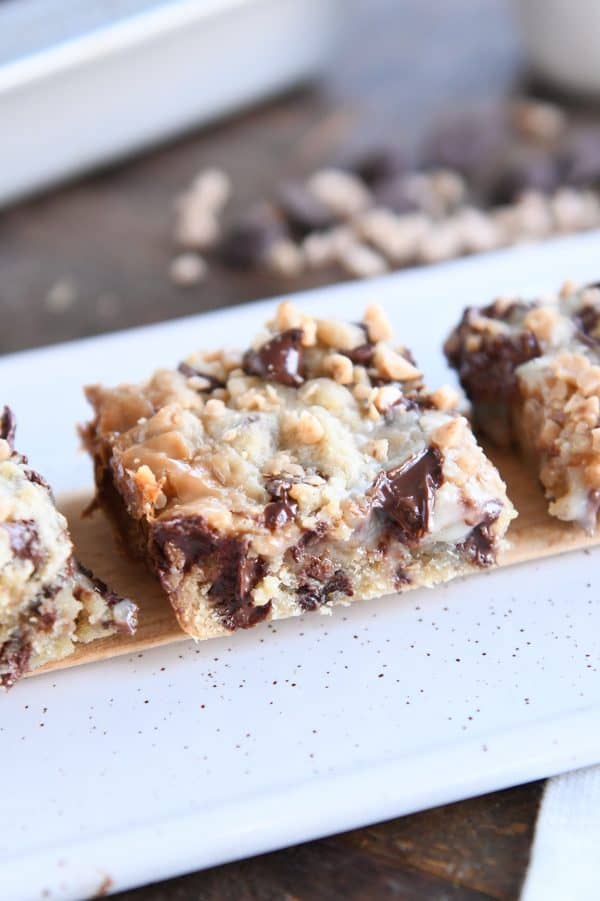 Simple and delicious, these chocolate chip toffee bars are a classic.
A chocolate chip shortbread dough is layered with sweetened condensed milk, toffee, chocolate chips, dots of more shortbread, and baked until golden and caramelly.
To be honest, these bars are very reminiscent of the uber-popular 7-layer bars but without the coconut and butterscotch and with shortbread instead of graham crackers.
How to make chocolate chip toffee bars
It's simple! First, a quick shortbread-type dough is mixed together.
It'll appear crumbly at first, but when you press the dough together with your hands after mixing, it comes together perfectly.
We take the shortbread dough up a notch by adding in chocolate chips. We want chocolate in every layer of these bars.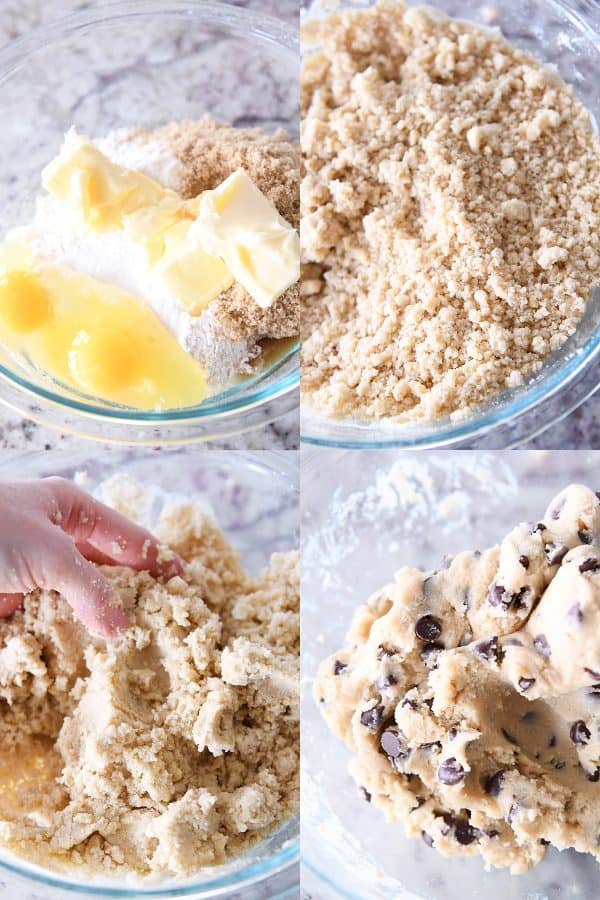 Second, the crust gets baked for a few minutes so it can set up just a little.
Next, it's time for the layers!
sweetened condensed milk
toffee bits
reserved bits of shortbread dough
chocolate chips
The whole pan gets baked until the sweetened condensed milk has bubbled and gone from milky to caramelly.
The contrasting textures in these bars are so delicious.
The crust is slightly crumbly (in a good way). Then you have chewy, crunchy, and a whole lot of rich, decadent, sweetness.
These chocolate chip toffee bars are excellent cut into squares and served at room temp (or even better, chilled!), but they are also really, really, really good served slightly warm with a scoop of vanilla ice cream.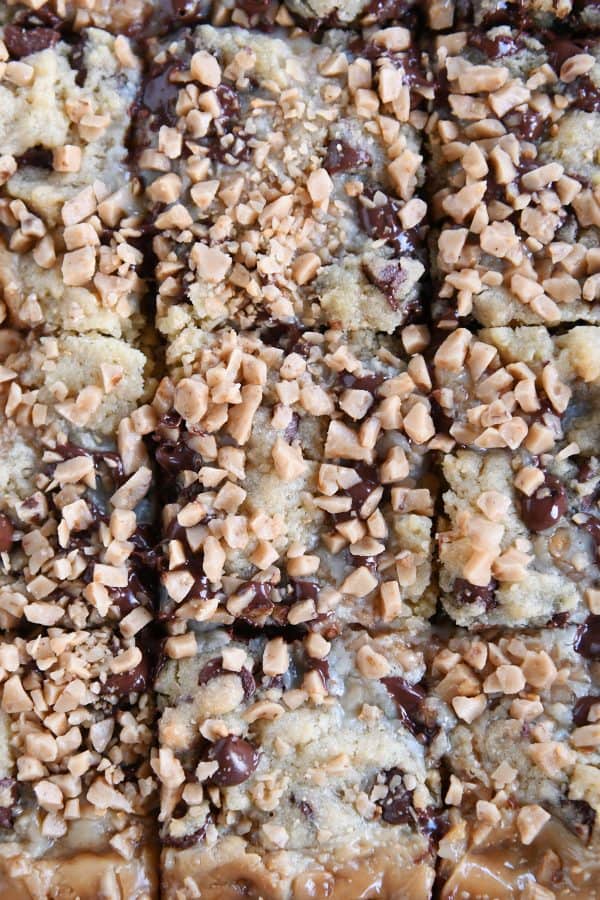 These bars also freeze really well and happen to be a popular keep-in-the-freezer-at-all-times kind of treat around here.
Simple, go-to bar cookies like this – well, you just can't have too many recipes. They never go out of style!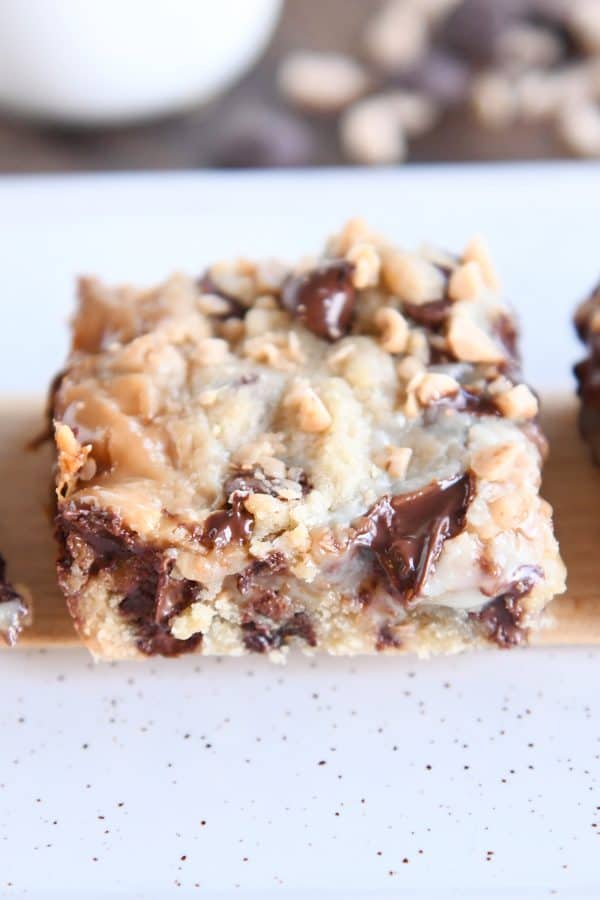 Chocolate Chip Toffee Bars
Yield: 9X13-inch pan

Prep Time: 15 minutes

Cook Time: 30 minutes

Total Time: 45 minutes
Ingredients
2 1/3 cups (11.5 ounces) all-purpose flour
1/4 teaspoon salt
2/3 cup (5 ounces) brown sugar
3/4 cup (12 tablespoons, 6 ounces) butter, softened (I use salted)
2 eggs, slightly beaten
2 cups (12 ounces) semisweet chocolate chips, divided
1 cup coarsely chopped nuts (optional)
1 can (14.5 ounces) sweetened condensed milk
1 package (8 ounces) toffee bits, divided
Instructions
Preheat oven to 350 degrees F. Line a 9X13-inch pan with aluminum foil or parchment paper, and lightly spray with nonstick cooking spray.
In a large bowl, whisk together the flour, salt and brown sugar. Add the butter and eggs and mix with an electric mixer until crumbly. Press the dough together with your hands. It will have a texture similar to shortbread.
Mix in 1 1/2 cups of the chocolate chips and the nuts (if using). The mixture will be fairly stiff, so it works best to mix with your hands.
Reserve 1 1/2 cups of the dough and set aside.
Press the remaining dough into the bottom of the prepared pan. Bake for 10 minutes until just starting to set (should still be somewhat soft).
Pour the sweetened condensed milk evenly over the baked crust. Top with all but 1/4 cup of the toffee bits.
Pinch pieces of the reserved dough and scatter over the top. Sprinkle with remaining 1/2 cup chocolate chips. Bake for 25-30 more minutes until golden brown. Sprinkle the remaining 1/4 cup toffee bits on top. Cool completely before serving.
Recommended Products
As an Amazon Associate and member of other affiliate programs, I earn from qualifying purchases.

Recipe Source: adapted from Kara's Kitchen Creations
Recipe originally posted June 2009; updated December 2020 with new photos, recipe notes, etc.
Disclaimer: I am a participant in the Amazon Services LLC Associates Program, an affiliate advertising program designed to provide a means for me to earn fees by linking to Amazon.com and affiliated sites. As an Amazon Associate I earn from qualifying purchases.