Cinnamon and Sugar Breadstick Twists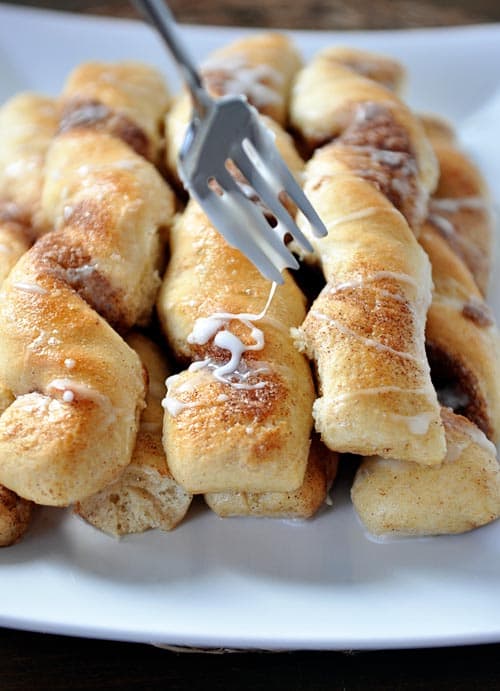 Cinnamon and Sugar Breadstick Twists. About the happiest things to come forth from my kitchen in the last century.
Brian nearly did a cartwheel in delight (until I reminded him his 36-year old hamstrings might not appreciate that).
The boys gladly cartwheeled in his behalf until Jackson innocently catapulted into Ty who rammed into Camryn. And when Camryn starts screaming (she is the lone girl after four boys, after all), the world stops.
So we cuddled bruised noggins and shoved cinnamon and sugar breadstick twists in our mouth and within about, oh, 3 1/2 minutes, all was right in the world again.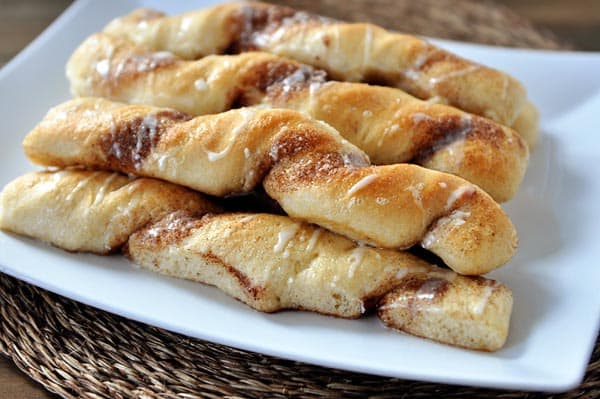 Using this divine breadstick dough as inspiration, it was only a matter of time until gooey cinnamon and sugar found it's home within the twists of the soft, tender breadsticks.
Drizzled with a super simple glaze and you have one seriously good snack. Lunch. Breakfast. Whatever. I never judge.
With only a couple tablespoons of butter for 18 breadsticks and a bit of whole grain goodness, I'm thinking you are just fine to indulge anytime you want.
P.S. My menu section (wherein I offer you over 25 downloadable menu plans) just got a facelift PLUS I added three fabulous new menu plans for those of you (working moms and dads, anyone?) that often need dinner in a pinch. There's a menu entirely dedicated to slow cooker meals, another menu with 30-minute or LESS meals every single night and a third menu plan where you cook it once but use it (think: shredded chicken) throughout the week. Awesome.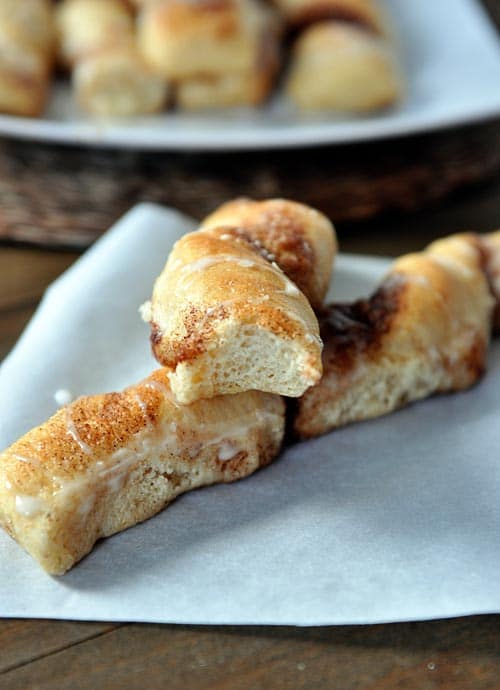 One Year Ago: Cheesecake Stuffed Chocolate Chip Cookie Bars
Two Years Ago: Chocolate Dipped Krispie Treats {Heart Shaped!}
Three Years Ago: Hot Chorizo and Cheese Dip
Cinnamon and Sugar Breadstick Twists
Yield: 15-18 breadsticks

Prep Time: 20 minutes

Cook Time: 15 minutes

Additional Time: 30 minutes

Total Time: 1 hour 5 minutes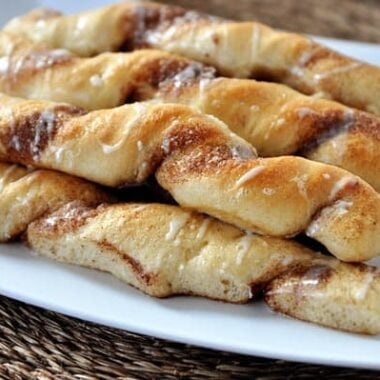 Ingredients
Breadstick Dough:
1 1/2 cups warm water
1 tablespoon instant yeast
2 tablespoons sugar
3 1/2 cups flour (see note)
1/2 teaspoon salt
Filling and Glaze:
2 tablespoons butter, melted
1/4 cup granulated sugar
1 1/2 teaspoons cinnamon
1/2 cup powdered sugar
1 tablespoon milk, more or less
1/4 teaspoon vanilla extract
Instructions
For the breadstick dough, mix the water, yeast and sugar in a large bowl or in the bowl of an electric stand mixer fitted with the dough hook. Add 1 cup of the flour and the salt and mix to combine. Gradually add the remaining flour until a soft, smooth dough is formed. Knead for 2-3 minutes. Keep in mind you may not use the full 3 1/2 cups flour (conversely, you may need a bit more). Judge the dough by the texture instead of by an exact amount of flour. It should pull away form the sides of the bowl and form a soft, smooth ball of dough without leaving an overly sticky residue on your fingers.
Let the dough rest for 10 minutes. Lightly grease a large 12X18-inch rimmed baking sheet with cooking spray and set aside. Preheat the oven to 375 degrees F.
Lightly grease a clean countertop with cooking spray and press the dough into about an 8X18-inch rectangle. Spread the melted butter evenly across the dough.
In a small bowl, combine the granulated sugar and cinnamon. Sprinkle this mixture across the dough and lightly press into the top of the dough.
Using a pizza cutter or sharp knife, cut the dough into about 1-inch or so widths. As you pick up each breadstick, twist it a few times and place them on the prepared baking sheet about 1/2-inch apart. They should all be able to fit on one large 12X18-inch rimmed baking sheet (see image below).
Cover the breadsticks lightly with plastic wrap and let them rest at room temperature for about 30 minutes until they are slightly puffy.
Bake the breadstick twists for 15 minutes until lightly golden on top.
Whisk together the powdered sugar, milk, and vanilla until a pourable mixture forms, adding more or milk if needed.
Let the breadsticks rest out of the oven for about five minutes before drizzling with the glaze. Serve warm. (These reheat magically for a few seconds in the microwave.)
Notes
I used a combination of white whole wheat flour and all-purpose flour (probably about half of each). You could use 100% all-purpose flour or even 100% whole wheat flour (I'd add a little kneading time and take care not to overflour).

Recipe Source: from Mel's Kitchen Cafe