This recipe is called the BEST monkey bread because there really is no comparison to this homemade gooey, sweet, decadent monkey bread.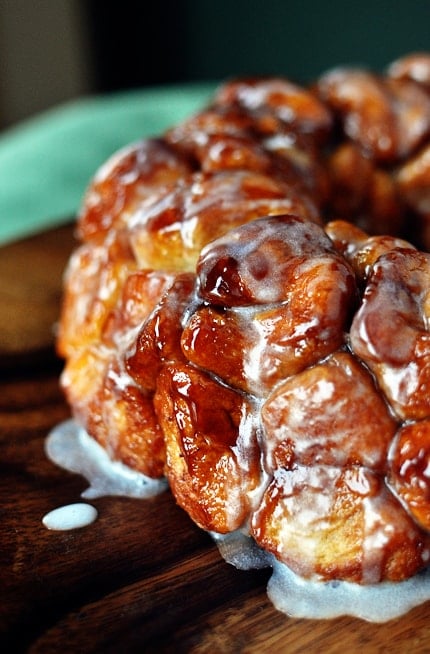 Seriously, I hardly have any words to describe the glorious goodness of this monkey bread.
And if you know me, you know it's rare that I'm left speechless (what?? So I like to talk…sue me).
But this magical monkey bread doesn't really need any words.
It just needs your lips inhaling it as soon as possible.
And just for the record, I hate the whole snobby factor that comes with food.
I'm not one to hide my feelings about cream-of-whatever soups but I really, really don't care if you use them.
And if you don't make your own bread from scratch…guess what?  We can still be friends and I'd still eat a sandwich at your house on your not-homemade bread. See?
See how open minded I am?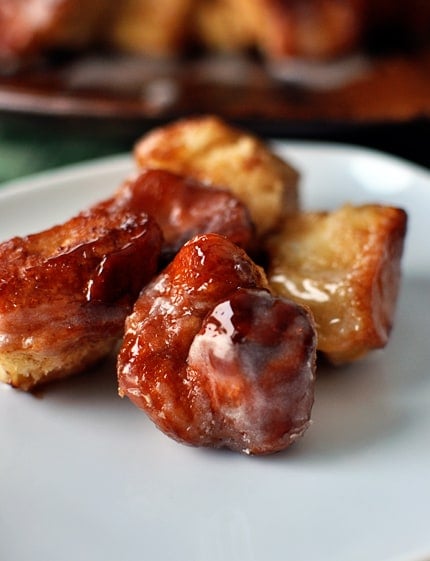 But when it comes to this monkey bread, I have to beg and implore you to run far, far away from the canned biscuits and dry pudding mix that usually appear in monkey bread recipes.
Invest a tad bit more time and elbow grease and make this recipe with homemade dough.
It's unreal, people…unreal being a good thing in this instance.
And you'll come back and thank me from keeping you from the canned biscuit monkey bread (I mean, that just sounds wrong, doesn't it?), I promise.
See How to Make It Here!
There really is no comparison to this homemade Bundt-pan full of gooey, sweet, decadent love.
That quick little video tutorial at the top of this post makes it doable…and kind of fun.
One Year Ago: Spooky Eats: Candy Corn Milkshakes
Two Years Ago: Romaine Salad with Chicken, Cheddar, Apples, Spiced Pecans and Cranberry Vinaigrette
Three Years Ago: Chicken Enchilada Pasta
The Best Monkey Bread
Ingredients:
Dough:
4 tablespoons butter, divided, 2 tablespoons softened and 2 tablespoons melted
1 cup milk, warm (about 110 degrees)
1/3 cup water, warm (about 110 degrees)
1/4 cup granulated sugar
2 1/4 teaspoons instant yeast
3 1/4 cups all-purpose flour, plus extra for work surface
2 teaspoons salt
Brown Sugar Coating:
1 cup packed light brown sugar
2 teaspoons ground cinnamon
8 tablespoons butter (1 stick), melted
Glaze:
1 cup confectioners' sugar
2 tablespoons milk
Directions:
Butter a Bundt pan with the 2 tablespoons softened butter. Use a pastry brush or a paper towel or anything that will really help get inside all of those nooks and crannies. Set aside.
In a large measuring cup, mix together the milk, water, melted butter, sugar, and yeast. Mix the flour and salt together in a standing mixer fitted with dough hook (see below for instructions to make the dough by hand). Turn the machine to low and slowly add the milk mixture. After the dough comes together, increase the speed to medium and mix until the dough is shiny and smooth, 6 to 7 minutes. If you think the dough is too wet (i.e. having a hard time forming a cohesive mass), add 2 tablespoons flour at a time and mix until the dough comes together (it should still be on the sticky side, just not overly wet). Coat a large bowl with nonstick cooking spray. Place the dough in the bowl and turn to coat lightly with the cooking spray. Cover the bowl with plastic wrap and let the dough rise until doubled, 1-2 hours (alternately, you can preheat the oven to 200 degrees, turning it off once it reaches 200 degrees and place the covered bowl in the oven to speed up the rising time).
For the sugar coating, while the dough is rising, mix the brown sugar and cinnamon together in a bowl. Place the melted butter in a second bowl or shallow pie plate. Set aside.
To form the bread, gently remove the dough from the bowl and press it into a rough 8-inch square. Using a bench scraper or knife, cut the dough into 64 pieces.
Roll each dough piece into a ball (it doesn't have to be perfect, just get it into a rough ball-shape). Working one at a time, dip the balls in melted butter, allowing excess butter to drip back into the bowl or pie plate. Roll the dipped dough ball in the brown sugar mixture, then layer the balls in the Bundt pan, staggering the seams where the dough balls meet as you build layers.
Cover the Bundt pan tightly with plastic wrap and let the monkey bread rise until puffy and they have risen 1-2 inches from the top of the pan, 1-2 hours (again, you can use the warm oven approach to speed this up).
Heat the oven to 350 degrees F (remove the pan from the oven if you placed it there to rise). Unwrap the pan and bake until the top is deep brown and caramel begins to bubble around edges, 30 to 35 minutes. Cool the monkey bread in the pan for 5 minutes (any longer and the bread will be too sticky and hard to remove!), then turn out on a platter or large plate and allow to cool slightly, about 10 minutes.
For the glaze, while the bread cools, whisk the confectioners' sugar and milk together in a small bowl until the mixture is smooth. Using a whisk, drizzle the glaze over the warm monkey bread, letting it run over the top and sides of the bread. Serve warm.
Notes:
Monkey Bread without a Mixer: Mix the flour and salt in a large bowl. Make a well in the flour, then add the milk mixture to the well. Using a wooden spoon, stir until the dough becomes shaggy and is difficult to stir. Turn it out onto a lightly floured work surface and begin to knead, incorporating the shaggy scraps back into the dough. Knead until the dough is smooth and satiny, about 10 minutes. Shape into a taut ball and proceed as directed.
All images and text ©
.
Follow @melskitchencafe on Instagram and show me the recipes you are making from my blog using the hashtag #melskitchencafe. I love seeing all the goodness you are whipping up in your kitchens!
Recipe Source: adapted slightly from Cook's Illustrated