Cinnamon Roll Caramel Popcorn
I've been waiting all year long for this.
Another edition of Sugar Rush! If you've been around for a few years, you'll know that each December I pack in the best of the best holiday recipes.
The first two years were strictly treats. Yummy, delicious, unique holiday treats.
The third year I changed it up a bit and did appetizers and savory treats (still highlighting some sweet goods from years past) and the fourth year, well, it was back to the sugar. Big time. And it was a beautiful thing.
Just in case you want to see them all in the same place, I added a little Sugar Rush link over there in the sidebar that will pull 'em all up on one page.
Now this year, I'm excited to do Sugar Rush with a new twist: all gift ideas! Perfectly packaged food gifts to give to friends, family and neighbors.
Food gifts. Seriously. What could be better?
So first up, today, I'm sharing with you the most addictive, most delicious sweet popcorn ever.
I took my beloved Butter Toffee Popcorn and morphed it into a cinnamon roll version (thanks to my Aunt Marilyn for giving me the inspiration in the first place!).
It is completely amazing: buttery, crunchy, caramel popcorn with a burst of cinnamon and a drizzle of white chocolate.
Actually, on second thought, I'm not sure it is a good idea to make this as a gift to others.
You'll probably end up resenting the people you gave it to which would kind of ruin the holiday spirit. Blast the Christmas music, channel all sorts of feelings of peace and love, make a quadruple batch and you'll most likely be fine.
Packaging:
I used simple treat bags that I picked up from Hobby Lobby when I was in the big city; the Wilton treat bags that measure about 5 inches by 11 inches and tied it with some red and green ribbon from my ribbon-scrap tote. Most of the big box craft stores (like Hobby Lobby and Michaels) offer 40% coupons each week which are great options for buying ribbon (and even treat bags). This popcorn would also be perfect in a small brown paper sack (similar to this packaging technique I highlighted before).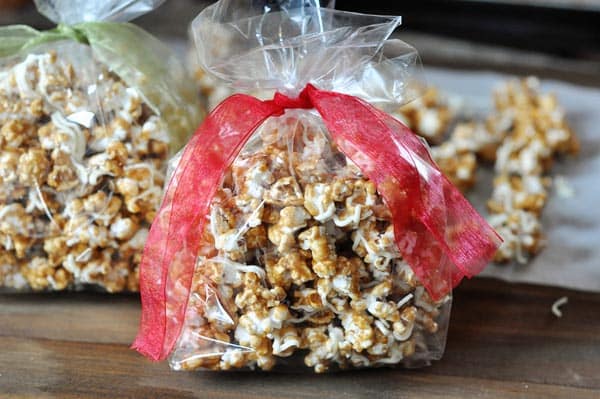 One Year Ago: Red Velvet Cheesecake Cake
Two Years Ago: Sesame Noodles with Peanut Sauce
Three Years Ago: Truffle Hot Chocolate Balls
Cinnamon Roll Caramel Popcorn
Yield: 18 cups or so of popcorn

Prep Time: 15 minutes

Cook Time: 1 hour

Total Time: 1 hour 15 minutes
Ingredients
18 cups popped popcorn (about 3/4 cup kernels)
1 1/2 sticks butter (12 tablespoons)
1 1/2 cups lightly packed brown sugar
1/2 cup light corn syrup
1 1/2 teaspoons ground cinnamon
1 1/2 teaspoons vanilla extract
1 1/2 teaspoons baking soda
4 ounces white chocolate, melted
Instructions
Preheat the oven to 250 degrees. Grease two large rimmed baking sheets and set aside.
Place the popcorn in a really large bowl (or two separate large bowls if you don't have an extra big one).
In a large saucepan over medium heat, melt the butter. When melted add the brown sugar, corn syrup, and cinnamon. Bring to a boil while stirring. Once the mixture starts boiling, reduce the heat to medium-low and simmer, stirring often, for 3 minutes. The mixture will be slightly thickened. Take the pot off the heat and stir in the vanilla and baking soda. The mixture will bubble so be careful.
Pour the caramel over the popcorn and mix until the popcorn is evenly coated.
Turn the popcorn out onto the baking sheets, spreading into an even layer on each sheet. Bake the popcorn for one hour, stirring and tossing every 20 minutes. Move the bottom tray to the upper rack and vice versa each time you stir. The popcorn will deepen in color and harden a bit as the caramel bakes and sets.
When the popcorn comes out of the oven, scrape it onto an even layer of parchment or wax paper.
Drizzle the white chocolate over the top (using the tines of a fork to drizzle it across or pour the melted chocolate into a freezer quart-size ziploc bag and snip a corner to drizzle).
Let the popcorn sit until white chocolate is set, 30 minutes or so. Break into pieces. Try not to eat the entire batch. I'm not kidding.
Notes
Baking Time: if you like a bit of chewiness to your toffee-like caramel popcorn, bake it for about 40 minutes instead of the full hour.
Recommended Products
As an Amazon Associate and member of other affiliate programs, I earn from qualifying purchases.

Recipe Source: adapted from my glorious Butter Toffee Popcorn recipe