Chocolate Chip Toffee Blondie Mix in a Jar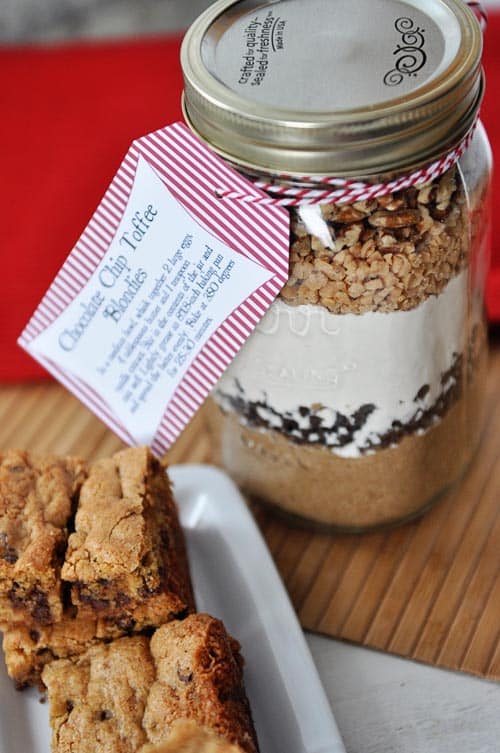 I am in love with these blondies. Like, really in love. The thing is, I've tried several "in a jar" recipes and they just weren't good enough to forgo the tried-and-true bar/brownie and cookie recipes I already adore.
Until these babies.
They are a fantastic addition to the Sugar Rush Gift Edition this year.
And you have to believe me that as cute as these jars are, I would never give them out as gifts unless the end result was fabulous.
Clearly, that required testing and baking the mix and all I can say is, an 8X8-inch pan of these delightful blondies was no match for me and the itty bits I shared with my family.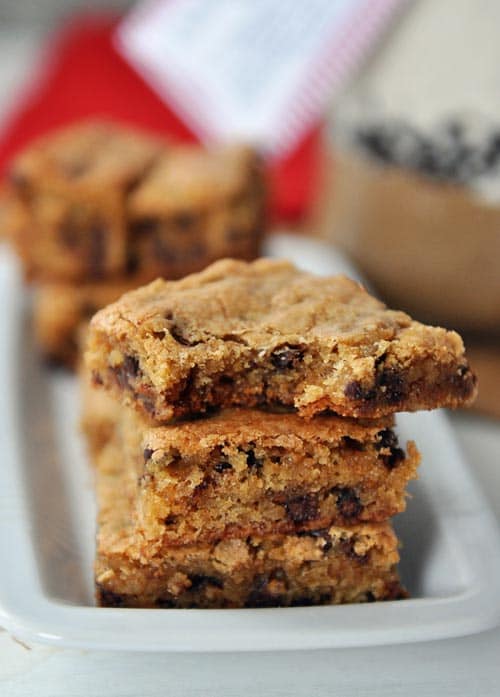 Chewy (unbelievably chewy) blondies filled with chocolate chips and toffee pieces, they are ridiculously delicious. And they make the perfect gift.
Layer the dry ingredients in a quart-sized mason jar, attach a little tag for your lucky friend/coworker/neighbor and you are good to go. They can bake up these wonderful treats whenever they get the hankering.
I've even got your back on the tag (click here for the striped tags or here for just the instructions).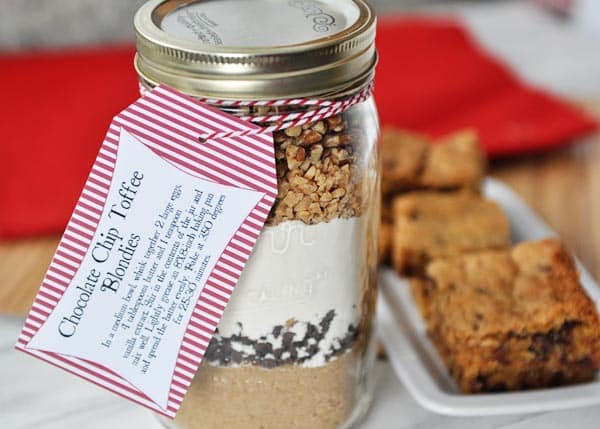 Packaging:
The packaging here is really simple. Jars. If you have a Goodwill/Deseret Industries or other thrift store in your area, they can be a gold mine for inexpensive canning jars. Just make sure to get the quart-size (not the pint-size). I attach the tag with my favorite attaching mechanism of all time: twine. Love it. Lots. I have many different colors and I use it for everything. I firmly believe that twine, and twine alone, makes me look a heck of a lot craftier and more awesome than I could ever be in real life. Pick Your Plum very often has screaming deals on twine. Get some; I promise you won't be sorry.
Don't forget the printable tags! Striped tags or simple instructions.
One Year Ago: White Chocolate Cherry Shortbread Cookies
Two Years Ago: Sizzling Bacon and Cheese Pinwheels
Three Years Ago: Butter Toffee Popcorn
Chocolate Chip Toffee Blondie Mix in a Jar
Yield: 1 quart-sized jar

Prep Time: 10 minutes

Cook Time: 30 minutes

Total Time: 40 minutes
Ingredients
1 cup packed light brown sugar
1/2 cup miniature semisweet chocolate chips
1 cup all-purpose flour
1 teaspoon baking powder
1/4 teaspoon salt
3/4 cup coarsely chopped pecans or walnuts
1/2 cup toffee bits
Instructions
In a quart-sized glass jar, lightly pack the brown sugar into the bottom. Sprinkle the chocolate chips into an even layer over the brown sugar. Spoon in the flour gradually and smooth into an even layer. Add the baking powder and salt. Add the pecans or walnuts on top. Finally add the toffee bits. Fasten a lid and ring to the jar. Attach the following instructions.
To make the blondies, in a medium bowl, whisk together 2 large eggs, 4 tablespoons melted butter and 1 teaspoon vanilla extract. Add the contents of the jar and mix well.
Lightly grease an 8X8-inch baking pan and spread the batter evenly. Bake at 350 degrees for 25-30 minutes until baked through (don't overbake!).
Notes
Nuts: I know someone will probably ask: can you make these without nuts? Sure! But obviously your jar will be less full. You could try adding more toffee bits or chocolate chips to make up the space or just leave it with a little space at the top.
Recommended Products
As an Amazon Associate and member of other affiliate programs, I earn from qualifying purchases.

Recipe Source: recipe from bhg.com/printable tag from me