Classic Granola
A perfect, healthy addition to yogurt, or simply to snack on, this classic granola will not disappoint. We eat it by the handfuls!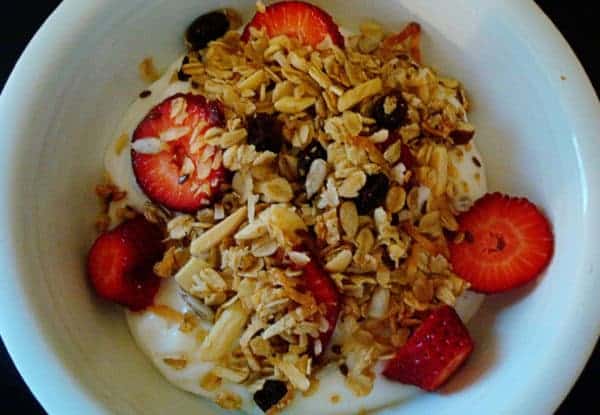 My dad loves granola, so for his birthday I decided to make him a few batches and send it to him through the mail (since he lives several states away).
I decided on a Classic Granola recipe from Cookbook Catchall that looked delicious and I knew my dad would love because it was packed with dried fruit and nuts.
I also came across a French Chocolate Granola originally from Orangette on the Picky Apple's site that I knew I had to make. Both turned out amazing!
The classic granola was hearty and wholesome and I loved the addition of the flax seeds. The flavors were simple but very delicious.
And the chocolate granola – oh my, after snitching some, I realized I could eat the entire batch myself (sorry there is no picture of this one, I was in a rush to get it in the mail before I ate it all!).
It also had simple flavors – nothing extravagant, but that is what I loved about it. The best news is that my dad loved and devoured both batches, so I would say they were a success!
I've been eating the classic granola (yes, I saved some for myself) on yogurt with fresh fruit every morning for the past few weeks and it is the perfect breakfast. I know I will make both of these time and time again. Enjoy!
Yield: about 16 cups

Prep Time: 20 minutes

Cook Time: 15 minutes

Total Time: 35 minutes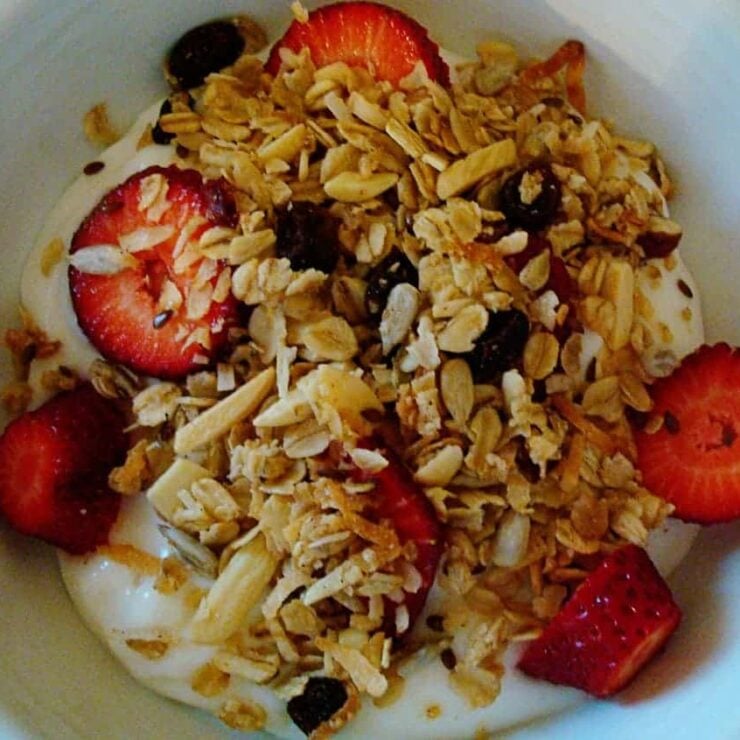 Ingredients
6.5 cups old fashioned rolled oats (not quick cooking)
2.5 cups unsweetened, desiccated coconut (I used basic sweetened coconut because I had it on hand)
1 cup raisins
1 cup dried cranberries
1 1/4-1 1/2 cups sliced almonds (or whole, chopped, slivered or a combination - I used slivered)
1 1/4 cups pecans (whole or chopped to the size you like)
1/2 cup high-quality honey
1/2 cup canola oil
1/2 cup sunflower seeds
1/2 cup flax seeds
1/2 tsp salt
1/2 tsp cinnamon
Instructions
Preheat oven to 350 degrees.
Combine all ingredients in a large bowl. Mix well to distribute oil and honey evenly. Spread a thin layer of mixture on two rimmed baking sheets (half sheet pans) lined with parchment paper (I used my silpat liners).
Bake for 15-20 minutes stirring mixture and rotating sheets half way through until mixture is an even golden brown. Be careful to watch granola: it will quickly turn from golden to burnt and will continue to cook as it cools when you take it out of the oven. Mixture will be moist when it comes out of the oven but will crisp and clump as it cools. Keeps for 1-2 weeks.
Notes
Variations: substitute any of the nuts for other nuts such as cashews, walnuts or peanuts (it's nice to leave some of the nuts whole as it varies the texture) • Add additional dried fruit such as apricots or dates • Add 1/2 tsp pure vanilla extract • For extra-nutty granola increase proportion of nuts
Recommended Products
As an Amazon Associate and member of other affiliate programs, I earn from qualifying purchases.

Recipe Source: from Cookbook Catchall
Disclaimer: I am a participant in the Amazon Services LLC Associates Program, an affiliate advertising program designed to provide a means for me to earn fees by linking to Amazon.com and affiliated sites. As an Amazon Associate I earn from qualifying purchases.