Frozen Key Lime Pie
Here before you is one of the most delicious desserts and tops my list as my favorite summertime treat. I love it! And my husband knew that so he made it for me for Mother's Day.
The recipe is from my Aunt Marilyn, who you should know by now does not fail me in her recommendations.
It is light and tart and sweet and absolutely divine. I could eat it every night for the rest of my life. And as soon as I publish this here post, I am about to go devour the rest in the freezer.
Oh, by the way, the reason my pie looks sickly green (instead of vibrant and beautiful!) is because my husband had to substitute the zesty lemon sorbet (since our grocery store didn't carry it – boo!) with passion fruit sorbet and it turned the ice cream filling brown (very bad!) so he doused it with some green food coloring.
Normally, the pie looks more healthy green than fake green. 🙂 Delicious, nonetheless!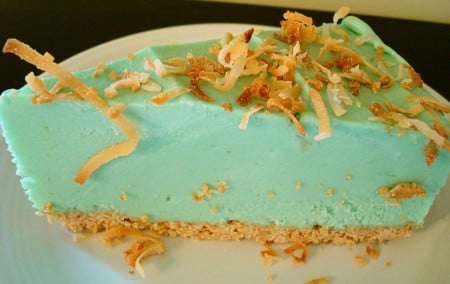 Ingredients
Crust:
1 ¼ cup graham cracker crumbs
2 tablespoons sugar
¼ cup melted butter
Filling:
1 pint lime sherbet
1 pint Haagen-Dazs zesty lemon sorbet
1 pint vanilla frozen yogurt
1 tablespoon fresh lime juice
Garnish:
¼ cup coconut, toasted
Fresh limes for garnish
Instructions
For the crust, mix together all the ingredients and press into 9" springform pan.

Freeze for 15 minutes. For the filling, soften the ice creams and yogurts and spoon into the crust.

Sprinkle with toasted coconut. Freeze for at least 4 hours. Let stand 15 minutes before slicing. Serve with sliced limes on top.
Recipe Source: from A. Marilyn
Disclaimer: I am a participant in the Amazon Services LLC Associates Program, an affiliate advertising program designed to provide a means for me to earn fees by linking to Amazon.com and affiliated sites. As an Amazon Associate I earn from qualifying purchases.