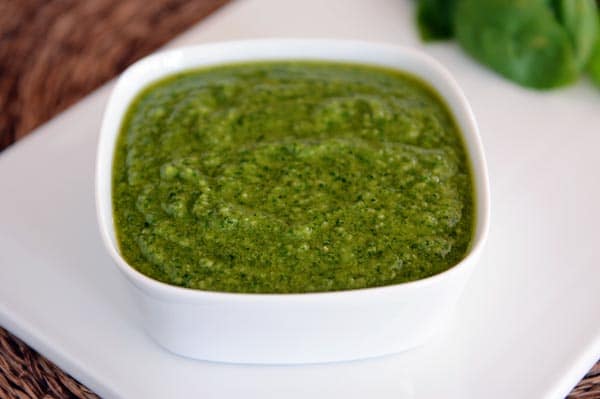 You'd think I'd have posted a pesto recipe, like, five years ago, since it's one of my favorite things in the whole world. But I haven't and I don't really know why since I make it every other day from about June to September. Please forgive me (or ignore me if you are already an expert pesto maker which I'm kind of guessing many of you are).
The reason I finally got on with life and decided to share my official recipe today is mostly because I want to show you how I usually store my pesto if I'm freezing to use later. But it's also because tomorrow, I'm going to give you the secret to the best (and I really mean it, The Best) grilled chicken of your life. And pesto may or may not be involved but perhaps not in the way you might think. Be prepared.
Ok, so for this tip: When I make pesto that I know I want to use later for a simple dinner – usually hot, al dente noodles tossed with homemade pesto – I do the following: a) make the recipe below, b) spoon it into an inexpensive ice cube tray – this batch fits perfectly into a standard-sized tray, c) enclose it in one of my handy dandy bread bags with a little clip (alternately you could wrap it several times with plastic wrap, d) freeze it.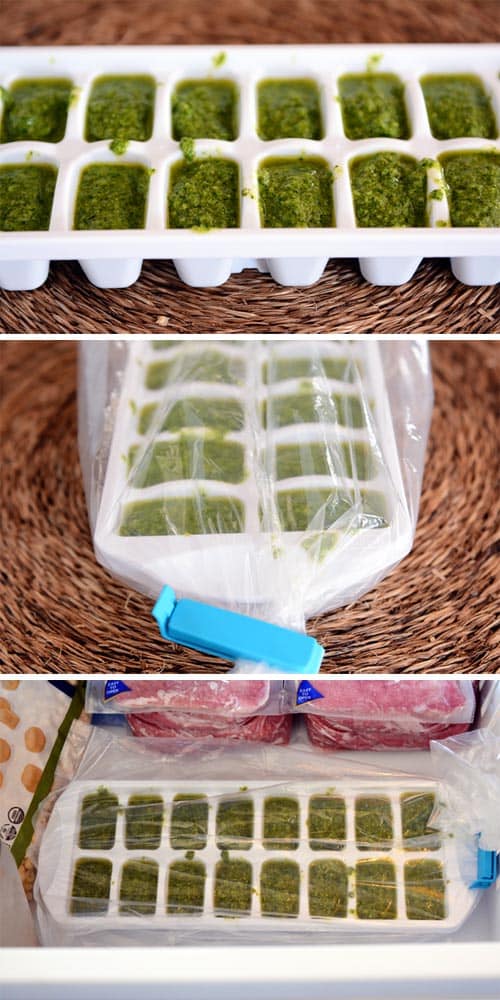 On those nights when a simple dinner is the name of the game, I twist the tray and pop out a few cubes of pesto and toss them right into the pot of drained, warm, tender noodles. The pesto defrosts quickly and mixes right in. Sprinkle a little additional parm on top and you have a stinking simple and delicious meal.
And even if you have a pesto recipe you love already (it's ok, we can still be friends), I have to tell you the reasons I love this particular recipe. Thanks to the light toasting of the pine nuts and garlic, the pesto has less of a raw flavor with a bit more depth and tastiness and the fresh parsley helps brighten the sauce and round everything out.
Long live pesto, man. It's the reason I live for summer and why I plant 45 basil plants every year.
One Year Ago: Jalapeno Cheddar Turkey Burgers
Two Years Ago: Oreo Truffle Brownies
Three Years Ago: Zucchini Bread
Ingredients
3/4 cup pine nuts
7 garlic cloves, peeled
6 cups lightly packed fresh basil leaves
6 tablespoons fresh parsley leaves
1 cup extra-virgin olive oil
1 1/2 ounces Parmesan cheese, grated (about 3/4 cup)
Salt and pepper
Directions
In a 10-inch skillet set over medium heat, toast the pine nuts until lightly golden and fragrant (watch closely so they don't burn!). Transfer them to a plate and add the peeled garlic cloves to the skillet. Toast the garlic, turning once or twice, until the garlic is spotty brown, about 2-3 minutes.
In a food processor bowl, combine the pine nuts, garlic, basil, parsley, olive oil, cheese and salt and pepper (start with about 1/8 teaspoon each). Process until the pesto is smooth, about a minute or so. Scrape down the sides of the bowl and process for another 10-15 seconds.
Add additional salt and pepper to taste, if needed.
Store the pesto in the refrigerator in a covered container or in the freezer in a freezer-safe container. For smaller portions of pesto, I like to portion it into an inexpensive, plastic ice cube tray. One batch fits perfectly into a standard ice cube tray. Place the ice cube tray in a large bag (a bread bag works great), tie closed and freeze until ready to use. The pesto will pop out like ice cubes when the tray is twisted. If you want to avoid the browning that may occur on the pesto when it is refrigerated or frozen, drizzle a light layer of olive oil over the pesto before storing (I usually don't bother with this since the discoloration doesn't bother me and doesn't affect taste).
The frozen cubes of pesto can be added directly to a hot pot of cooked, drained noodles. Stir until the pesto is thawed and well-combined with the noodles.
https://www.melskitchencafe.com/classic-pesto/
Printed from Mel\'s Kitchen Cafe (www.melskitchencafe.com)
Recipe Source: adapted slightly from

America's Test Kitchen

(I reduce the olive oil a bit, don't pound the herbs before using, toast the garlic peeled)