Classic Tomato Soup (and Tuna Melts!)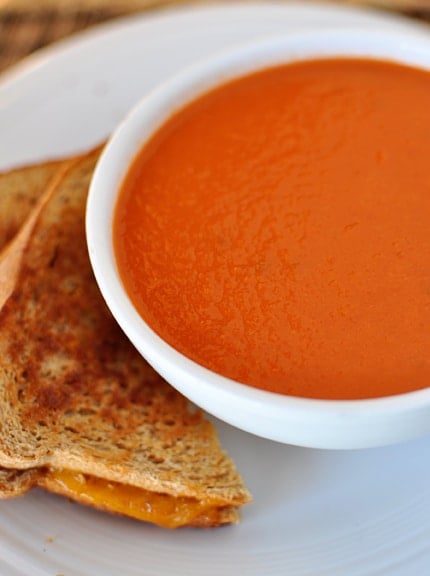 I can't think of a more comforting, perfect meal to serve before or after a chilly trick-or-treating fest for the kids then this tomato soup and our favorite (simple!) tuna melts. (Yeah, yeah, I know chili is the popular Halloween fare but my kids aren't huge chili lovers and I'd rather their bellies be full of something other than Halloween candy so out goes the chili in favor of this soup).
This tomato bisque soup I posted years ago is delish; the tomato soup today is a bit more classic in ingredients and flavor but equally tasty.
It is thick and rich and the brilliant addition of baking soda tames the tomatoes into a sweet blend of silky soup.
My kids go nuts when I serve this – but only if I offer a dippable option (read: grilled cheese, tuna melts, something along those lines).
They aren't exactly keen on slurping up tomato soup on it's own but provided with a dipper and they are good to go. I, on the other hand, could drink this straight from the bowl; it's that good.

As for the tuna melts, there isn't really a recipe – I mix up some albacore white tuna with a bit of light mayo and a splash of yellow mustard and slather it on a piece of thick, hearty, good-quality bread (like this divine rustic bread), top it with tomatoes, salt and pepper, and a slice of Swiss or Monterey Jack cheese and broil to perfection. Very yum.

Happy Halloween!
**As a second sidenote, sorry for the false alarm on going no-treats on you for a year. My sweet 7-year old crumbled last night in the face of cookie dough fudge (I mean, wouldn't you?).
He still isn't into the whole trick-or-treating and storing up candy thing (my other kids think he's certifiably loopy) so he'll be passing it out with me tonight instead of gathering his own loot, but it looks like we'll just stick to our normal plan of sweets and treats in moderation.
He gave it his all for a good week – I'm proud of him (and let's be serious, I'm breathing a huge sigh of relief here that me and my chocolate chips can now be reunited).
Yield: 6-8 servings

Prep Time: 15 minutes

Cook Time: 23 minutes

Total Time: 38 minutes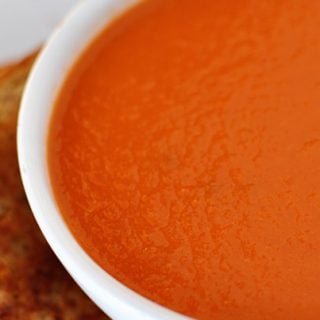 Ingredients
2 (28-ounces each) cans diced tomatoes
3/4 cup low-sodium chicken broth
3 tablespoons butter
1 onion, chopped
1 bay leaf
1 teaspoon brown sugar
2 tablespoons tomato paste
2 tablespoons all-purpose flour
1/2 teaspoon baking soda (cuts the acidity of the tomatoes)
Salt and pepper
1/2 cup heavy cream or fat free half-and-half
Instructions
In a colander set over a large bowl or a liquid measuring cup, drain the canned tomatoes, pressing lightly to release all of their juices. Transfer the tomato juice to a large measuring cup (if you didn't strain the liquid into one in the first place) and add the chicken broth. The mixture should measure about 3 1/2 cups. Set the liquid and the tomatoes aside.
Melt the butter in a 4- 5-quart pot or Dutch oven over medium heat. Add the onion and cook until it is softened, about 3-5 minutes. Add 2/3 of the drained tomatoes, the bay leaf and the brown sugar. Cook for about 10-15 minutes, stirring occasionally, until the tomatoes are sizzling and fragrant. The mixture will be very thick.
Stir in the tomato paste and the flour. Cook, stirring constantly, until the mixture begins to darken, 1-2 minutes. Slowly stir in the reserved tomato juice/broth mixture, the remaining tomatoes, baking soda and 1/2 teaspoon salt. Bring the soup to a boil. Reduce the heat to medium-low and simmer until slightly thickened, about 5-7 minutes. Remove from the heat.
Discard the bay leaf. Puree the soup in batches (in a blender) or use an immersion blender to puree the soup. Stir in the cream and season with salt and pepper. Serve warm.
Notes
Make Ahead: this soup can be made up to three days in advance and refrigerated in a covered container. Warm over medium-low heat to serve.
Recommended Products
As an Amazon Associate and member of other affiliate programs, I earn from qualifying purchases.

Recipe Source: adapted from Cook's Country Feb/Mar 2011