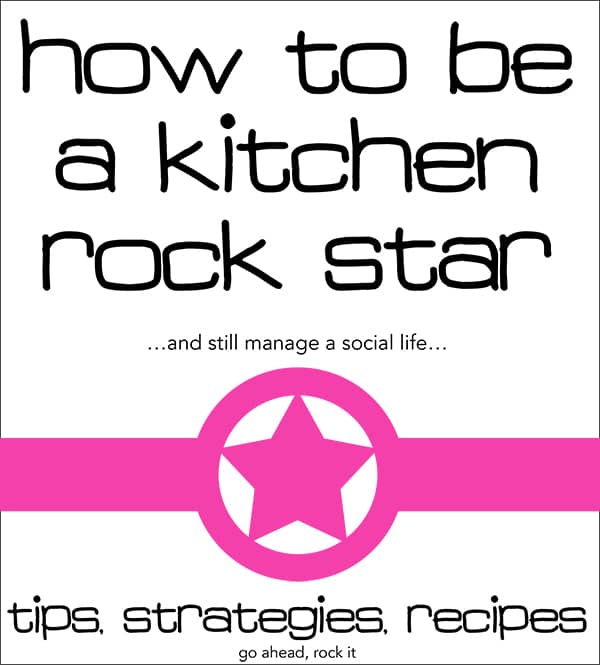 This is a bit of an impromptu post. I was planning on posting about something really exciting today (eggs and their sizes – see? fun!) but after the huge response on Instagram a few weeks ago to a somewhat random post, it sounds like a lot of you could use a free download (and probably a free lunch, free nap, free ride, free vacation…but we'll stick with free download for today).
A few weeks ago, I did a short presentation for a group of 16-18 year old girls. Their youth group leader wanted me to focus on strategies to help them feel like a rock star in the kitchen (ok, in the interest of full disclosure, sweet Jackie said something like "can you give them some tips on grocery shopping and cooking?" and I interpreted it as "let's talk about rock star status here").
I thought a lot about what would be the most helpful for these girls. Most of them are close to graduating from high school and even now, many of them babysit, nanny and help out in their own homes. I wanted to give them tips, tricks, strategies and recipes that would help them feel like they could rock it in the kitchen without spending a lot of money and/or time (hello, young, exciting social life).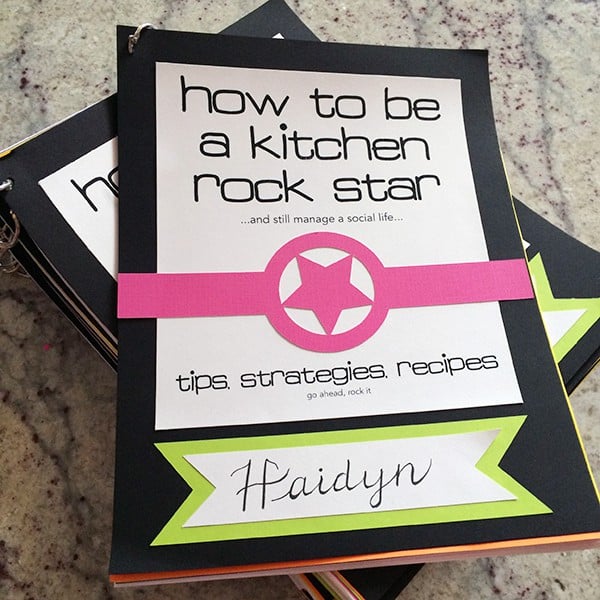 I started the little class with a short, dorky slide show presentation asking them a few questions to help break the ice and let me know where they stand on the kitchen prowess spectrum. (Here's the presentation; it's in Keynote, a Mac application, so probably not accessible to everyone – if you can't download it, here's a PDF version).
After we got a few giggles out and realized that they ranged from self-proclaimed 10's on the spectrum all the way down to a solid 2 (and everything in between), I walked through the handout with them.
In a nutshell, here's what's in the handout:
1) simple ingredients to keep on hand for fast dinners, no-recipe meals,
2) strategies for grocery shopping,
3) the only kitchen equipment you really need (with a fun list of optionals),
4) handy dandy equivalents and measurements,
5) 25 pages of easy peasy meals that are delicious, fast and healthy.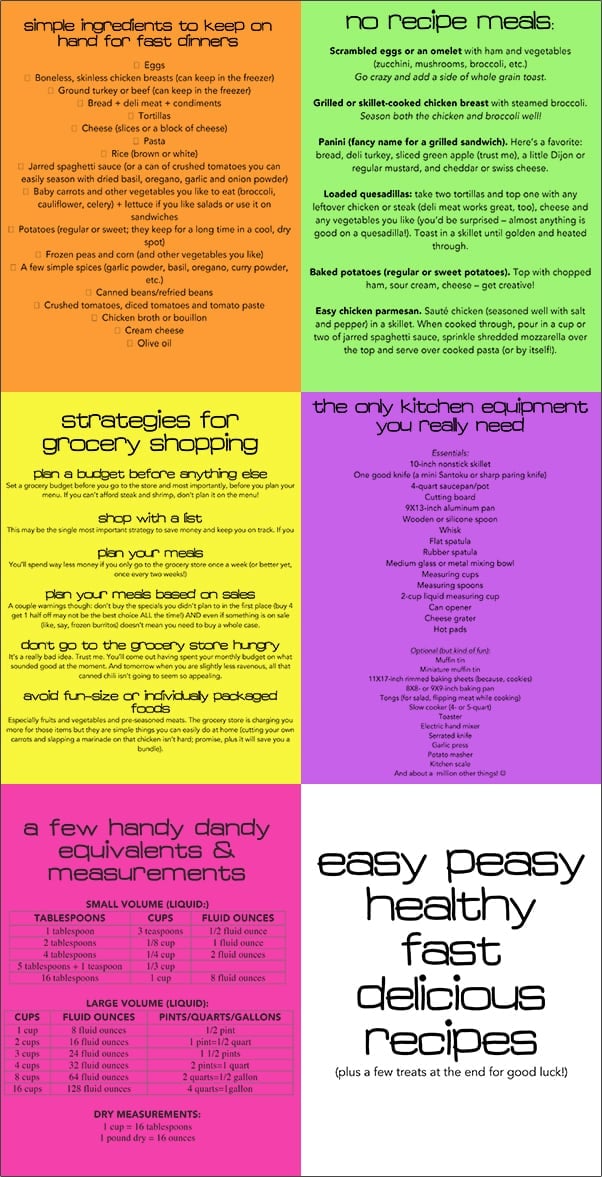 I could tell the talking part wasn't quite as exciting as what was to come so we kind of blazed through the info, knowing they were smart enough girls they could refer to it later if needed. I brought two huge laundry baskets of supplies that go along with the handouts so that when I was waxing poetic about my favorite knife (letting them know they didn't need a whole arsenal of knives when they go off to college; one or two inexpensive but good knives will do), I could show them the actual knife I use. I tried to have each of the things listed under "the only kitchen equipment you really need" there to show them and a few examples of the optional but fun things (mini muffin tin, I'm lookin' at you!).
After I got done blabbing, we marched into the kitchen and started cooking up a storm. I didn't do any of the cooking – the girls jumped right in and got to work and asked questions as they went along.
I brought all the ingredients and the equipment for the perfect meal:
Skillet Macaroni and Cheese I had all the components measured out but nothing actually "made" – they shredded the cheese, whisked together ingredients, and cooked it all up
Amazing Romaine Salad (of course, if you are me, you leave all the ingredients for this at home – DON'T DO THAT!); I prepped all the ingredients except for the dressing with the idea they could make the dressing and assemble the salad
Healthier No-Bake Cookies again, I had ingredients measured out but they did the cooking, scooping and "cleaning" of the pot
The group of girls working on the no-bake cookies got started right away so the cookies could set up before the evening was over. The timing worked out great! The mac and cheese was ready and devoured right in time for the cookies to make their debut (all while I wept over the missing salad).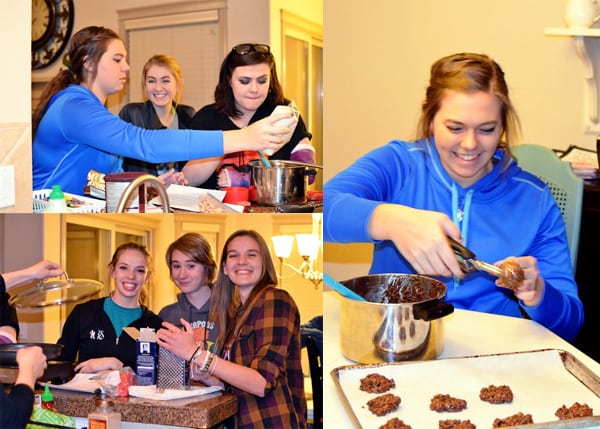 It was light-hearted and seriously a ton of fun. I got caught up on all sorts of girl talk (I'm seriously not cool anymore) and the girls shared their favorite meals from their own homes with me and some of their fears and desires about cooking and food (and boys). They even promised me some recipes (if you are reading this, you better deliver, little missies!).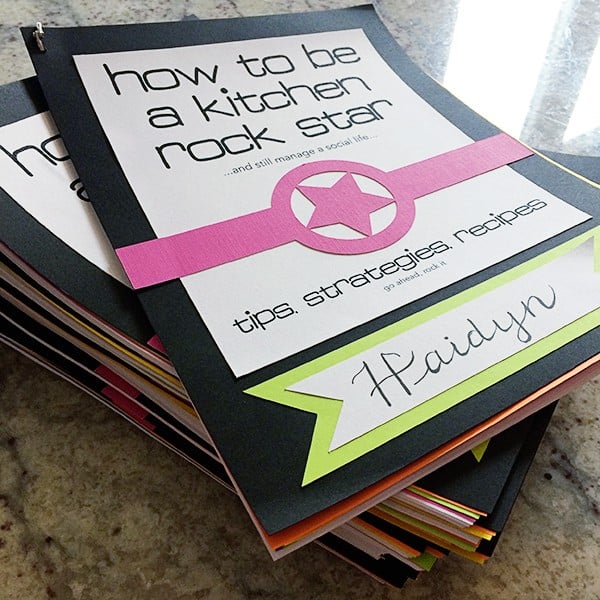 All in all, it turned out really well and made me wish they didn't live 30 minutes from me! I'd adopt every single one as my live-in personal chefs and nannies (I think I just heard ten audible sighs of relief).
If you are interested in the same handout I used, click below for a PDF version. I cute-ified the cover a bit by gluing the white cover page to a piece of black cardstock, cutting out a star band (with my hand dandy Silhouette machine) and attaching it, and then personalizing their names onto a tag (again, cut out with my Silhouette). The Silhouette files are purchased from the online store and so I won't be distributing them here for download but the PDF below has all of the other pages and recipes.
Click

HERE

to download!