Cranberry-Jalapeno Cream Cheese Dip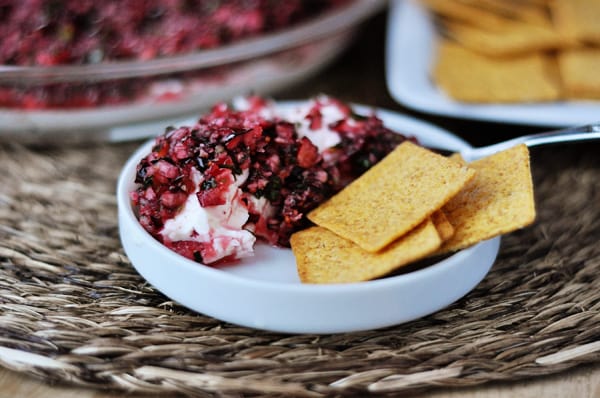 Brian, the husband and official taste-tester, would like to declare, for the record, that he positively could not stop eating this cranberry-jalapeno dip.
And he would like to follow that up with the declaration to everyone that has been waiting for his metabolism to finally catch up to his 34-year old body (undoubtedly still reaping the benefits from a strict college wrestling regimen) that it finally has, thanks to this dip, which did he mention? He could not stop eating.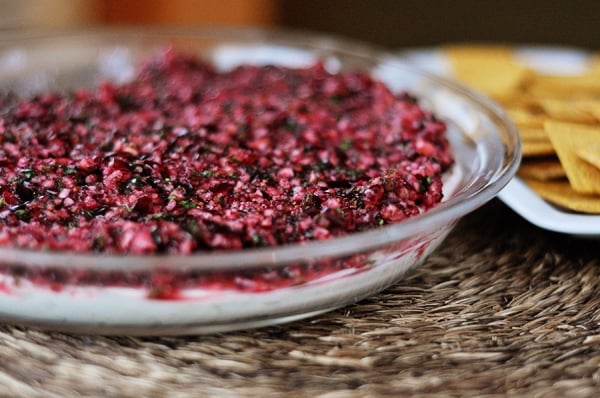 The funny thing is that when I made this, I was absolutely sure he would turn up his nose at it – perhaps take a little nibble – but I knew for a fact he would not like it. Uh, it looks like I don't know my husband as well as I thought I did because I was dead wrong.
I hope he's not too embarrassed for me to publicly announce here that over the course of a few days, he had no trouble finishing off the masterpiece of a dip and even on the 3rd day, he was literally sighing in gastronomical joy at each bite.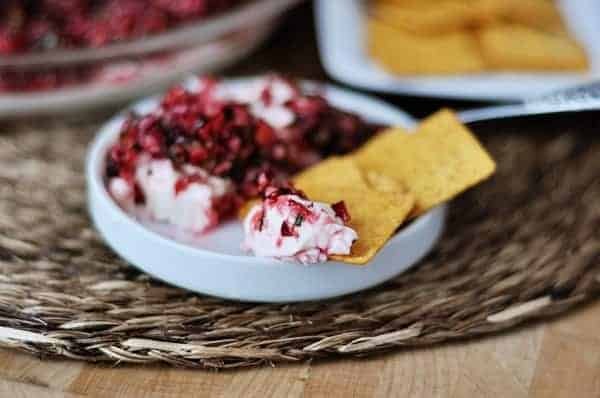 It's a simple concept – tart cranberries, sugar, spicy jalapenos and a few other flavors combine to make a sweet and spicy relish of sorts that smothers unadorned cream cheese. The silky, cool cream cheese offsets the gentle spice of the dip perfectly and compliments the play on sugar and spice.
Served with crispy crackers, this dip really is a holiday palate pleaser. The kids and I loved it, too, but our reaction completely pales in comparison to Brian's. In fact, every day since it has been gone, he's asked me redundantly if we happen to have more fresh cranberries. And trust me, he's not hankering for cranberry sauce…he's wanting this dip.
Looks like I'll have to print off the quick and easy recipe and casually place it on his nightstand or truck dashboard. Hope you enjoy it just as much as we (he!) did!
Cranberry-Jalapeno Cream Cheese Dip
Yield: 8-10 servings

Prep Time: 15 minutes

Additional Time: 5 hours

Total Time: 5 hours 15 minutes
Ingredients
12 ounces fresh cranberries
4-5 green onions, chopped
1/4 cup chopped fresh cilantro
1 jalapeno pepper, seeded and finely diced
1 cup sugar (more or less to taste)
1/2 teaspoon cumin
2 tablespoons fresh lemon juice (from about 1 large lemon)
1/8 teaspoon salt
2 (8 ounces each) packages cream cheese, light or regular, softened
Crackers, for serving
Instructions
Pulse the cranberries in a food processor or blender until coarsely chopped (alternately, you can do this task by hand). Add the green onions, cilantro, jalapeno, sugar, cumin, lemon juice and salt and pulse until the ingredients are well combined and finely chopped. Transfer the mixture to a covered bowl or tupperware and refrigerate for 4 hours (or up to overnight) so the flavors have time to develop and the cranberries lose a bit of their tartness.
When ready to serve, spread the cream cheese in an even layer on a serving plate or 9-inch pie dish. Top with the cranberry-jalapeno mixture, spreading evenly over the top of the cream cheese.
Refrigerate for up to an hour before serving. Serve with crackers or tortilla chips.
Recommended Products
As an Amazon Associate and member of other affiliate programs, I earn from qualifying purchases.

Recipe Source: adapted slightly from Jamie Cooks It Up