Creamy Chicken and Wild Rice Soup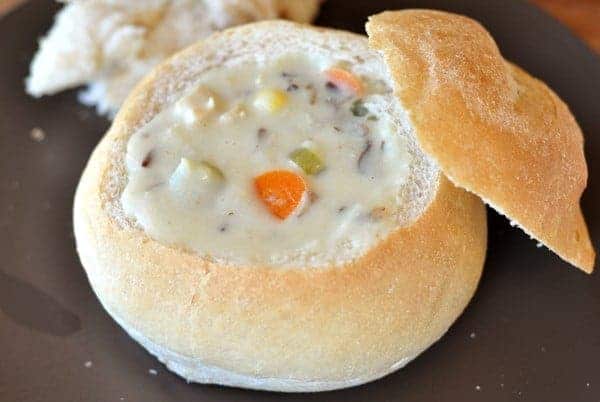 (Updated 10/2010): This soup continues to be a family favorite and is deliciously perfect and elegant for potlucks and entertaining.
Over the years, I've adapted this soup in order to get the perfect consistency and have also added a few more details to help make putting it together a bit easier.
Nine times out of ten, I serve this soup in bread bowls, but it is delicious on it's own, also.
The tender, chewy rice and subtle flavors of the curry and vegetables make for one of my all-time favorite soups.
Creamy Chicken and Wild Rice Soup
Yield: 8 servings

Prep Time: 20 minutes

Cook Time: 1 hour 30 minutes

Total Time: 1 hour 50 minutes
Ingredients
½ cup butter
1 medium yellow onion, finely chopped
½ – 1 cup frozen corn
½ cup chopped celery
½ cup carrots, sliced
1 pound boneless, skinless chicken breasts, cubed
½ pound fresh mushrooms, sliced
¾ cup all-purpose flour
6 cups chicken broth
2 cups cooked wild rice
1 teaspoon salt
1 teaspoon curry powder
1 teaspoon mustard powder
1 teaspoon dried parsley
½ teaspoon black pepper
1 cup slivered almonds
2 cups nonfat half-and-half (use normal half-and-half if you prefer, but you won't believe how delicious this is with the nonfat variety!)
Instructions
Melt the butter in a large pot over medium heat. Stir in the onion, celery, corn, chicken and carrots and sauté for 5-7 minutes until vegetables are tender and chicken is cooked through. Add the mushrooms and sauté 3-4 more minutes. Then add flour and stir well. Over medium heat, gradually pour in the chicken broth, stirring constantly. Bring the soup just to a boil and then reduce heat to low and let simmer, while stirring, for 5-6 minutes, until it has thickened slightly.
Next, add the rice, salt, curry powder, mustard powder, parsley, ground black pepper and almonds. Allow all the ingredients to heat through and then pour in the half-and-half. Let the soup gently simmer for about 1 hour, stirring occasionally to prevent sticking. The soup should not boil but should simmer over low heat so that it thickens slowly.
Recommended Products
As an Amazon Associate and member of other affiliate programs, I earn from qualifying purchases.

Recipe Source: adapted from Mary G.