German Chocolate Brownies
These german chocolate brownies are a simple and delicious way to combine German chocolate flavors into one decadent, fudgey, perfect brownie!
Whenever I make these german chocolate brownies I get raving reviews about them.
It has almost turned into a selfish reason to make them because I know I will be showered with praise (very egocentric, I know, but what can I say…I love people to say nice things about me and my baking and I'm not ashamed to admit it…just don't tell anyone, ok?).
They are delicious, but best of all, they are so, so easy, which always makes me feel mildly guilty for accepting the compliments. But you have to do what you have to do, right?
These brownies have a buttery, firm crust with extreme caramely, chocolatey, gooey softness layering on top.
Please don't gasp if you read this list of ingredients realizing that several of them are pre-made, pre-packaged, pre-processed. Just slowly close down this browser and the rest of us will enjoy the decadence of these fabulous treats.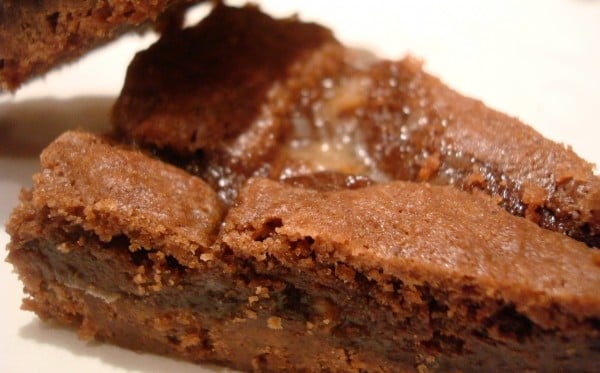 German Chocolate Brownies
Yield: 9X13-inch pan of bars

Prep Time: 15 minutes

Cook Time: 30 minutes

Total Time: 45 minutes
Ingredients
1 German chocolate cake mix
2/3 cup butter (room temperature)
1 cup semi-sweet chocolate chips
1 tub Coconut-pecan frosting (yes, the kind you find above the cake mixes at the store)
1/4 cup milk
Instructions
Preheat oven to 350 degrees.
Lightly grease a 9X13 pan.
In a large bowl using a pastry blender, cut in butter with the cake mix until the mixture resembles coarse crumbs.
Press 1/2 the mixture (about 2 1/2 cups) into the prepared pan.
Bake for 10 minutes.
Sprinkle chocolate chips over hot crust. Drop frosting by tablespoonfuls over chocolate chips. Mix 1/4 cup of milk into the remaining cake mix/butter mixture. Stir to combine.
Drop this batter by teaspoonfuls over the frosting.
Bake for 25-30 minutes.
Cool completely. Cut into squares and refrigerate until served. (These brownies really do taste best cool.)
Recipe Source: from The Lion House Entertaining Cookbook