You can still enjoy hot homemade pizza during the no-oven summer months with grilled pizza! Check out this post for a grilled pizza how-to.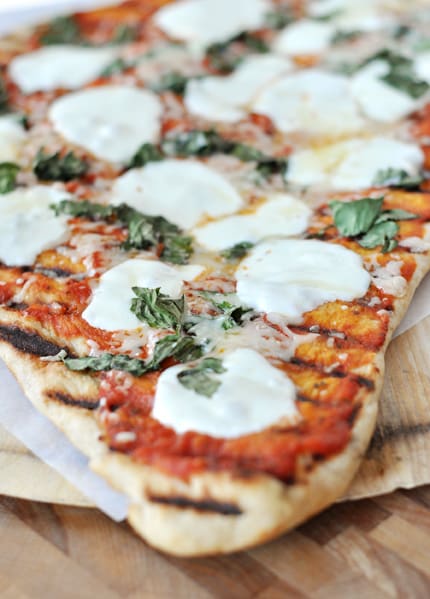 Mmm. I love me some grilled pizza. I've waxed poetic several times about homemade pizza. It is our Saturday night fare and we look forward to it all week. But in the hot summer months, I never feel like cranking my oven up to an obscene 500 degrees F. So out to the grill we go!
We've been grilling pizza for several summers now and to be honest, Brian, my husband, far prefers it that way. I always have to break his little heart in January (and February and March and April…) when it is way too cold and tell him the oven will have to suffice for pizza-making through the winter. My love only goes so far and definitely does not include freezing my bejeebers off to make grilled pizza.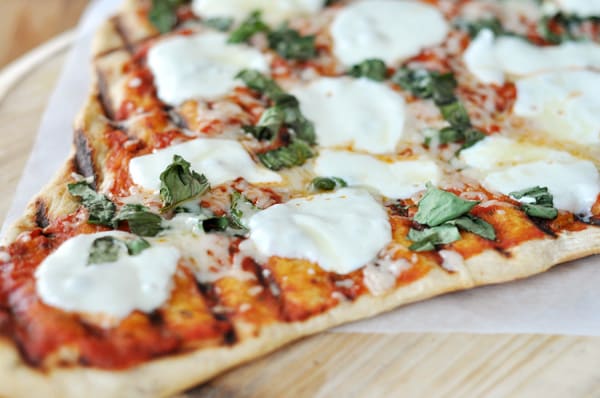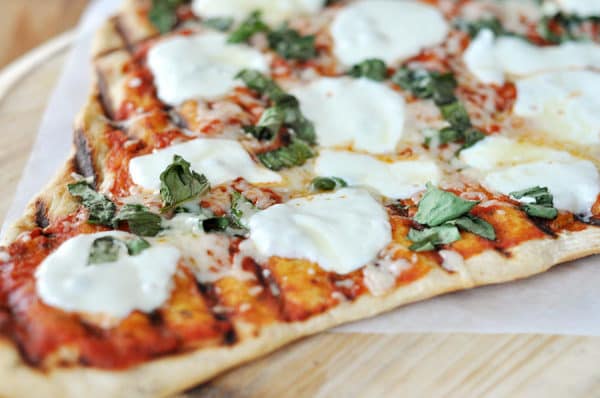 Grilled pizza is more about method than anything and is much faster and easier than I first thought when I initially tried it years ago. I've included the step-by-step photos of the process below but here's what you need to start:
1) A grill: I use a propane gas grill but if you are handy with a charcoal grill, by all means, use that. You need a grill with a lid that can be closed to help the pizza toppings melt.
2) Pizza dough: I love this overnight pizza dough (Update: perfected overnight whole wheat pizza dough recipe) and make it 99% of the time but this fast and easy pizza dough (Update: new post on fast and easy pizza dough) is fantastic in a pinch, too. Make up your favorite batch of dough and separate it into pieces of dough that when pressed out will fit on your grill.
3) Pizza sauce: This is my favorite pizza sauce recipe and is simple to boot. Mix up a batch and have it handy.
4) Toppings: We keep our pizzas pretty simple around here. Usually there is the kid's classic: sauce, mozzarella cheese, turkey pepperoni and fresh Parm, and then I like to make either this pesto chicken pizza or a pizza margherita (basically fresh mozzarella, fresh basil and some fresh Parm with the tomato sauce).
5) Oil/Brush: You'll want a small bowl of extra virgin olive oil or canola oil or the like and a small brush or other device to rub a light coating of oil on the first side of the pizza dough that will come in contact with the grill.
Once you get prepped, you are ready to go!
Click HERE for a printable PDF version of the steps below and the recipes I use.
Now, go grill some pizza!
{UPDATE: I haven't edited the how-to pictures below but another option for grilling the pizza which we've used a time or two is that instead of grilling the pizza directly on the grate, you can heat your pizza stone, if you have one, right on the grill, and it makes the process even easier – if you do that, no need to oil the dough before putting it on the stone.)