Curried Cauliflower "Popcorn"
This unique roasted curried cauliflower "popcorn" is so good it just might revolutionize your children's' attitudes toward cauliflower!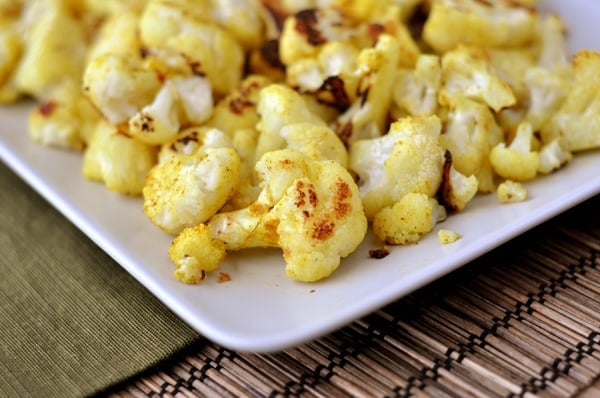 This unique and delicious roasted cauliflower has done nothing less than revolutionize my children's' attitudes toward cauliflower. They've never been lovers of the homely vegetable but will choke it down when a chocolate chip cookie is calling their name for dessert.
So imagine their skepticism when I placed this roasty-toasty curried cauliflower before them. They were not buying it. Not one little bit.
Until they finally gave in and tried it (the almighty chocolate chip cookie has a lot of power in this house). And I am not making this up…they ate every last drop of cauliflower on that platter (of course my husband and I helped, too).
This stuff is magically addictive! My boys kept insisting it tasted just like popcorn. I'm not sure that is exactly true, but it does have a wonderful roasted flavor that is absolutely scrumptious.
I had no idea that cauliflower tossed with a bit of olive oil, salt and curry and then roasted in the oven could become something so utterly delicious.
It is nothing short of a miracle that my three year old requested this cauliflower for his birthday meal. Awesome.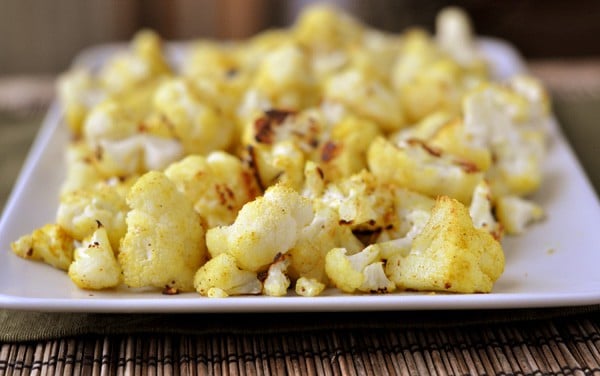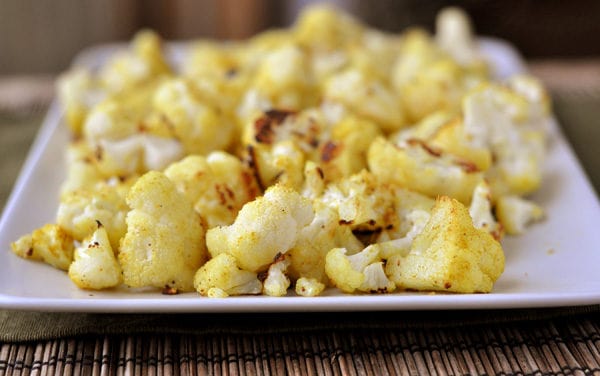 One Year Ago: Chocolate Toffee Shortbread Bars
Two Years Ago: Sugar Snap Pea and Ham Risotto
Three Years Ago: Aunt Alecia's Famous Chocolate Chip Cookies
Curried Cauliflower "Popcorn"
Yield: 4-6 servings

Prep Time: 10 minutes

Cook Time: 18 minutes

Total Time: 28 minutes
Ingredients
1 medium head cauliflower
1 1/2 tablespoons olive oil
1/4 to 1/2 teaspoon salt
1/2 teaspoon curry powder
Instructions
Preheat the oven to 475 degrees F.
Wash and core the cauliflower and cut the florets into bite-size pieces. Place in a large bowl. Toss the cauliflower with the olive oil, salt and curry powder.
Turn out the cauliflower onto a large rimmed baking sheet. Bake for 16-18 minutes, stirring every 6-7 minutes, until the cauliflower is browned in spots and is crisp-tender. Serve immediately.
Recommended Products
As an Amazon Associate and member of other affiliate programs, I earn from qualifying purchases.

Recipe Source: from my friend Lesli D.
Disclaimer: I am a participant in the Amazon Services LLC Associates Program, an affiliate advertising program designed to provide a means for me to earn fees by linking to Amazon.com and affiliated sites. As an Amazon Associate I earn from qualifying purchases.