Heath Bar Cake
This heath bar cake is yummy. The melted chocolate and toffee meld together to create a dreamy, decadent candy layer on top of an incredibly moist cake!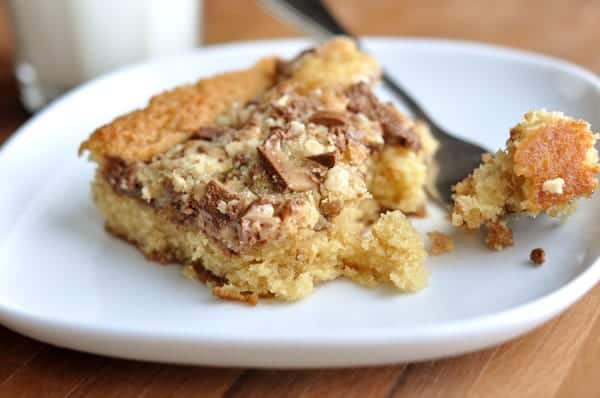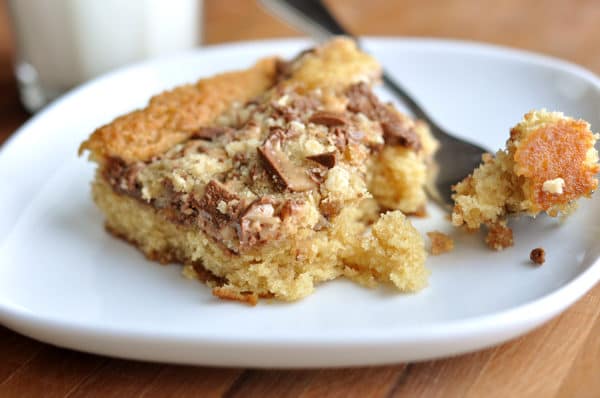 I've been eating this cake for at least the last three decades. I requested it every year faithfully for my birthday cake growing up and every year, faithfully, my wonderful mother made it for me.
In college, since my wonderful mother was hundreds of miles away, I went ahead and made it for myself.
Happy Birthday to me! And now? Well, to be honest, I manage to make this cake more often than ever – eliminating it just from the birthday lineup and eating it year round.
When I do happen to request it for my birthday, my husband and kidlets nicely conquer that task.
It is truly a glorious cake. Not only is it a one-bowl wonder (well, one and a half, I guess), but the result of the tender buttermilk cake topped with crumbly streusel and loads of chopped up Heath bars (a chocolate covered toffee bar, in case you are unfamiliar) is one that makes my mouth water just thinking about it.
The melted chocolate and toffee meld together to create this dreamy, decadent candy layer on top of an incredibly moist cake. It is so very, very hard to stop eating.
I can't believe I only have three decades of eating this under my belt. Here's to the next three (at least!).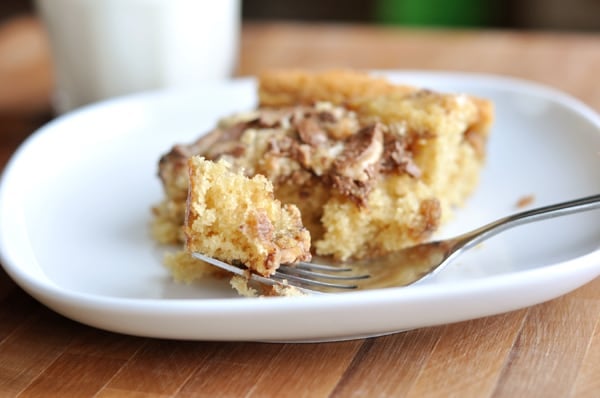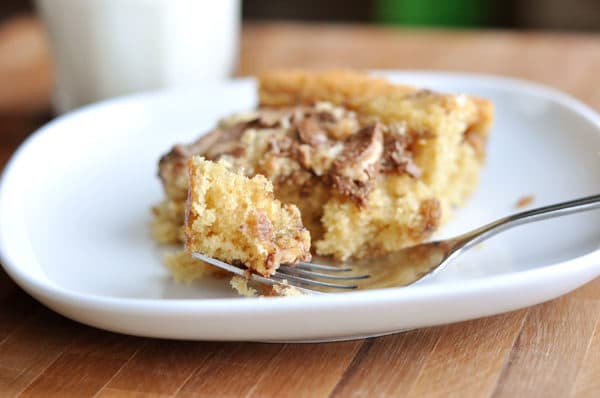 One Year Ago: Balsamic Chicken Noodle Bowl
Two Years Ago: Quick and Delicious Clam Chowder
Three Years Ago: No-Knead Bread Revolution
Yield: 8-10 servings

Prep Time: 10 minutes

Cook Time: 30 minutes

Total Time: 40 minutes
Ingredients
1 cup packed light brown sugar
1/2 cup granulated sugar
2 cups flour
8 tablespoons (1 stick) butter, softened
1 cup buttermilk (here is a guide for making your own buttermilk)
1 large egg
1 teaspoon vanilla
1 teaspoon baking soda
1/2 teaspoon salt
5-6 (1.4 ounces each) chocolate covered toffee bars (like Heath), chopped
Instructions
Preheat the oven to 350 degrees and center a rack in the middle of the oven. Lightly grease a 9X13-inch pan and set aside.
In a large bowl, combine the brown sugar, white sugar, flour and butter. Crumble these ingredients together with a pastry blender, whisk or two forks until the mixture is crumbly and coarse. Remove 1/2 cup of the crumbs to a small bowl and set aside. To the large bowl with the remaining crumbs, add the buttermilk, egg, vanilla, baking soda and salt. Mix well.
Pour the batter into the prepared pan, smoothing it to the edges. Sprinkle the top of the cake with the reserved crumbs and chopped Heath bars. Bake for 25-30 minutes until the center is no longer gooey but a toothpick inserted comes out with moist crumbs. The cake may fall slightly in the center leaving the edges raised. No fear! It will still be delicious.
Recommended Products
As an Amazon Associate and member of other affiliate programs, I earn from qualifying purchases.

Recipe Source: adapted slightly from my beautiful mother, Michel W.
Disclaimer: I am a participant in the Amazon Services LLC Associates Program, an affiliate advertising program designed to provide a means for me to earn fees by linking to Amazon.com and affiliated sites. As an Amazon Associate I earn from qualifying purchases.