Homemade Ciabatta Bread {And The Best Garlic Bread On Earth}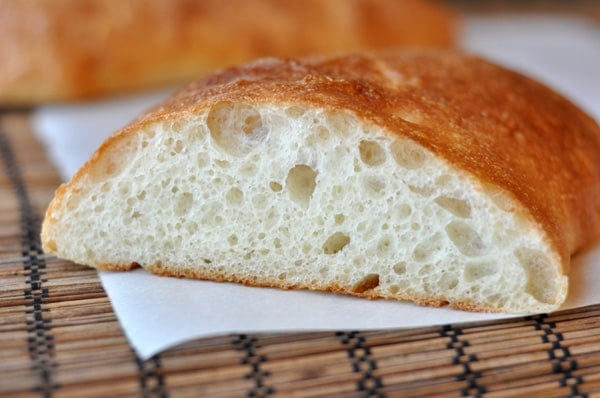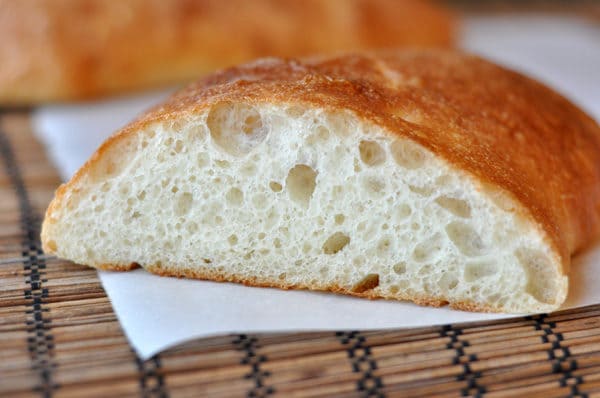 What is ciabatta bread and why on earth should you make your own? Excellent questions…
First of all, ciabatta is an Italian bread that is long and flat-ish, somewhat in the shape of a slipper (which is what the word "ciabatta" literally translates to).
It is slightly crispy on the outside with a deliciously tender and airy crumb. I can personally eat an entire loaf myself, that's how much I love the almighty ciabatta.
Now why should you make it yourself? It's a heck of a lot cheaper than buying it from a bakery, first of all, if you can even find an authentic bakery to buy it from (which I cannot). And the main reason for making it? Two words:
Panini
Garlic Bread
Ok, that was officially three. But really, there is no better bread to panini out of than ciabatta, in my opinion. And for the record, this ciabatta makes the most to-die for garlic bread known on the earth (see the details below the recipe).
Seriously. I've done my research. I know this to be true.
If either of those options don't get you excited, don't worry, I usually make this when we want to tear off hunks in a non-civilized manner and dip them into the drippings of a buttery garlic shrimp scampi or something equally delightful.
So make it already! I've included step-by-step photos, just like I did with the bagels, and if you can prepare yourself to forget what a normal yeast dough should feel and look like and accept the fact that you may have crazy-dough-hands-and-fingers at some point or another, well, then, you'll do just fine making it.
Yield: 2 loaves of ciabatta bread

Prep Time: 15 minutes

Cook Time: 20 minutes

Additional Time: 15 hours

Total Time: 15 hours 35 minutes
Ingredients
Overnight starter:
1 1/2 cups (6 ¼ ounces) unbleached or regular all-purpose flour
1 cup cool water
1/16 teaspoon instant yeast
Dough:
All of the starter (from above)
1 teaspoon instant yeast
1 1/2 cups (6 ¼ ounces) unbleached or regular all-purpose flour
1 1/4 teaspoons salt
1 teaspoon sugar
1 tablespoon nonfat dry milk
1/4 cup lukewarm water
2 tablespoons olive oil
Topping for Garlic Bread:
1 medium head of garlic, cloves separated and peeled (about 15 medium cloves) and finely minced
1/2 cup (1 stick) butter, melted
1/3 cup olive oil
pinch (1/16 teaspoon) of salt
1 cup (4 oz.) freshly grated Parmesan cheese
snipped fresh parsley, for garnish (optional)
Instructions
For the starter: Mix the starter ingredients in a small bowl until well combined. Cover the starter and let it rest at room temperature overnight, or for up to 15 hours. It will become bubbly and puffy.
For the bread: Place all of the dough ingredients, including the starter, into the bowl of your mixer and beat at medium speed, using the flat/paddle beater, for 7 minutes (scraping the bowl as needed). As it starts to mix, it will be very wet and sticky. After mixing for 7 minutes, the dough will be smooth, soft, shiny, and elastic. Alternatively, knead the dough ingredients in your bread machine using the dough cycle.
Using greased or lightly oiled hands, transfer the dough to a greased bowl or other rising container, cover it, and let it rise for 2 hours, deflating it halfway through, and then recovering and letting it rise another hour. If you're using a bread machine, allow it to rise for an additional hour after the dough cycle has ended.
Lightly grease your work surface/counter, and a half-sheet baking pan (18" x 13") or similar large baking sheet or line it with parchment or a silpat liner. Grease your hands, as well.
Very gently turn the dough out of the bowl onto your work surface; you don't want to deflate it. It'll lose a bit of volume, but don't actively punch it down. Using a bowl scraper, bench knife, or your fingers, divide the dough in half. You should have two fat logs, each about 10" long x 4" wide.
Handling the dough gently, transfer each piece to the baking sheet, laying them down crosswise on the sheet. Position them about 2 1/2" from the edge of the pan, leaving about 4" between them. Lightly cover the dough with heavily oiled plastic wrap or a proof cover, and allow it to rise for 60 to 90 minutes. Midway through, gently but firmly dimple the dough with your fingers, making fairly deep pockets. Towards the end of the rising time, preheat the oven to 425°F.
Spritz the risen loaves with lukewarm water. You'll see that the dimples have filled in somewhat, but haven't entirely disappeared. Bake the loaves until they are golden brown, about 18 to 20 minutes. Remove them from the oven, and cool on a rack.
To make garlic bread: Prepare the topping by combining the minced garlic cloves, melted butter, olive oil and a pinch of salt in a small bowl. Cut the loaves in half lengthwise, like you're going to make giant sandwiches. Spread the cut halves with the garlic mixture. Bake the bread in a preheated 400°F oven for about 10 minutes, or until the topping is bubbly and the edges of the bread are starting to brown. Remove the bread from the oven, and sprinkle it immediately with the grated Parmesan and parsley, if desired. Cut in crosswise slices to serve.
Notes
Biga: this dough requires a "biga" or a starter to be made the night before so plan ahead! It takes mere seconds to stir together but you don't want to skimp on this step – it is important for the flavor and outcome of the dough.

Measuring the Flour: also, if you don't have a scale to weigh the flour, take care to measure with a light hand as you don't want the starter or dough overfloured.
Recommended Products
As an Amazon Associate and member of other affiliate programs, I earn from qualifying purchases.

Recipe Source: from King Arthur Flour