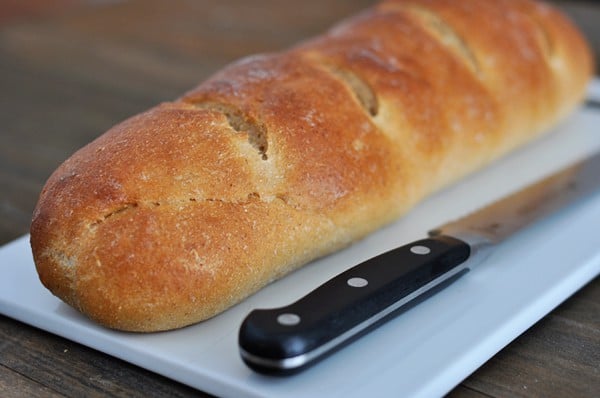 Update 2/2013: This recipe has been on my blog, well, for as long as I've been blogging and that's over five years!
It is no exaggeration that this bread is made at least twice a month in my kitchen.
It's perfect to eat just by itself (warm out of the oven? seriously, divine) or to use as garlic bread, french bread pizzas, dipping for fondue. I mean the possibilities are endless.
The bread is exactly what unauthentic French bread should be (ignore those cravings for a "real" crusty baguette – this is not it). Soft and tender and absolutely worth all the carbs.
Promise.
French Bread
Ingredients:
2 1/4 cups warm water
2 tablespoons sugar
1 tablespoon instant or active dry yeast
1 tablespoon salt
2 tablespoons oil
5 1/2 – 6 cups flour (see note)
Directions:
In a large bowl or in the bowl of a stand mixer fitted with the dough hook, combine the water sugar and yeast. If using active dry yeast, let the mixture bubble and foam before proceeding (this can take 3-5 minutes). If using instant yeast, proceed with the recipe (no need to let the yeast activate). Add the salt, oil and 3 cups of flour and mix. Add in 2 1/2 to 3 more cups of flour gradually. The dough should clean off the sides of the bowl and not be too sticky but it should still be soft. Knead for 2-3 minutes until the dough is smooth and soft.
Leave the dough in the mixer to rest for 10 minutes and then stir it down (turn on your mixer for 10 seconds or use a wooden spoon to stir down the dough) and then allow to rest another 10 minutes. Repeat for a total of 5 times. Then turn the dough onto a lightly greased surface and divide into two equal parts. Roll each part into a 9X13-inch rectangle. Roll the dough up starting from the long edge and pinch the seam to seal. Arrange seam side down on a large baking sheet lined with parchment paper. Repeat with the second part of dough. Place it on the baking sheet leaving room for both loaves (or use a second baking sheet for the second loaf). Cover with greased plastic wrap and let the loaves rise until doubled in size. With a very sharp knife cut 3 or 4 gashes at an angle on the top of each loaf. Bake at 375 degrees F for 25-30 minutes until golden brown and baked through.
Notes:
As with all yeast doughs, I never use the flour amount called for in the recipe as a hard fast rule (unless a weight measure is given and then I pull out my kitchen scale). Because humidity, temperature, altitude and a multitude of other factors can impact how much flour you need in your yeast doughs, I always judge when to quit adding flour by the texture and look and feel of the dough rather than how much flour I've added compared to the recipe. This tutorial on yeast may help identify how a perfectly floured dough should be. Also, I often use half to 3/4 finely ground white whole wheat flour with good results – and sometimes I get crazy and use 100% whole wheat flour (always finely ground white wheat) but the bread is a bit more dense with 100% whole wheat flour. If using part or all whole wheat flour, add a few minutes to the kneading time to help develop the gluten.
All images and text ©
.
Follow @melskitchencafe on Instagram and show me the recipes you are making from my blog using the hashtag #melskitchencafe. I love seeing all the goodness you are whipping up in your kitchens!
Recipe Source: from The Sister's Cafe