Sugar Snap Pea and Ham Risotto
This sugar snap pea and ham risotto is delicious. The combination of ham, crunchy sugar snap peas and parmesan cheese is perfect for a light, summer meal.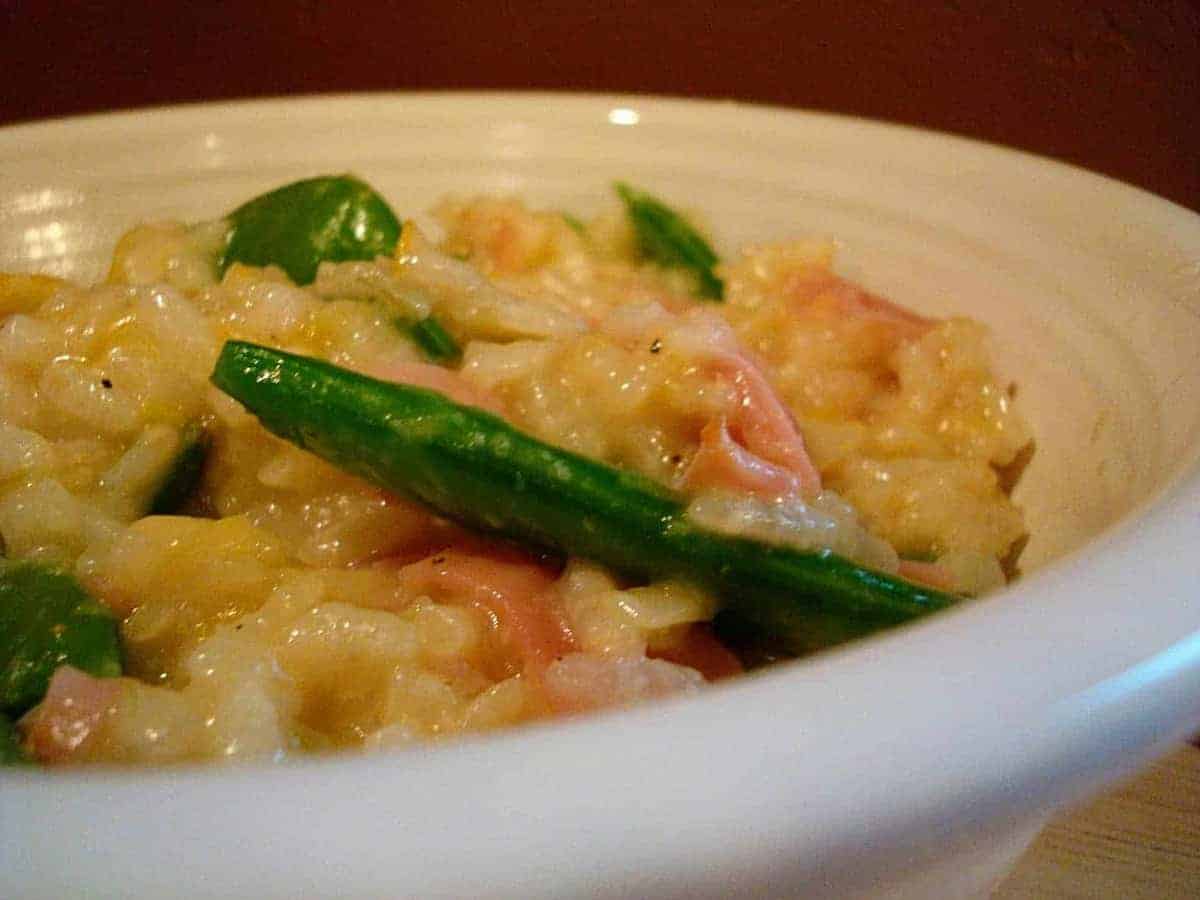 Do you love risotto? Have you ever had it? If not, now is the time to change your ways.
Risotto is a unique rice dish in that, despite the lack of cream or milk, the rice cooks up to be creamy and downright delicious.
Unlike "normal" rice that you can simmer, cover and leave to work its magic, risotto does require constant stirring while continuously adding small amounts of liquid until each portion is absorbed.
The end result is worth it and far superior to regular white rice.
This particular variation comes from my husband's coworker who graciously shared the recipe with us.

The combination of salty ham, crunchy sugar snap peas and parmesan cheese is perfect for a light, summer meal. I served this with a crusty roll and called it good.
Needless to say it was a hit in my household. Fantastic recipe. Thanks, Beth!
Sugar Snap Pea and Ham Risotto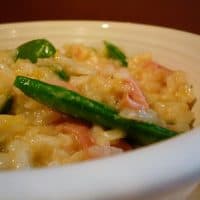 Ingredients
4 1/2 cups fat-free, less-sodium chicken broth
8 ounces sugar snap peas, trimmed and cut into 1-inch pieces
2 teaspoons olive oil
1 1/2 cups thinly sliced leek (about 2 medium leeks)
2 garlic cloves, minced
1 cup uncooked Arborio rice or other medium-grain rice
3 ounces diced cooked ham (about 3/4 cup)
1/2 cup freshly grated Parmesan cheese
1/8 teaspoon black pepper
Instructions
Bring broth to a simmer in a medium saucepan (do not boil). Keep warm.
Cook peas in boiling water 2 minutes or until crisp-tender. Drain and rinse with cold water until the peas are no longer warm to the touch.
Heat oil in a large saucepan over medium heat. Add leek to pan; cook 5 minutes or until tender, stirring frequently. Add garlic; cook 30 seconds. Stir in rice; cook 1 minute. Add 1/2 cup chicken broth and cook 2 minutes or until liquid is nearly absorbed, stirring constantly. Add remaining broth 1/2 cup at a time, stirring constantly until each portion of broth is absorbed before adding the next (about 20 minutes total). Add ham to pan; cook 3 minutes or until thoroughly heated. Stir in peas, cheese, and pepper. Serve immediately.
Notes
Quantity: I one-and-a-halved the recipe to feed my family of two adults and three children as a main dish.
Recommended Products
As an Amazon Associate and member of other affiliate programs, I earn from qualifying purchases.
Recipe Source: adapted from Beth
Disclaimer: I am a participant in the Amazon Services LLC Associates Program, an affiliate advertising program designed to provide a means for me to earn fees by linking to Amazon.com and affiliated sites. As an Amazon Associate I earn from qualifying purchases.