Kicked Up Ramen Noodles – Kung Pao Style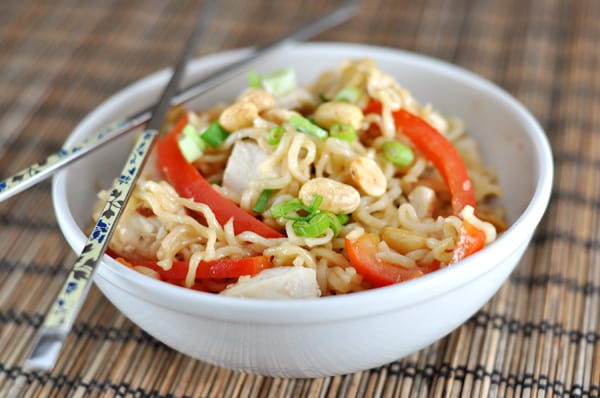 Confession #1: My family really loves to eat ramen noodles.
Confession #2: I happen to quite like the little noodles, too, but the very thought of the highly processed/salty/nasty seasoning packet makes me want to gag.
What's a girl to do? Well, for starters, when we want ramen noodles, I toss the seasoning packet and cook the noodles in low-sodium all-natural chicken broth or my favorite vegetable broth. No one knows the difference.
But to kick them up even more, we've been making this kung-pao style dish with the ramen noodles and let me tell you, it is killer. And fast. And requires the use of one skillet.
And is fantastically delicious and kid-friendly. Seriously, get out, right? I mean, who could resist the curly, tender noodles and golden chicken combined with the Asian flavors of hoisin sauce, a hint of sesame oil and sweet red peppers.
The lightly toasted peanuts make homely ramen noodles somehow seem instantly gourmet. And when that happens, you know you have a winner!
Confession #3: Despite what the picture portrays, my kids did not eat these with chopsticks (I tried and mostly failed). Instead, I used my kitchen scissors to cut my kids noodles and peppers into small pieces. When it comes to cutting up ramen noodles for toddlers, kitchen shears are my best friend.
Confession #4: While "kung pao" style food is notoriously hot and spicy, I dumbed it down quite a bit in order to spare my children the inability to feel their tongue for a week. Feel free to increase the heat as you like it!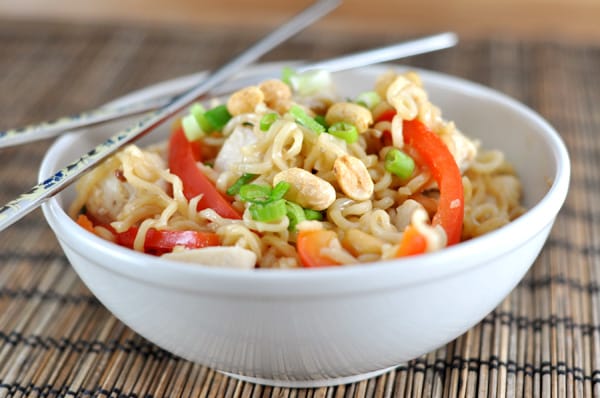 Steamed broccoli or roasted cauliflower or even corn on the cob
Fresh pineapple slices
Green Salad
One Year Ago: Homemade Taco Tortilla Bowls
Two Years Ago: Garlic Chicken Pasta with Spinach
Three Years Ago: Chicken Lo Mein
Kicked Up Ramen Noodles – Kung Pao Style
Yield: 4-5 servings

Prep Time: 10 minutes

Cook Time: 18 minutes

Total Time: 28 minutes
Ingredients
3 tablespoons canola oil
1 pound boneless, skinless chicken breasts (about 2-3), cubed
1 red bell pepper, cored and sliced thin
1/2 cup roasted unsalted peanuts
3 garlic cloves, finely minced
1 tablespoon grated fresh ginger
1/2 teaspoon red pepper flakes (add more if you want more heat)
3 1/2 cups low-sodium chicken broth
4 (3-ounce) package ramen noodles, discard seasoning packets
2 tablespoons hoisin sauce
1 tablespoon rice vinegar
2 teaspoons toasted sesame oil
4 scallions (green onions), sliced thin
Instructions
In a 12-inch nonstick skillet, heat 2 tablespoons of the canola oil over medium to medium-high heat until it is hot and rippling. Season the chicken lightly with salt and pepper. Add the cubed chicken to the pan in a single layer and cook, stirring occasionally, until the chicken is browned and cooked through, 5-7 minutes. Remove the chicken to a medium bowl.
Add the last tablespoon of oil to the skillet and heat until hot and rippling. Add the red bell pepper and the peanuts and cook until the pepper is softened, 2 to 3 minutes. Remove the mixture into the bowl with the chicken, trying to leave as much oil as possible behind in the skillet.
Add the garlic, ginger and red pepper flakes to the remaining oil in the skillet and cook over medium heat, stirring constantly, for about 30 seconds to 1 minutes. Stir in the chicken broth. Break the bricks of ramen into small chunks and add them to the skillet. Bring the mixture to a simmer and cook, tossing the ramen constantly with tongs to separate, until ramen is just tender but there is still a bit of liquid in the pan, about 2-4 minutes.
Stir in the hoisin sauce, vinegar, and sesame oil and continue to simmer until the sauce is slightly thickened, about 1 minute. Stir in the chicken, peppers and peanuts. Sprinkle with green onions before serving.
Notes
Sauce: the sauce in this dish may seem a bit brothy when finished, but the liquid will be quickly absorbed by the noodles when serving.
Recommended Products
As an Amazon Associate and member of other affiliate programs, I earn from qualifying purchases.

Recipe Source: adapted from The Best 30-Minute Recipe