Kicked Up Rice Krispy Treats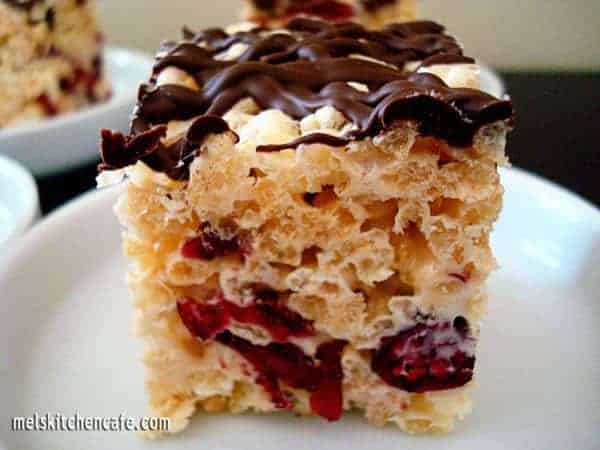 Do you need a last-minute, shockingly simple treat for New Year's Eve? This recipe came in the latest issue of Cook's Country as a viable option for a dressed up Valentine's Day treat.
I wasn't going to wait two months to make them so I whipped them up this morning for a friend's birthday (and saved leftovers for our New Year's Eve) and they are fantastic!
Basically, Cook's Country revamped the traditional rice krispy treat – making them creamier (thanks to the addition of white chocolate with the melted marshmallows), classier (thanks to the drizzled chocolate and mix-ins) and altogether yummier (thanks to a heftier ratio of marshmallows to rice krispies).
I've always loved rice krispy treats, but I don't think I can go back to the old recipe again.
These are delicious enough for a high-class party but still simple enough for an after-school snack! (P.S. I made the Chocolate Cherry Treats but there are yet two more versions of these I've included below – both sound delicious!)
Kicked Up Rice Krispy Treats
Yield: 11X17-inch pan

Prep Time: 15 minutes

Cook Time: 8 minutes

Total Time: 23 minutes
Ingredients
3 tablespoons butter
1 (10-ounce) bag marshmallows
1/2 cup white chocolate chips
1/2 teaspoon salt
1/4 teaspoon vanilla extract
5 cups Rice Krispies cereal (or off-brand works fantastic, too)
1 cup dried cherries or cranberries (I used dried cranberries)
1/2 cup semisweet chocolate chips, melted
Instructions
Prepare pan by lining an 11X7-inch baking dish with foil, allowing excess foil to hang over pan edges. If you want the treats thinner, use a 9X13 – for thicker treats still use an 8X8-inch pan. I found the 11X7 pan size to be perfect – not too thick and not too thin. Grease the foil with nonstick cooking spray.
Melt butter in a large pot over low heat. Add marshmallows, white chocolate chips, and salt and cook, stirring constantly, until melted and smooth, about 8 minutes. Stir in vanilla.
Off heat, stir in rice krispies and cherries or cranberries until incorporated. Scrape mixture into prepared pan and press into bottom and corners with a greased spatula (I just used my fingers since the marshmallows weren't overly hot at this point). Let cool completely, about 1 hour.
Melt semisweet chocolate chips in the microwave on low at 30 second intervals until smooth. Pour melted chocolate into a ziploc baggie, pressing chocolate into one corner of the bag. Using scissors, clip a tiny piece off the corner and drizzle chocolate over cooled treats. Allow chocolate to cool, about 45 minutes. Using foil overhang, lift treats from pan. Cut into squares. Serve.
Notes
Double Chocolate Caramel Turtle Treats: prepare crispy chocolate cherry treats, substituting 1/2 cup semisweet chocolate chips for white chocolate chips. Omit the cherries or cranberries and stir in 15 soft caramel candies, quartered, and 1 cup chopped toasted pecans with the rice krispies.

Fluffer-Nutter Treats: prepare crispy chocolate cherry treats, substituting 1/2 cup peanut butter chips for white chocolate chips, 1 cup dry-roasted peanuts for dried cherries or cranberries, and 1/2 cup peanut butter chips for semisweet chocolate chips.
Recommended Products
As an Amazon Associate and member of other affiliate programs, I earn from qualifying purchases.

Recipe Source: adapted from Cook's Country