Slow Cooker Italian Beef
This slow cooker italian beef is perfectly seasoned, melt-in-your-mouth tender and absolutely heavenly served on crusty rolls.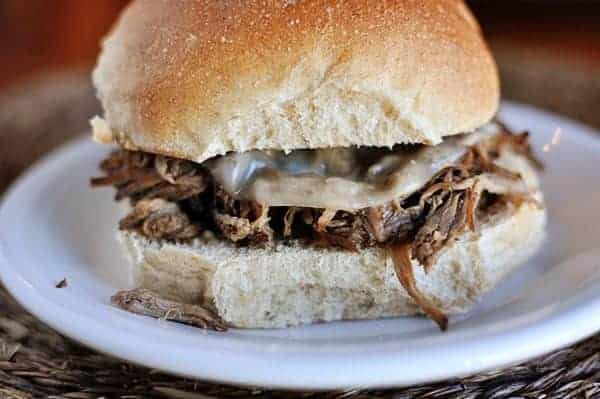 This recipe has been around since the beginning of time (ok, so maybe just since the beginning of this here blog -but you know what I mean), and let me tell you, it is one of my very favorite ways to cook up beef in the slow cooker.
It is perfectly seasoned, melt-in-your-mouth tender and absolutely heavenly served on crusty rolls (I love to use this roll recipe, in fact) with provolone cheese.
I've adapted the recipe by tossing the prepackaged seasoning mix and upping the everyday spices that probably reside in your pantry right now. This one is definitely a keeper!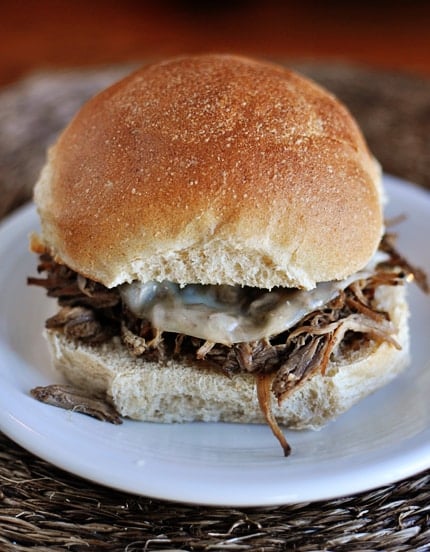 FAQs for Slow Cooker Italian Beef
Can this be made in the instant pot?
Yes! I've done it for 70 minutes on high pressure
Can I cook it in the oven?
Usually baking it in a covered, heavy stockpot (that's oven safe) at 250 degrees for about 4-5 hours should do the trick.
Should I trim the fat first?
I don't trim it unless there are large pockets of fat easily trimmed.
How can I avoid soggy bread? Do you drain the meat first?
I usually shred this and put it in a 9X13 pan and pour a bit of the cooking liquid over it so it is moist but not dripping with liquid.
Does the meat freeze well?
Yes! When cooked and prepared, the meat freezes well. I usually reheat it in the slow cooker or on the stovetop.

French Bread Rolls, or a Crusty Roll (for the bun)
An awesome side like this: Barbecue Macaroni Salad, Coleslaw, or these Boston Baked Beans
Fresh vegetables and/or green salad
Total Time:
10 hours
5 minutes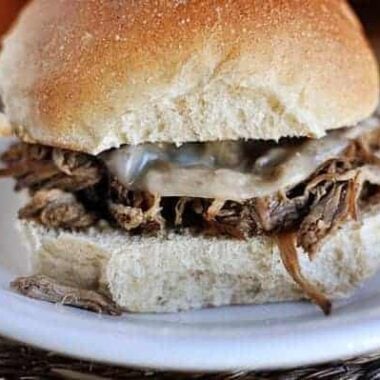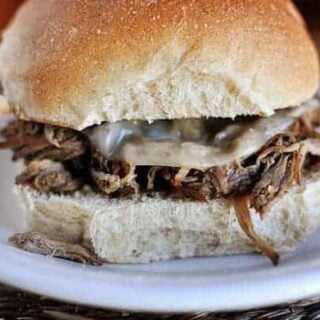 Ingredients
1 1/2 cups low-sodium beef broth
1 cup water
2 teaspoons salt
2 teaspoons ground black pepper
2 teaspoons dried oregano
2 teaspoons dried basil
2 teaspoons onion powder
2 teaspoons dried parsley
2 teaspoons garlic powder
2 bay leaves
5 pounds chuck roast
Instructions
In a liquid measuring cup or bowl, combine water and beef broth with salt, ground black pepper, oregano, basil, onion salt, parsley, garlic powder, and bay leaves. Whisk to combine.
Place roast in slow cooker and pour seasoning mixture over the meat. Cover, and cook on low for 9-10 hours or on high for 5-6 hours.
When done, remove bay leaf, and shred meat with a fork (keep the shredded meat in the slow cooker with the juices). Serve on crusty rolls with cheese, if desired.
Recommended Products
As an Amazon Associate and member of other affiliate programs, I earn from qualifying purchases.
Recipe Source: adapted from allrecipes.com
Disclaimer: I am a participant in the Amazon Services LLC Associates Program, an affiliate advertising program designed to provide a means for me to earn fees by linking to Amazon.com and affiliated sites. As an Amazon Associate I earn from qualifying purchases.