Beach Street Lemon Chicken Linguine
In Utah where I lived before relocating last month, there was this fantastic Mexican restaurant, locally owned and operated, and surprisingly my favorite thing to order there was pasta.
Sounds strange for a Mexican restaurant whose enchiladas and chimis are out of this world, but pasta always called my name. The pasta dishes were flavorful with a little kick and I inhaled them. And I am not ashamed to admit it.
This Beach Street Linguine reminded me a lot of a pasta dish I would get at the restaurant. Talk about pasta with a kick!
This dish is packed with flavor and the sauce is light and delicate, not overbearing and glumpy.
Don't let the possibility of heat scare you – if you want to cut down on the spice, reduce the Cajun seasoning to 1 1/2 teaspoons.
This recipe is worth trying – we eat pasta a lot in our household and this was a great way to change things up. Healthy, delicious, and packed with fantastic flavors – I'll be making this again for sure.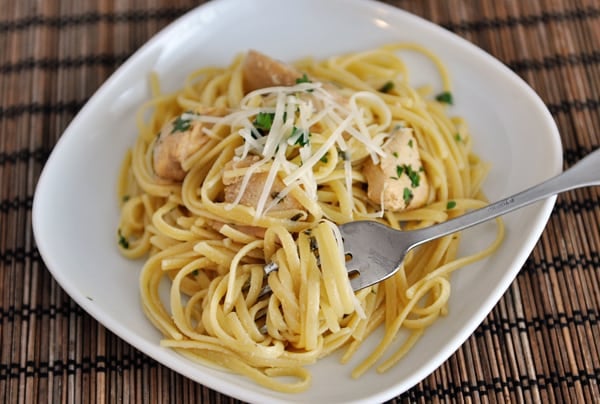 Beach Street Lemon Chicken Linguine
Yield: 6 servings

Prep Time: 10 minutes

Cook Time: 18 minutes

Additional Time: 3 hours

Total Time: 3 hours 28 minutes
Ingredients
Lemon Chicken Linguine:
1 lb. linguine
2 tablespoons olive oil
Zest from one lemon
Juice from one lemon
3 green onions, chopped (white and green parts)
¼ cup chopped fresh parsley
Salt and freshly ground pepper
1/2 cup grated Parmesan cheese
Marinade:
½ cup olive oil
2 cloves garlic, crushed (smashed with the back of a large knife or saucepan)
1 tablespoon Cajun seasoning (cut this down to 1 1/2 teaspoons if you want less heat but don't omit entirely or you will lose great flavor)
Juice of one lemon
2 tablespoons minced fresh parsley
2 tablespoons brown sugar
2 tablespoons soy sauce
2 chicken breasts, sliced
Instructions
Combine the marinade ingredients in a bowl and whisk lightly before pouring into a ziploc plastic bag. Pat chicken dry and toss in marinade to coat. Refrigerate 3-12 hours.
When ready to cook, preheat skillet over medium heat and pour contents of plastic bag (both marinade and chicken) into the skillet. Saute over medium-high heat until chicken is cooked.
Combine juice of one lemon, lemon zest, olive oil, green onions and fresh parsley together in a small bowl. Set aside.
While the chicken is sauteing, cook linguine in boiling salted water until done; drain and return to warm pot. Pour lemon juice/olive oil/green onion mixture over pasta and mix lightly. When chicken is finished cooking, add hot pasta mixture to the skillet with the chicken and toss well. Sprinkle with salt and pepper to taste and toss in parmesan cheese. Serve warm.
Notes
This recipe requires marinating the chicken for 3-12 hours so plan ahead!
Recommended Products
As an Amazon Associate and member of other affiliate programs, I earn from qualifying purchases.

Recipe Source: adapted from My Food Storage Deals