Beyond easy, this luscious lemon ice cream comes together in a snap then churns to glorious creaminess in an ice cream maker.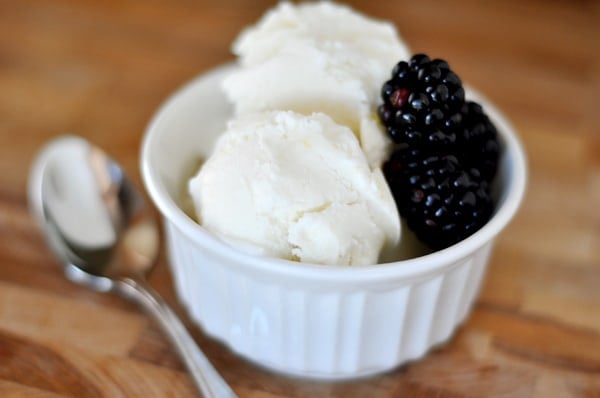 Also known as "Tutu's Lemon Ice Cream" to those in the know, this simple, refreshing ice cream recipe was sent to me by Danielle H, who has corresponded with me for a long while now about recipes and MKC content.
Her grandmother Tutu (called that sweet name because she lived in Hawaii when her first grandchild was born and Tutu means grandmother in Hawaiian) was the creator of this delicious ice cream and it is definitely a legacy to hang on to!
Beyond easy, this ice cream comes together in a snap by whisking the four every day ingredients together and then churning to glorious creaminess in an ice cream maker.
Easy peasy. And absolutely one of the most light and refreshing frozen treats I have ever partaken of.
I served this with a fall fruit crumble (recipe to come soon!) and have made it twice more just to enjoy by itself.
Perfect as a pick-me-up for a warm day, I can see myself enjoying this all winter long, as well.
There is no shame in eating ice cream throughout the bitterly cold winter, even if it means donning an extra sweatshirt or three in order to function.
Yield:
1 quart of ice cream
Additional Time:
3 hours
55 minutes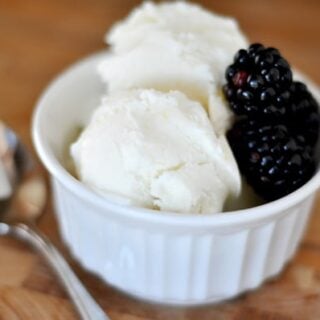 Ingredients
3 cups half & half
1 ½ cups granulated sugar
Juice of 3 lemons (about 1/2 cup)
2 teaspoons grated lemon zest (grate the lemons before juicing)
Instructions
Combine all the ingredients in a medium bowl or large liquid measure. Whisk or stir until the sugar is dissolved and it is mixed well.
Using an electric ice cream maker, freeze according to the manufacturer's directions. I place the churned ice cream in a sealed tupperware in the freezer for 3-4 hours to firm up perfectly before scooping.
Recommended Products
As an Amazon Associate and member of other affiliate programs, I earn from qualifying purchases.
Recipe Source: adapted slightly from a recipe sent to me by Danielle H, by way of her Grandma Tutu