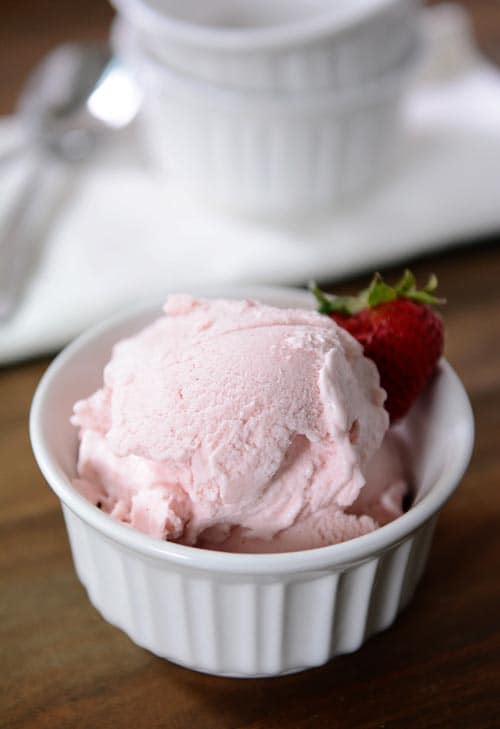 I don't mean to brag or anything, but I'm pretty sure I could win all of you in a who-loves-gelato-more contest. With both hands tied behind my back, no less. Considering my love has been founded on gelato devoured here in the States, I'm guessing that were I to get lucky enough for a real, live trip to Italy to taste my way through authentic gelato, it would be a very, very dangerous, joyful and hip-expanding experience.
If you aren't sure what gelato (pronounced: jel-LAH-toe) even is, it's simply a denser, ultra-creamy form of ice cream. Originating in Italy, traditional gelato uses more milk and less cream than the ice cream we know and love (and oftentimes no eggs at all) and is churned more slowly, leaving the finished gelato less fluffy and airy (and less fattening) than ice cream (obvious thanks to The Kitchn for the explanation that I would not have been able to provide without a leeetle bit of help).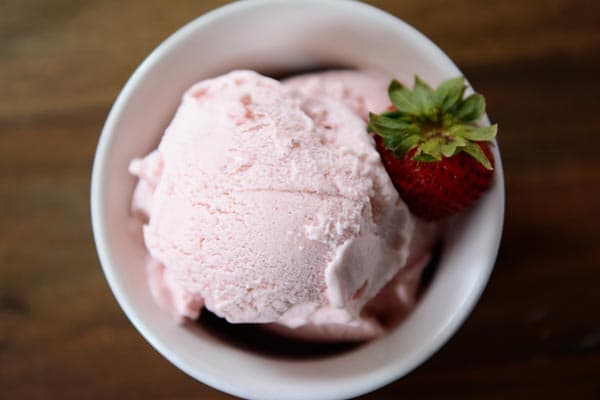 Brian and I got our cute little Cuisinart ice cream maker as a wedding gift exactly 12 years ago and it is still going strong. Oh, and hello 12-year anniversary! Don't ask what we are doing to celebrate: Brian's out of town for work and I'll probably be eating cheese quesadillas or something else equally as exciting-with-minimal-cleanup with the kids tonight followed by a bowl full of this dreamy stuff. I made a batch to celebrate; can you blame me? We may or may not have the self-control to leave any for Brian when he gets home. Good thing it is so easy to make. He can make it for me this weekend. I'd rather have gelato than flowers any day.
Thick, creamy, lightly sweet and terribly decadent, this strawberry gelato is definitely going to hold me over until I taste the real thing. In Italy. If ever. Oh, and PS: to take this gelato over the top, serve it with a few slices of ripe, juicy strawberries. Oh my heavenly. I can't wait to see what other flavors of gelato I can dream up!
PS: If you've read this far, consider yourself a true friend and super lucky! On a whim, I decided to give away two ice cream makers just in case this gelato is calling to you like it is to me and you don't have a way to make it. Enter HERE! (Any comments left on this strawberry gelato post won't be entered and will probably be deleted; not to be rude, just to keep this comment thread uncluttered so go to the official link to enter.)
One Year Ago: Salted Peanut Butter Cup Chocolate Chip Cookies
Two Years Ago: Brownie Batter Dip
Three Years Ago: Mango and Black Bean Quinoa Salad
Using the ripest, juiciest strawberries will give this gelato the best strawberry flavor. Also, I've doubled the gelato/strawberry base with great results - I had to process it in my ice cream maker in two batches (I have a 2nd bowl for my machine) but if you have a fairly large ice cream maker, you could probably process the entire double batch in one go. Check with your manufacturer's instructions to be sure!
Also, if the fruit you are using is ultra-ripe and really sweet, you might be able to decrease the sugar just slightly. If you want to take this gelato completely over the top, serve it with a few slices of ripe, juice strawberries. Heavenly!
Ingredients
3/4 cup granulated or powdered sugar (I've used either with good results)
1 tablespoon cornstarch
1 cup whole milk
3/4 cup heavy whipping cream
1/2 teaspoon pure vanilla extract
2 1/2 cups sliced very ripe, fresh strawberries
Directions
In a medium saucepan, whisk together the sugar and cornstarch. Gradually whisk in the milk and whipping cream.
Place the pan over medium heat and cook, whisking constantly, until the mixture begins to bubble and thickens, 5-10 minutes. Remove from the heat and stir in the vanilla.
Pour the mixture into a bowl and cool completely (either by pressing plastic wrap directly on the surface and refrigerating or nesting the bowl in a larger bowl filled with ice and stirring until it is cool to the touch).
Puree the strawberries in a blender until the mixture is very smooth.
Once the gelato base has cooled completely, strain the strawberry mixture through a fine mesh strainer into the creamy mixture. Use a rubber spatula or the back of a large spoon to press the strawberry puree through the strainer so all the pretty strawberry liquid gets strained into the gelato but the seeds are left behind. Stir well.
Cover the gelato by pressing plastic wrap directly on the surface. Refrigerate 3 hours or up 24 hours.
Process the gelato in your ice cream maker following the manufacturer's instructions. Scrape the ice cream into a container, cover and freeze for at least two hours or up to 2 days (and I'm guessing even longer than that).
https://www.melskitchencafe.com/fresh-strawberry-gelato/
Printed from Mel\'s Kitchen Cafe (www.melskitchencafe.com)
Recipe Source: adapted slightly from

this Epicurious recipe

by way of La Divina Gelateria in New Orleans