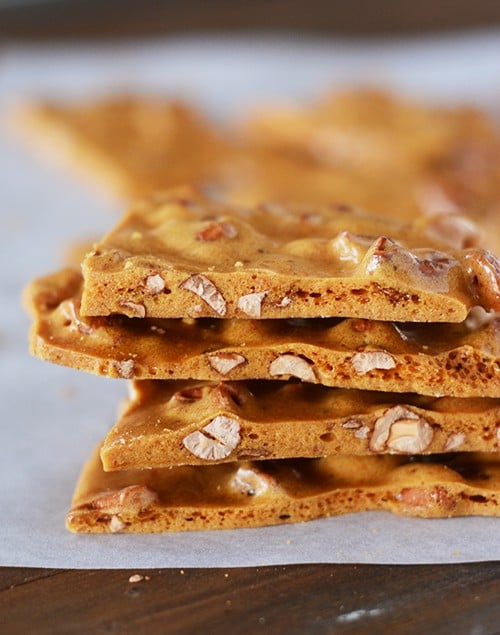 I posted a picture of this unique and so, very delicious cashew brittle on Instagram the other week and promised to share the recipe. So here I am fulfilling my duty to all of you (love ya, yes I sure do).
Granted, this brittle is a little bit on the wild side of brittles. But if you are looking for a different, gourmet version of a classic, try this. The maple flavoring is awesome with the sweet brittle. Awesome. (PS: my favorite maple extract is from King Arthur Flour; I love it because it's the real deal plus a little goes a long way, but you could use other types of maple extract for the recipe, too).
And I love how the cashews change regular old brittle into something a little swanky and upscale. The spice? Loooove. It's not necessarily spicy. It's just this gentle breeze of heat that kind of nudges you after you take a bite. And it is magical. The real treat is that this is a microwave version (just like my classic peanut brittle) so not only can you leave the candy thermometer in the drawer, but you'll have this delicious cashew brittle whipped up in about 15 minutes start to finish.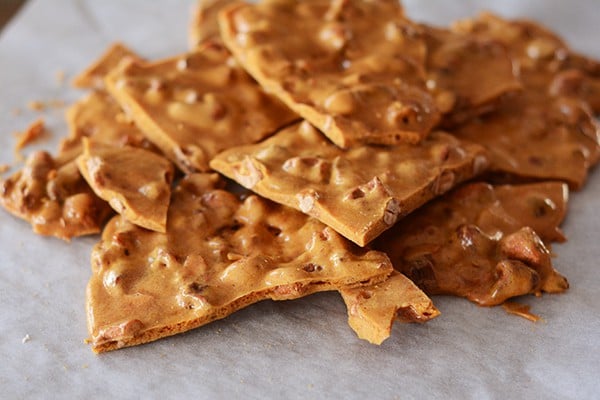 Maple-Spice Cashew Brittle
I used roasted, salted cashews but you could also use raw, unsalted cashews (you may want to up the salt in the recipe just slightly). Also, I tested this recipe in a 1,000 watt microwave. If your microwave has more/less watts, you'll need to adjust the time accordingly.
Ingredients
1 cup granulated sugar
1/2 cup light corn syrup
1 cup chopped cashews (see note above)
1/2 teaspoon ground cinnamon
1/8 teaspoon cayenne pepper, more to taste if you want it spicier
1/8 teaspoon salt
1 teaspoon butter
1 teaspoon baking soda
1 teaspoon maple flavoring or extract
Directions
Grease a large, rimmed baking sheet with nonstick cooking spray really well. Set aside.
In a microwave-safe medium glass bowl, combine the sugar and corn syrup. Microwave uncovered for 3 minutes. Remove carefully from the microwave and give it a good stir. Microwave again for another 4 minutes.
Remove carefully and stir in the cashews, cinnamon, cayenne, salt and butter. Microwave for 3-4 more minutes, watching carefully, until the mixture turns light amber in color but not so long that the cashews are burned. It will be very hot, so be careful removing it from the microwave. Quickly stir in the baking soda and maple flavoring; the mixture will foam a bit so don't be alarmed.
Immediately spread the mixture out on the prepared pan. Cool completely.
Break brittle in pieces. It can be stored well-covered at room temperature for several days.
https://www.melskitchencafe.com/maple-spice-cashew-brittle-super-easy-microwave-version/
Printed from Mel\'s Kitchen Cafe (www.melskitchencafe.com)
Recipe Source: adapted from Taste of Home Simple and Delicious Dec/Jan 2014