Microwave Peanut Brittle
This microwave peanut brittle is as simple as pushing buttons on a microwave, stirring, pushing buttons, then stirring again!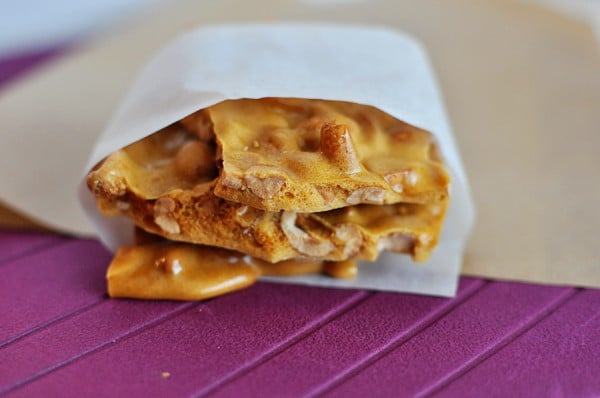 Peanut brittle. In the microwave. Without a candy thermometer.
Get out!
I'm out. And I'm so all over this easy-peasy peanut brittle recipe.
Talk about revolutionizing candy making, this peanut brittle is as simple as pushing buttons on a microwave, stirring, pushing buttons, stirring. You get the picture.
I'll be honest, halfway through, I was sure this was not going to work. But I had already invested about 96 seconds into the process and didn't want to give up at that point. I'm all about looking at the big picture and staying in for the long haul.
And you know? It worked. Beautifully. Like magic peanut brittle that comes out of nowhere. My kids munched on it all evening long. Even Brian was amazed. His comment after he came in from work: "Wow, candy making today? That must have taken a lot of time." Which, in hindsight, I'm not sure exactly what he meant, but I'm taking it as a compliment instead of an observation about how my stay-at-home body had time to make candy but somehow can't seem to find the time to, er, clean the toilets regularly (no judging, no judging!).
Listen, I'll take homemade candy any day over clean toilets, which happen to be highly overrated, in case you are curious. Toilets aside (seriously, how did we get on that subject?), no one has to know this peanut brittle takes minutes to make and you'll look like a superstar in the process.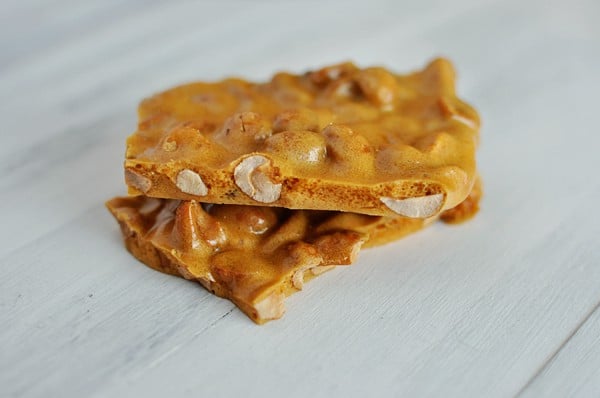 Yield: 10-12 servings

Prep Time: 10 minutes

Cook Time: 10 minutes

Total Time: 20 minutes
Ingredients
1 cup granulated sugar
1/2 cup light corn syrup
1 1/2 cups dry roasted peanuts
1 tablespoon butter
1 teaspoon vanilla extract
1 teaspoon baking soda
Instructions
Butter a large baking sheet and set aside.
In a large microwave-safe bowl, combine the sugar and corn syrup and microwave on high for 3 minutes. Stir. Microwave for another 2 minutes. The mixture should be starting to turn a light yellow/amber color. Stir in the peanuts. Microwave an additional 3-5 minutes, watching carefully, until the mixture turns golden brown (the color of peanut brittle).
Stir in the butter and vanilla until the butter is completely melted. Microwave for 1 more minute. Stir in the baking soda. The mixture will become very foamy and thick as you stir.
Carefully spread the mixture onto the prepared baking sheet. Cool completely. Break into pieces. The brittle can be made ahead and stored covered, at room temperature, for three days.
Recommended Products
As an Amazon Associate and member of other affiliate programs, I earn from qualifying purchases.

Recipe Source: adapted slightly from kraftrecipes.com
Disclaimer: I am a participant in the Amazon Services LLC Associates Program, an affiliate advertising program designed to provide a means for me to earn fees by linking to Amazon.com and affiliated sites. As an Amazon Associate I earn from qualifying purchases.