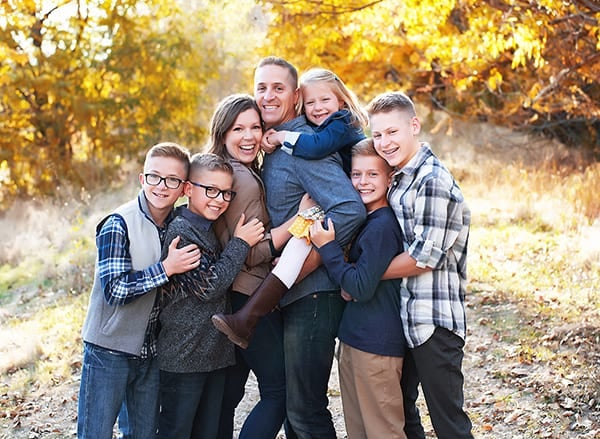 The picture above sums up this crazy year and is definitely a representation of things seen and unseen.
The joy in my life.
The imperfections.
The groans as my boys had to actually touch each other.
The silliness.
The sweetness.
The fact that one of my kid's heads is getting smooshed by dad's elbow.
The unapologetic open mouthed laughs.
The things that really matter.
The things that don't.
Over this last year, due to some circumstances in and out of my life, my priorities have snapped into focus with laser precision. Things that have seemed really important in the past, suddenly, do not.
All of that is why, despite my best intentions and beginning of the year goals I haven't posted to or been as present on social media as often as I had planned.
Why there are about 32 recipes in my "ready to be posted" folder that won't actually get posted this year (or maybe ever).
Why I haven't actually launched that super important email campaign.
Or grown my following by leaps and bounds (spoiler alert: I think I'm the only blogger alive that doesn't track their traffic – please don't tell on me).
It's why I've put down my phone more.
Prayed more.
Spent late nights talking with teenagers instead of blogging more.
Tried to follow my heart and ignore social pressures more.
I wish I could say this means I have it all together and I'm never grumpy and my house is spotless and my kids never bicker. Ha.
The reality is, my vacuum doesn't run as much as it should, I haven't exercised in weeks, I still burn the candle at both ends futilely trying to hone down my personal and blogging to-do list (which often makes me prickly and ornery), and I often feel like I'm failing.
But my solace is that I really am trying to gain value from the lessons life is trying to teach me right now.
I guess all I really want to say is: despite my imperfections as a food blogger and my tendency toward over talking things, thank you for being here.
Thank you to those of you who "get me."
Who understand my heart (and my weird sense of humor).
Who make the recipes and comment on posts (and those who don't; I'm still grateful for you!).
And who trust me to really dial down and give the best of the best of the best.
You don't have time for average recipes and filler content, and neither do I.
Thank you for allowing this space to be a place that I love to connect with, even if it's on a slower schedule and timeline than anticipated or promised.
You have taught me so much this year. Your comments and emails and stories and humor and vulnerable experiences have buoyed me up more than you can know.
YOU are the reason I come back and bust out a new recipe blog post when I have time. I love your guts. This space takes a lot of time and planning and effort, but it's worth it because of you!
Mostly, I am endlessly grateful for that family you see above. For their continued patience with me.
And even more than that, I am humbly and ever grateful for an infinitely loving Savior who has made every good thing in my life possible – and provided a way to get through the terribly tough moments with hope and perseverance.
Without Him, my life would be completely meaningless, and I am so grateful for this time of year when the joy of His birth and life brightens every moment.
Merry, merry Christmas, my friends.
{I'll be taking a few weeks off from blogging and social media, but I'll see you in the New Year with some amazing new recipes!}