My Mom's Famous Freezer Beef and Bean Burritos
These really are the best freezer beef and bean burritos! And they are famous among our family and friends! So flavorful, so ridiculously easy, they are a freezer staple (we can't live without them).
No really, we can't live without these burritos. They've been a staple in my personal freezer for the last decade and a half…and a staple in my mom's freezer for even longer.
I actually think these burritos are what won Brian over to my family almost 20 years ago (I mean, other than our incredibly hilarious senses of humor that strangely only we find funny most of the time).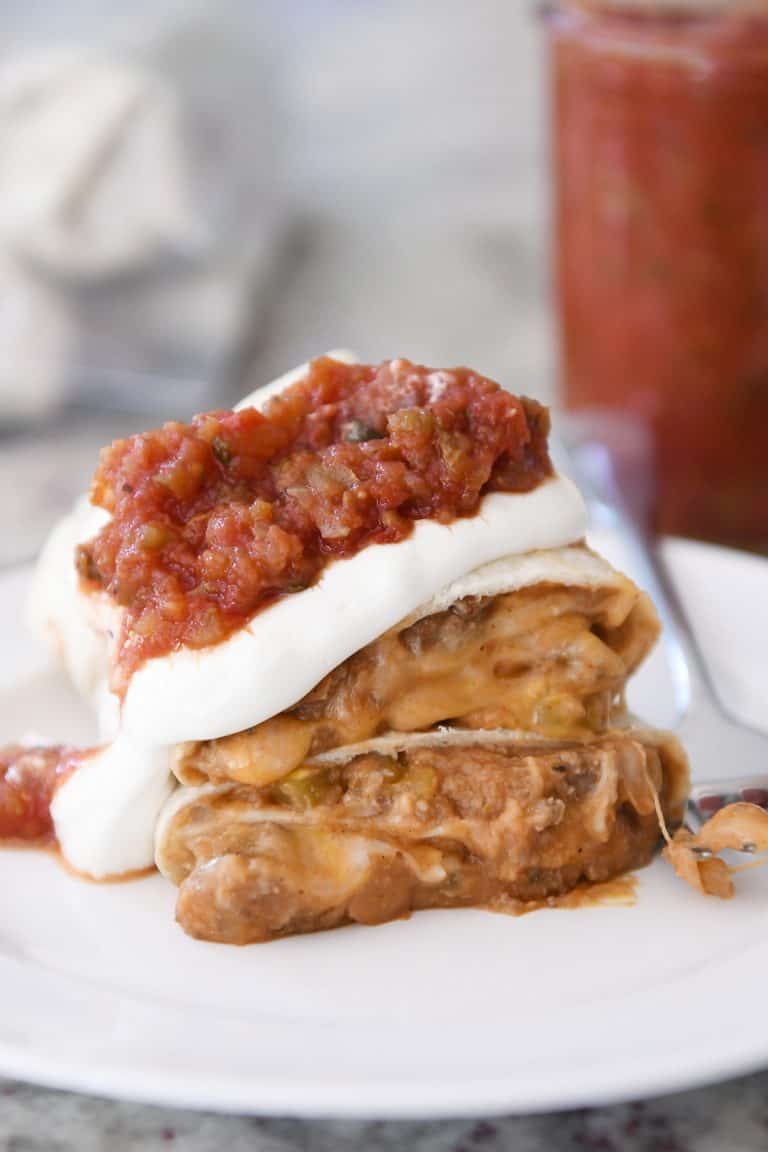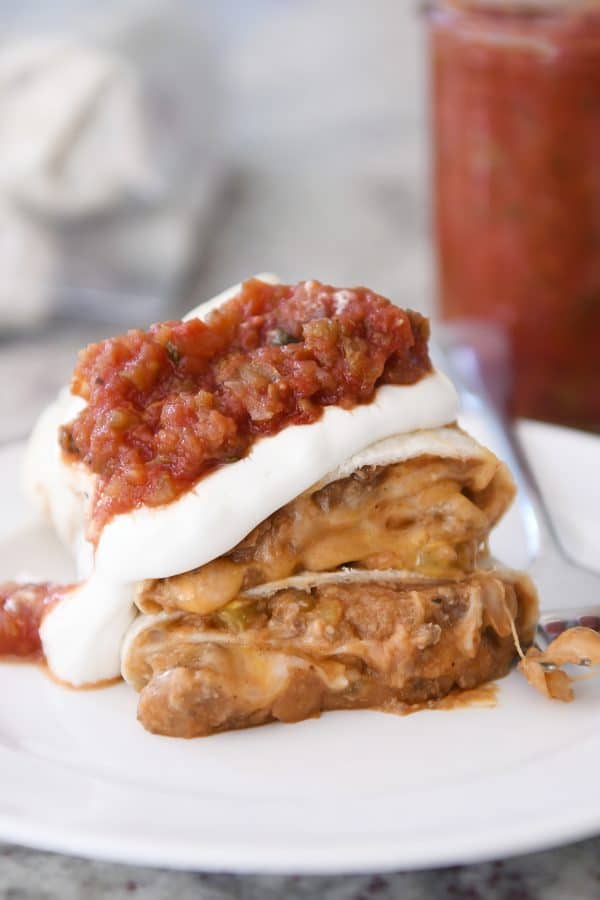 Whenever we visit my parents in Montana, it's pretty much a given that Brian will be heating one of these babies up right around 2:38 p.m. most days. By virtue of my vulture-like hovering, I usually eat half which means he has to heat up a second one. We're a good team that way.
My mom is honestly famous for this burrito recipe. She makes dozens and dozens of them at a time and hands out bags to friends, family, neighbors, church peeps, US! Once you get a taste of the cheesy beef and bean goodness, you'll understand the nature of the cult following.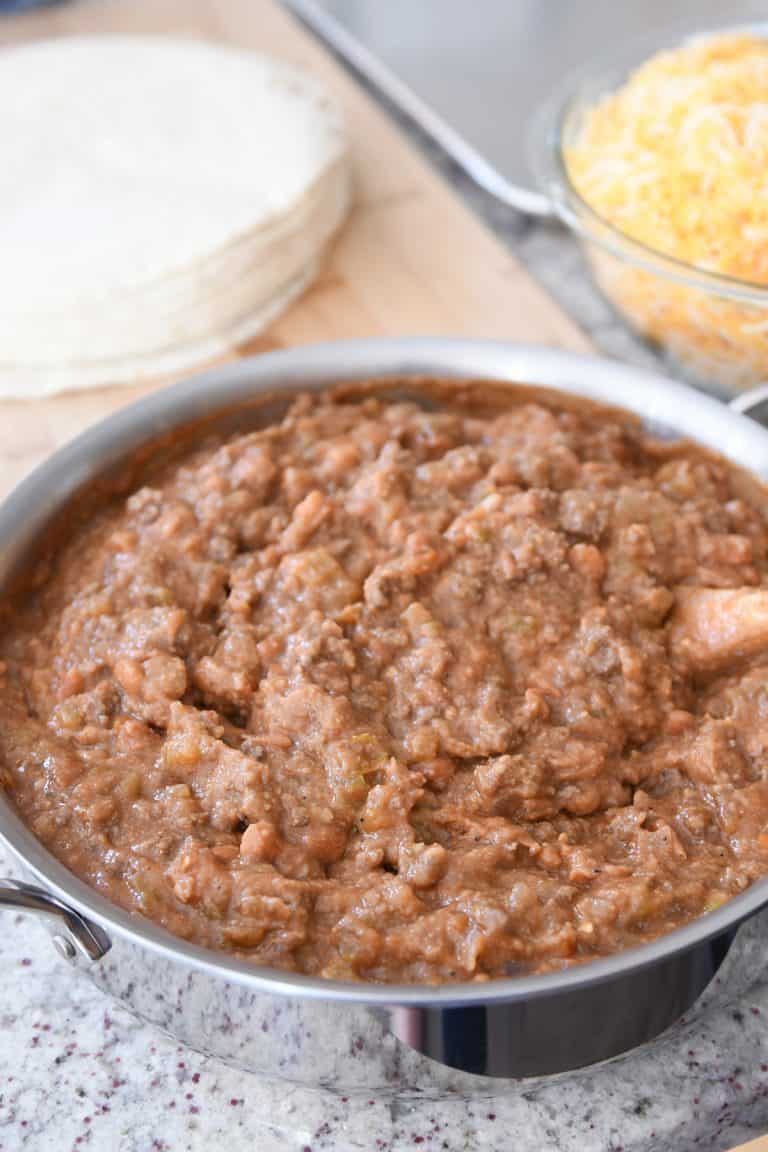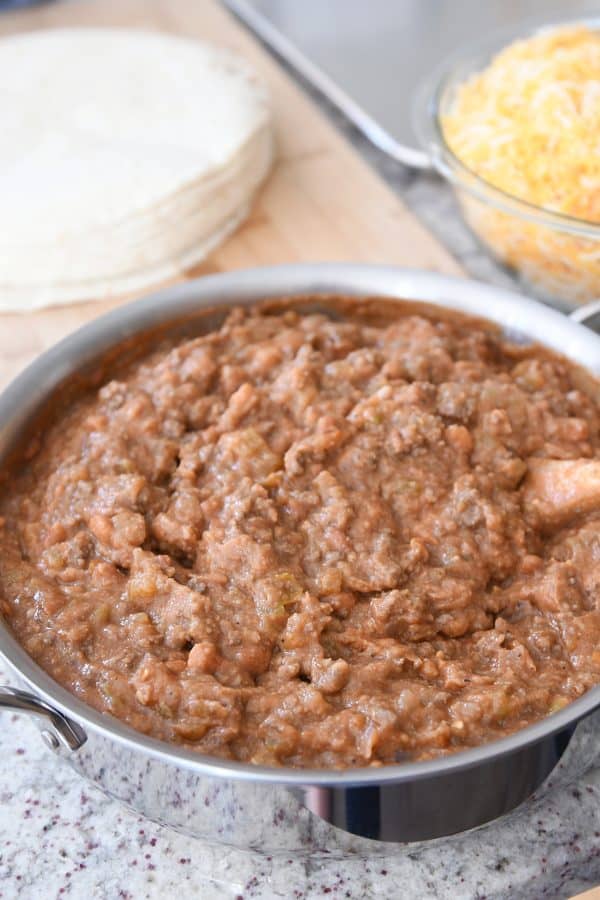 From-Scratch or Store Bought?
For a long time, I experimented with making a more from-scratch version. This held me back from getting you the recipe…and wasted a lot of time. Guess what? Wasn't worth it. Maybe it's the nostalgia of wanting the same flavors my mom has created for years, but I realized life's too short to make homemade taco or enchilada sauce for a burrito recipe. At least for me.
The key to the great flavor of these amazing freezer beef and bean burritos is using ingredients/spices you already like the flavor of. Like, this is really important. I've given some details in the notes of the recipe below about some of my brand preferences (and links to a few homemade ingredients I do use if I have on hand – these refried beans and this homemade salsa).
Once you do some soul searching to get all that sorted out, it's literally as easy as cooking the beef and onions and then throwing everything else in (well not the tortillas and cheese, obviously) and heating through. The filling is super saucy because we are not championing dry, crusty burritos. Nope, not here.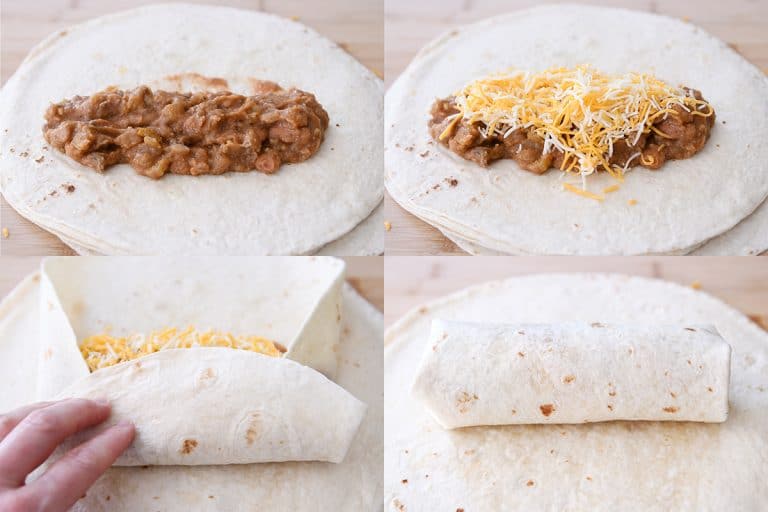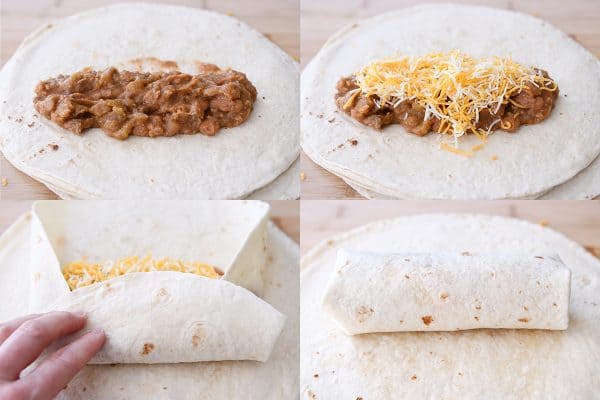 Because this is a freezer recipe meant to stock your freezer with tons of lunch- and dinner-saving goodness, it makes a lot. Probably right around 20-30 burritos (and oftentimes, I double for maximum burrito making). I almost always use 8-inch tortillas…my mom always uses 10-inch tortillas. Again, personal preference.
My Burrito Rolling Method
I stuff and roll all of the burritos one at a time and place them on large sheet pans. Once they are all rolled, I wrap each one individually in plastic wrap and then pop them in gallon-size freezer ziploc bags and freeze. Of course this whole process is quicker if you recruit some helpers and do the stuffing, rolling, wrapping assembly-line style.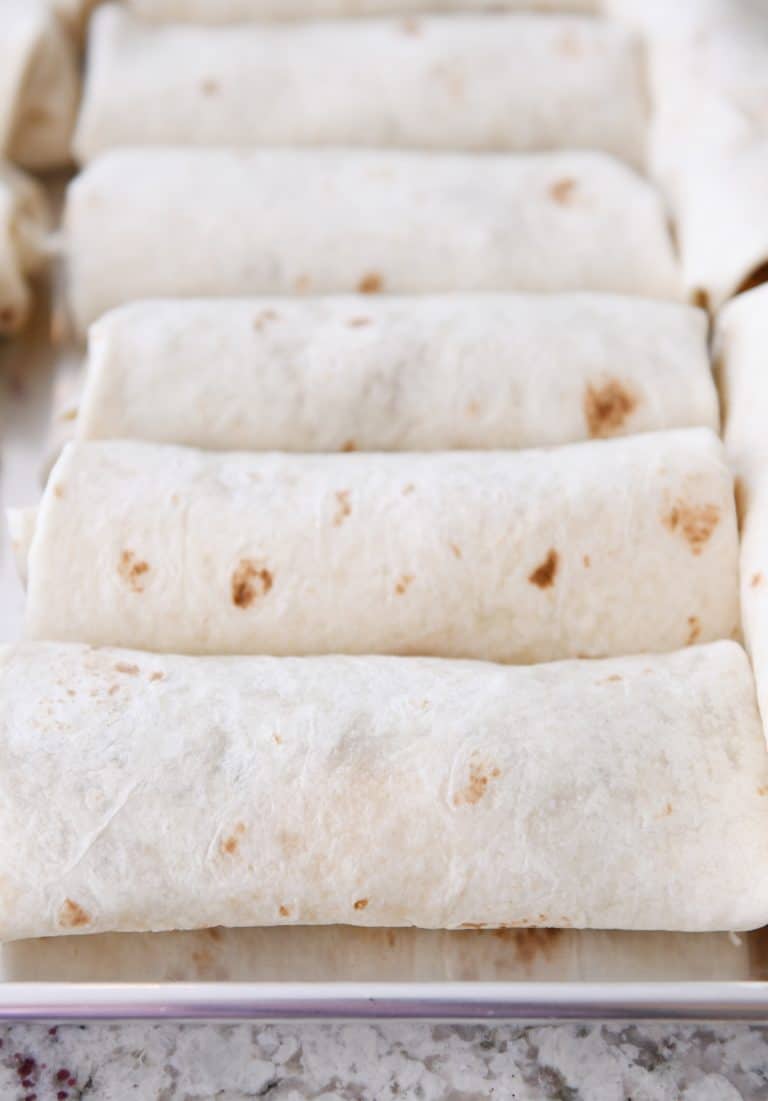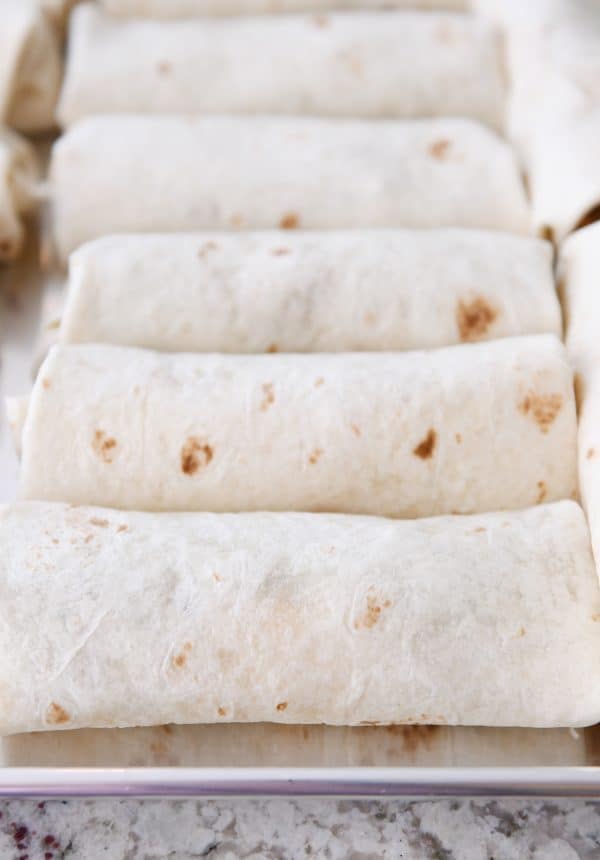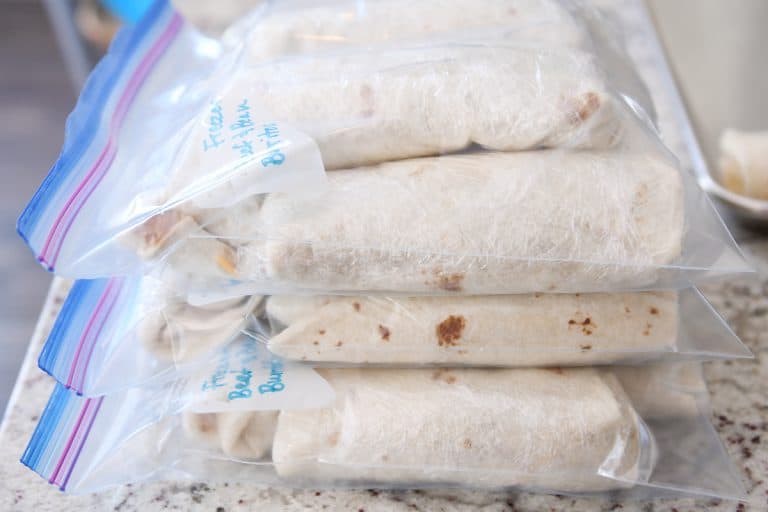 How to Heat the Burritos
We are microwaver burrito reheaters. How about you?
Grab a burrito, unwrap it and place it on a microwave-safe plate. In our microwave, we heat it for one minute and then use a fork to poke holes randomly on the top of the semi-thawed burrito (or pierce a few times with a paring knife) and heat again for 1-minute intervals until piping hot and heated through. Microwaves vary in power, so keep an eye on the exact time you'll need to get the burrito safely heated without the risk of 3rd degree burns on the roof of your mouth.
You can also use an oven to heat them up. Unwrap the burrito(s) from the plastic wrap and rewrap in foil (so the tortillas don't dry out) and place on a baking sheet. Exact time and temperature will vary, but I'd suggest 325 degrees for about an hour.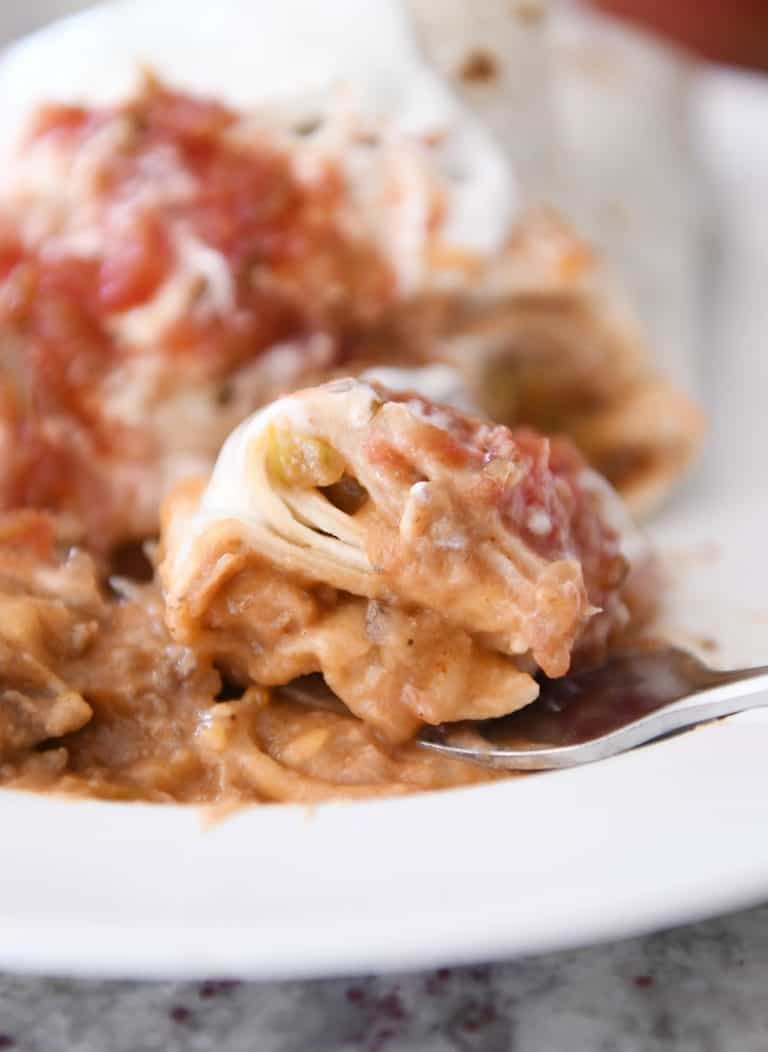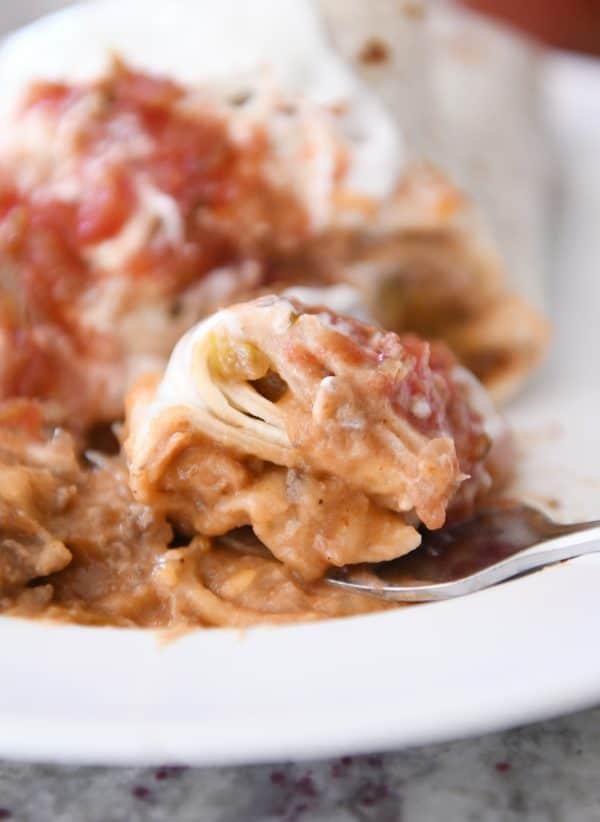 You can eat the saucy burritos plain Jane or top with sour cream, salsa, avocados, or whatever else your heart desires.
These really are the best freezer beef and bean burritos in the world. They have saved us on so many dinner nights, I've lost count. And my kids regularly take them in their lunches (they are lucky enough to have a microwave to use in their cafeteria).
I will often grab a bag of these burritos and throw them on top of whatever take-in meal I'm bringing to someone as a little bonus. As in, here's dinner for tonight! And here's a bag of burritos to eat whenever you want (ahem, especially if you don't like the real dinner I brought).
If you are a longtime fan, as am I, of the other freezer burritos I have on my site, the main difference is that these burritos (my mom's famous recipe) don't have rice to bulk up the ingredients and they are much saucier.
Although it does take a bit of time to make a batch or two, it's worth it, I promise. There is a cost savings for sure. And there's no doubt these freezer burritos are intensely more delicious than their store bought counterparts. If you haven't yet established your food presence where you live, it's time to break out the freezer burritos and start making a name for yourself.
One Year Ago: Easy Thai Burgers with Peanut Sauce
Two Years Ago: Whole Grain Banana Chocolate Chip Snack Cake
Three Years Ago: Almond Joy Chocolate Chip Cookies
Four Years Ago: The Best No-Bake Cheesecake
Five Years Ago: Creamy Chicken and Quinoa Cordon Bleu Casserole
Six Years Ago: Cinnamon Roll Cake
Seven Years Ago: Peaches and Cream Sensation
Eight Years Ago: Red Chile Sauce Chicken Enchiladas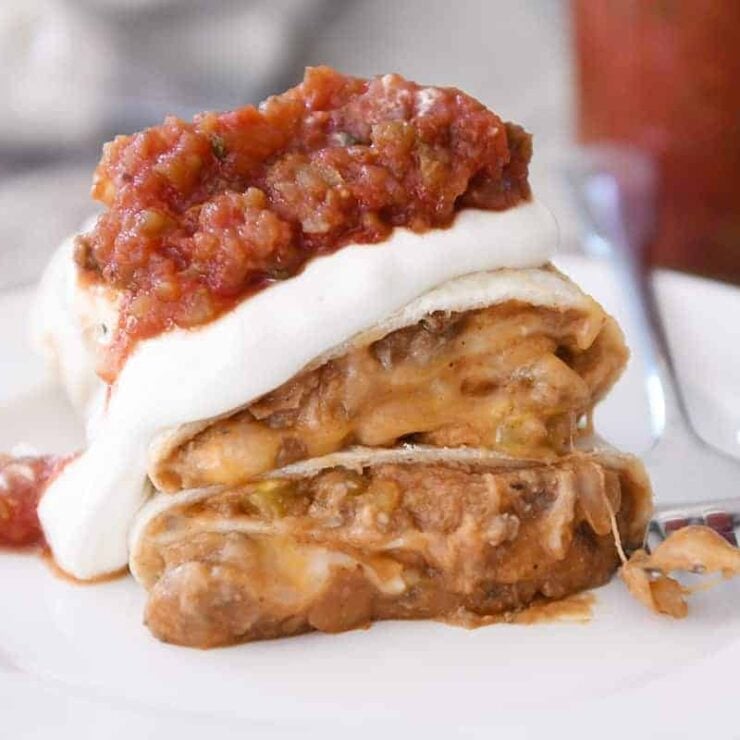 My Mom's Famous Freezer Beef and Bean Burritos
Ingredients
1 ½

pounds

lean ground beef

,

or ground turkey

1

cup

chopped onion

1

teaspoon

salt

,

I use coarse, kosher salt

¼

teaspoon

black pepper

,

I use coarsely ground pepper

3 cans

(16-ounces each)

refried beans

3 cans

(4-ounces each)

green chiles (mild, medium or hot, depending on preference)

1 ½

cups

(

340

g

)

green taco sauce or green enchilada sauce

1 ½

cups

(

340

g

)

red taco sauce or red enchilada sauce

½

cup

(

113

g

)

salsa, green or red

1

teaspoon

ground cumin

1

teaspoon

chili powder

½

teaspoon

garlic powder

½

teaspoon

onion powder

6 to 7

cups

shredded cheese

,

I prefer using a mix of cheddar and Monterey Jack

20

(10-inch)

tortillas or 30 (8-inch) tortillas
Instructions
In a large saucepan, brown the ground beef and onion with the salt and pepper until cooked through, breaking the meat into small pieces as it cooks. Drain excess grease.

Add the remaining ingredients (except for the cheese and tortillas) and mix to combine. Heat through, stirring often to prevent sticking. Add additional salt and pepper to taste.

Let the mixture cool slightly. Spread about 1/3 to 1/2 cup of the filling on each tortilla (depending on the size of the tortilla and how stuffed you want them). Sprinkle about 1/4 cup cheese (or so!) on the filling. Fold in the sides and then roll the burrito closed (see pictures in the post for a visual).

I roll all the burritos and place them on a large sheet pan. After they are all rolled, I wrap each one individually in plastic wrap and then put them in gallon size ziploc bags and freeze.

To reheat, unwrap burrito from plastic wrap and microwave for one minute. Poke holes in the semi-thawed burrito with a fork or cut the burrito in half and microwave for 1-minute intervals until heated through. They'll be piping hot! Eat carefully. 🙂
Notes
Ingredients:
the success of this recipe relies heavily on using brands/flavors you like for the refried beans, taco or enchilada sauce, green chiles, spices, etc.
Beans/Chiles/Sauce: I almost always use the La Victoria brand of taco sauce, Old El Paso or Hatch brand of canned green chiles, homemade refried beans or Trader Joe's, Old El Paso or Rosarita traditional refried beans.
Salsa: my favorite salsa is this homemade stuff or Trader Joe's chunky salsa or salsa verde.
Chili Powder:
my preferred chili powder is Penzey's but I've used McCormick in this recipe many, many times.
Serving:
1
Burrito
,
Calories:
310
kcal
,
Carbohydrates:
29
g
,
Protein:
21
g
,
Fat:
11
g
,
Saturated Fat:
6
g
,
Cholesterol:
48
mg
,
Sodium:
1397
mg
,
Fiber:
5
g
,
Sugar:
6
g
Recommended Products
Follow @MelsKitchenCafe on Instagram and show me the recipes you are making from my blog using the hashtag #melskitchencafe. I love seeing all the goodness you are whipping up in your kitchens!
Recipe Source: from Mel's Kitchen Cafe
Disclaimer: I am a participant in the Amazon Services LLC Associates Program, an affiliate advertising program designed to provide a means for me to earn fees by linking to Amazon.com and affiliated sites. As an Amazon Associate I earn from qualifying purchases.