Red Chile Sauce Chicken Enchiladas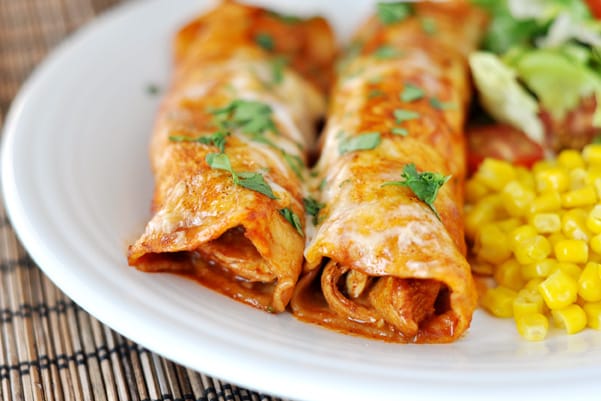 Red sauce enchiladas have been scarce on my dinner table for the last eight years. Shocking, I know, especially since they make up a huge portion of Mexican-food-loving fare. But I just haven't been able to get behind them.
I've tried dozen of recipes and my husband and I have concurred that we must be true enchilada snobs: far preferring these creamy green chile enchiladas (and these honey lime…and oh, wait, these shrimp enchies) to any red sauce variety.
Until this sweet little recipe entered my life, that is. I decided since it had been years (years!) since I'd attempted a red sauce enchilada, it was time. And this recipe spoke to me.
It doesn't hurt that originally it comes from America's Test Kitchen, a source nearly always to be trusted, but with the rave reviews of other bloggers, I gave it a go.
And I have to say that my expectations were far exceeded. The beauty of this recipe is that you are able to whip up a from-scratch enchilada sauce in no time (my beef with other recipes, in large part, has been the canned enchilada sauce, I believe) and the chicken basks in the gloriousness of the flavorful, simmered sauce until cooked to tender perfection.
Rolled up in tortillas (corn or flour…your choice!) with creamy cheese and fresh cilantro, these smothered enchiladas have renewed the love for red sauce chicken enchiladas in our home.
Long live the enchilada (all varieties, of course)!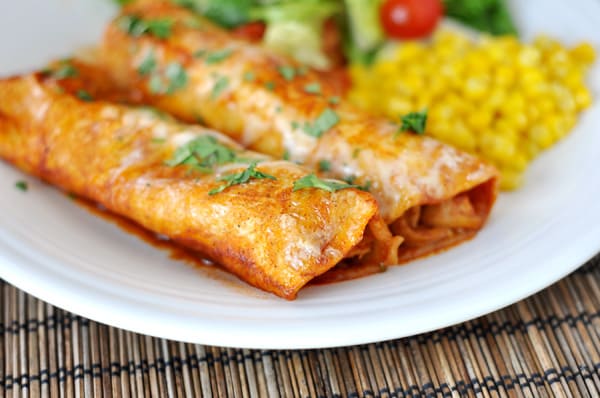 Tortilla chips and Balsamic Black Bean Salsa
Garnishes such as lime wedges, cilantro, sour cream, extra cheese, or cherry tomatoes
Summer Corn Salad
One Year Ago: Buttermilk Cinnamon Rolls with Cream Cheese Glaze
Two Years Ago: Baked Pasta with Chicken Sausage
Three Years Ago: Chocolate Chip Cookie Dough Cheesecake Bars
Red Chile Sauce Chicken Enchiladas
Yield: 12 enchiladas

Prep Time: 20 minutes

Cook Time: 45 minutes

Total Time: 1 hour 5 minutes
Ingredients
1 medium onion, chopped fine
1 jalapeño, seeded and chopped fine
1 teaspoon canola oil
3 medium cloves garlic, minced
2 tablespoons chili powder
2 teaspoons ground cumin
3 teaspoons sugar
2 (8-oz) cans tomato sauce
1 cup water
1 1/2 pounds boneless, skinless chicken breasts (about 3 large chicken breasts)
1 cup shredded sharp cheddar cheese
1 cup shredded Monterey jack cheese
1/2 cup minced fresh cilantro
12 (6-inch) soft corn or flour tortillas (fajita-size for flour tortillas)
cooking spray
salt and ground black pepper
Instructions
In a large saucepan, combine the onion, jalapeno, 1/2 teaspoon salt, and oil. Cover and cook over medium-low heat, stirring often, until the onions and peppers have softened, 8-10 minutes. Stir in the garlic, chili powder, cumin, and sugar, and cook until fragrant, less than 30 seconds. Stir in the tomato sauce and water. Bring to a simmer.
Nestle the chicken into the sauce. Reduce heat to low, cover, and cook until chicken is cooked through, about 12-20 minutes, depending on the size and thickness of the chicken breasts you are using. Transfer the chicken to a plate, and set aside to cool. Continue to simmer the sauce over medium heat until slightly thickened, about 5 minutes.
Strain the sauce through a strainer into a medium bowl, pressing the onion mixture to extract as much liquid as possible. Season sauce with additional salt and pepper to taste. Transfer the leftover onion mixture from the strainer to a large bowl and set aside.
Shred the chicken into bite-sized pieces. Add to the onion mixture in the large bowl. Also stir in 1/4 cup of the enchilada sauce, 1/2 cup cheddar cheese, 1/2 cup Monterey Jack cheese and the cilantro. Toss to combine.
Stack the tortillas on a plate and cover with plastic wrap; Microwave on high until warm and pliable, 40-60 seconds. Spread the tortillas on a clean work surface, and spoon 1/3 cup of the chicken mixture evenly down the center of each. Tightly roll each tortilla and lay seam-side down in a greased 9×13 inch baking dish.
Heat oven to 400 F. Pour the enchilada sauce evenly over the top of the enchiladas. Top with the remaining cheese. Cover dish with foil and bake 20 minutes, or until heated through.
Remove foil and bake another 5 minutes, until cheese browns. Remove from oven and let stand 10 minutes before serving.
Serve with sour cream, guacamole, salsa, additional cilantro, if desired.
Notes
Make Ahead Instructions: Follow the recipe, letting the sauce, onions and chicken come to room temperature before assembling the enchiladas. Finish following the recipe instructions and instead of baking, cover the pan with a layer of tin foil and refrigerate for up to 12 hours. Bake covered for 20 minutes, uncover and bake an additional 5-10 minutes. Alternately, the assembled enchiladas can be covered with a double layer of tin foil and put inside a jumbo-size ziploc bag (if you don't have a jumbo-sized bag, make sure the edges of the pan are sealed well with tin foil). Freeze for up to 2-3 months. Bake from frozen, baking for 1 1/2 hours covered at 350 degrees F. Uncover and bake an additional hour until hot and bubbly.
Recommended Products
As an Amazon Associate and member of other affiliate programs, I earn from qualifying purchases.

Recipe Source: adapted from Pink Parsley, originally from America's Test Kitchen