Classic Coleslaw
This coleslaw recipe is the best. Finely chopped veggies give it a delightful texture while a simple sweet and slightly tart creamy dressing finishes it off perfectly.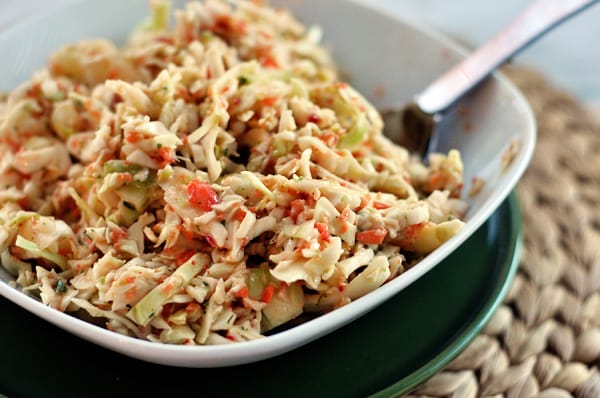 Real Quick: I updated one of my favorite recipes in all the world with a desperately needed new picture. We loved these meatball subs back in 2008 and we still eat them often today – pretty good indication of a darn good recipe.
I fully recognize it isn't necessarily coleslaw season since it seems to be more appropriate for grilling/BBQ weather.
What with our grill covered in two feet of snow and everything, you might wonder why a coleslaw recipe is coming straight out of left field today.
I can explain. Brian, my dear, sweet husband, hates coleslaw. Well, cabbage, really, which directly implicates coleslaw. He detests the stuff and has never, ever requested that I buy, make or eat cabbage in our 10 1/2 years of marriage.
When he left town a few weeks ago, I happened to receive an email from a friend I made through blogging, Rachel R., with a coleslaw recipe she says is utterly awesome. Cabbage hating husband out of town? Lots of coleslaw calling my name, baby.
And truly, this coleslaw is the best of the best. I've tried several coleslaw recipes over the years because unlike Brian, I adore the crunchy, flavorful salad.
This version has clearly cemented a place in my go-to-coleslaw files. The addition of several finely chopped vegetables gives it a delightful texture and helps round out the flavors while a simple sweet and slightly tart creamy dressing finishes it off perfectly.
Even though for many of us true summer grilling and coleslaw season is far, far off, if you haven't enjoyed coleslaw with a BBQ pulled pork sandwich (a meal fit for any time of the year), you are really missing out. It is a divine combination. (Brian is ferociously shaking his head in disagreement but honestly, if it were between me and him, who would you trust in matters of food philosophy and taste? Correct answers only or else you are fired.)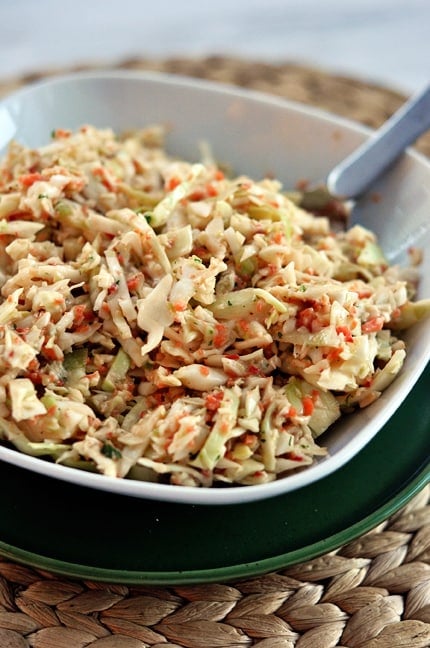 One Year Ago: DIY Valentine Chocolate Boxes
Two Years Ago: Chewy Pretzel Bites
Three Years Ago: Smoked Turkey Brie and Apple Panini
My Favorite Coleslaw Recipe
Yield: 6 servings

Prep Time: 20 minutes

Additional Time: 1 hour

Total Time: 1 hour 20 minutes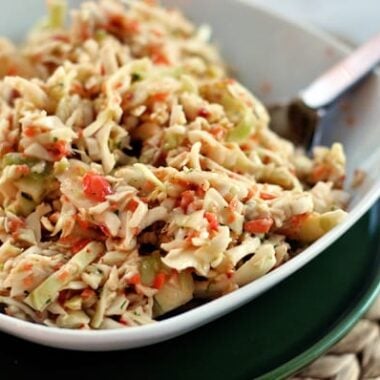 Ingredients
1/2 bell pepper, coarsely chopped
1 green onion, chopped
1/2 large carrot, chopped (or 3-4 baby carrots)
1/8 cup fresh parsley leaves
1/2 cabbage head
1/2 cup mayonnaise
1/2 teaspoon seasoning salt
1/4 teaspoon ground black pepper
2 tablespoons sugar
1/4 teaspoon lemon-pepper seasoning
1 tablespoon white vinegar
Instructions
Using a food processor, gently process the bell pepper, onion, carrot, and parsley, being careful not to over process. The mixture should be in small pieces but not mushy.
Cut 1/2 of the cabbage into chunks and place in the food processor and process lightly, again making sure the mixture doesn't become mushy - it should be in small, fine pieces.
Slice the remaining cabbage into thin strands.
In a large bowl, toss together the cabbage and the processed vegetables.
In a separate small bowl, mix the mayonnaise, seasoning salt, black pepper, sugar, lemon-pepper and vinegar together and allow to stand for 5 minutes.
Combine the mayonnaise mixture with the vegetables, folding until the cabbage and vegetables are evenly coated. Chill for 1 hour. The coleslaw is best served within 1-3 hours as the leftovers tend to get watery and the flavors lessen after a long stay in the refrigerator.
Notes
Peppers: I used a combination of green and red bell peppers (about 1/4 of each pepper). I loved the sweetness of the red pepper and liked the combination of both but you can use whatever you prefer or have on hand.

Chop Finely: if you don't have a food processor, chop the bell pepper(s), green onion, carrot, parsley and 1/2 of the cabbage very, very finely and combine with the rest of the thinly sliced cabbage.
Recommended Products
As an Amazon Associate and member of other affiliate programs, I earn from qualifying purchases.

Recipe Source: adapted slightly from Paula Deen
Other Recipes With Cabbage:
Disclaimer: I am a participant in the Amazon Services LLC Associates Program, an affiliate advertising program designed to provide a means for me to earn fees by linking to Amazon.com and affiliated sites. As an Amazon Associate I earn from qualifying purchases.