Mom's Fabulous Lasagna
My mom's lasagna is simply the best. It is easy to make and so delicious! Choose between regular or no-boil noodles. It's a tried-and-true favorite!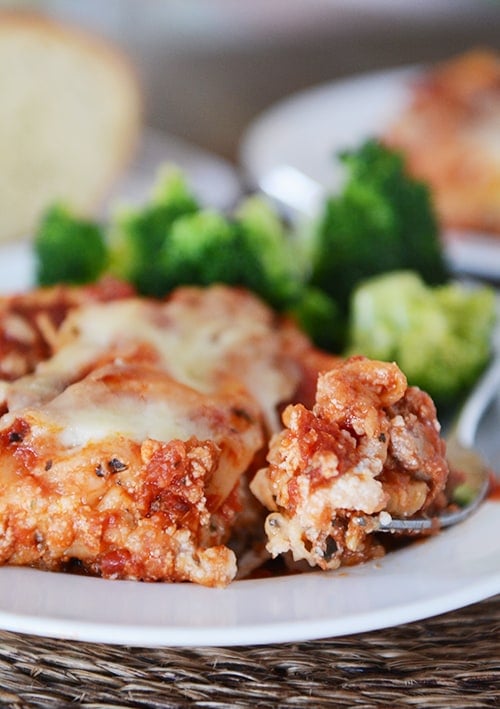 My mom would deny to her death that she is a great cook. But she is. And many of my tried-and-true recipes are none other than hers!
My mom's lasagna is no exception. Using no-boil lasagna noodles speeds up the whole throwing-together process but overall, this lasagna is easy peasy.
The simple sauce simmers while you whip together the creamy filling and all the flavors blend into one of our favorite lasagnas of all time. Enjoy!
A Few Notes: I do a couple things differently than my mom.
1) I use oven-ready lasagna noodles although you can definitely use regular lasagna noodles – boil them for a couple minutes less than the package directions so they don't soften too much while baking. For no-boil noodles, I use the Barilla or Target Whole Wheat brands. I personally don't think I'll ever revert back to the lasagna noodles that need to be boiled. Whether that makes me inherently lazy or not, I'm not sure, but either way, no-boil lasagna noodles are where it's at.
2) My mom always used just two layers of noodles but I firmly believe a good lasagna needs at least three layers of noodles. So. Three layers of noodles it is.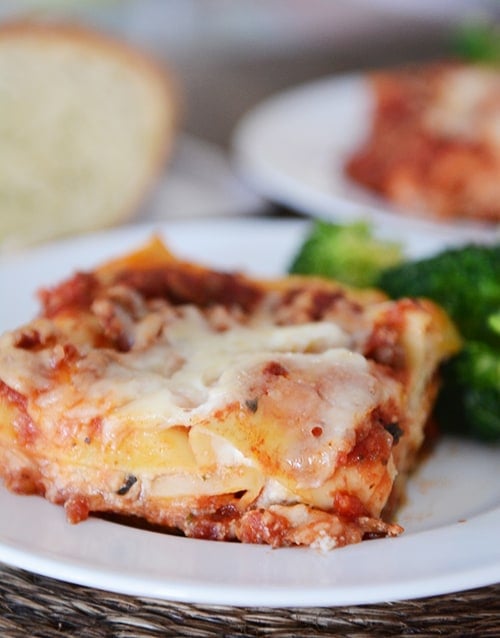 FAQs for Mom's Fabulous Lasagna
Can I leave out the egg because of allergies?
The filling probably won't hold up quite as well (it will likely be a bit runnier) but its not a deal breaker if you need to leave out the egg.
Will the no-boil noodles really cook without a layer of sauce on the bottom?
I always start with a layer of noodles – it seems to cook fine because there is a lot of liquid/sauce that permeates that bottom layer. If you're really nervous about it (or really want that bottom layer to be nice and tender) you can throw a little sauce down in the pan- either way will work!

Divine Breadsticks or Cheesy Garlic Bread
Steamed vegetable like broccoli or peas
Simple green salad (or something more fancy like this Gourmet Green Salad)
Cook Time:
1 hour
20 minutes
Total Time:
1 hour
55 minutes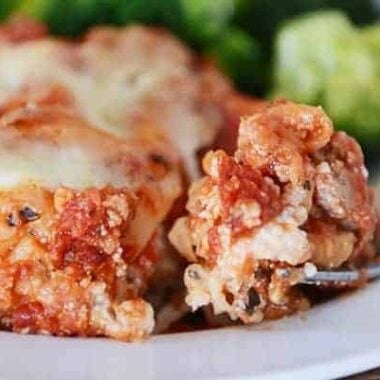 Ingredients
Red Sauce:
1 pound lean ground beef or ground turkey
1/2 cup chopped onion
28-ounce can crushed tomatoes
6-ounce can tomato paste
2 teaspoons sugar
2 teaspoons dried basil
1 teaspoon dried oregano
1/4 teaspoon dried thyme
1/4 teaspoon salt
1/4 teaspoon pepper
Creamy Filling:
1 container (15-ounce) ricotta cheese or a combination of ricotta and cottage cheese (see note)
1 large egg
1/2 teaspoon dried basil
1 tablespoon parsley flakes
1/2 teaspoon salt
3/4 cup shredded parmesan cheese
Noodles and Cheese:
4 cups shredded mozzarella cheese
9 no-boil lasagna noodles (see note)
Instructions
For the sauce, in a large, 12-inch nonstick skillet, cook the ground meat and onion until the meat is cooked through. Drain any excess grease. Stir in the tomatoes, tomato paste, sugar, dried basil, salt and pepper. Simmer the sauce for 20 minutes.
For the filling, in a medium bowl mix the ricotta, egg, basil, parsley, salt, and Parmesan cheese.
To assemble the lasagna, lightly grease a 9X13-inch baking pan. Spread 1/2 cup or so of the sauce over the bottom into a thin layer. Layer as follows: 3 noodles, red sauce, creamy filling, mozzarella, 3 noodles, red sauce, creamy filling, mozzarella, 3 noodles, red sauce, remaining mozzarella. (Basically, all layers - the noodles, red sauce, mozzarella - are split into three layers and the creamy filling is divided among two layers.)
Cover with greased foil. Bake at 350 degrees for 30 minutes. Uncover, bake 20-30 minutes more until hot and bubbly. Let stand 10 minutes before cutting.
Notes
Noodles: I use the Barilla or Target (whole wheat) brand of no-boil lasagna noodles with good success. You can certainly use regular lasagna noodles; boil them for 1-2 minutes less time than the package directions so they don't soften too much while baking.
Updated June 2015: if you love the older version - the only changes are that I use crushed tomatoes instead of diced tomatoes (keep them undrained if using diced) and I've cut down the tomato paste to make the lasagna a bit more saucy (the original recipe called for 12 ounces of tomato paste). Also, I know it's not traditional, but I usually use half ricotta cheese and half cottage cheese. It helps the filling stay creamier and not as dry - I use a cup of each when doing that.
Freezable Meal: prepare recipe right up until the baking step and then cover with a double layer of lightly greased aluminum foil. Freeze. Thaw in the refrigerator for 1 to 2 days. To bake, increase baking time to about 40 minutes covered and 20 minutes uncovered. If baking from frozen, bake covered for 1 hour and 30 minutes, uncover and bake 30-40 minutes longer.
Recommended Products
As an Amazon Associate and member of other affiliate programs, I earn from qualifying purchases.
Recipe Source: adapted slightly from my mom, Michel W.
Disclaimer: I am a participant in the Amazon Services LLC Associates Program, an affiliate advertising program designed to provide a means for me to earn fees by linking to Amazon.com and affiliated sites. As an Amazon Associate I earn from qualifying purchases.