Mock Chocolate Macadamia Toffee
You'll never know this mock toffee wasn't the real deal – and there's no candy thermometer required for this simple treat!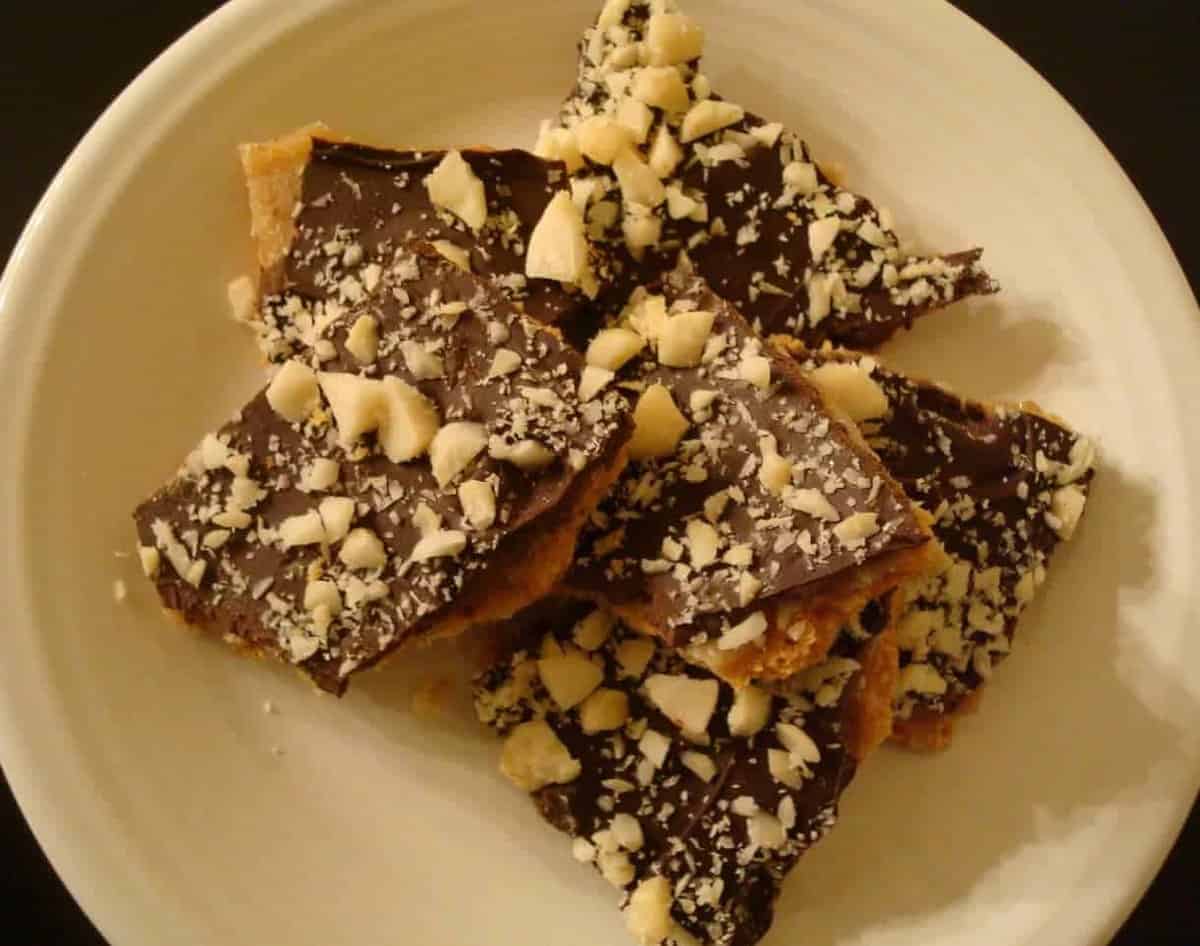 Several years ago, my mom gave me a recipe called "Mock English Toffee."
It is shockingly simple.
You basically lay saltine crackers down on a baking sheet, top with a caramel mixture that takes about two minutes to prepare on the stove, bake it for a few minutes, top it with chocolate chips and nuts.
It is delicious and a real favorite of ours due to its simplicity and tastiness. You can imagine how delighted I was to run across a somewhat different and a tad more elegant version of this mock toffee.
I made it last week for my husband to take into work and let me tell you, it was difficult for him to pry my fingers off the tupperware to indeed take it to work. I could have eaten the entire batch, so I guess it is just as well that it is long gone.
It is really, really yummy. And let me emphasize one more time that it is so intensely simple to make, you will be amazed (and so will your friends…but don't tell them it was easy and they'll think you slaved over a pot of bubbling caramel with a candy thermometer attached!).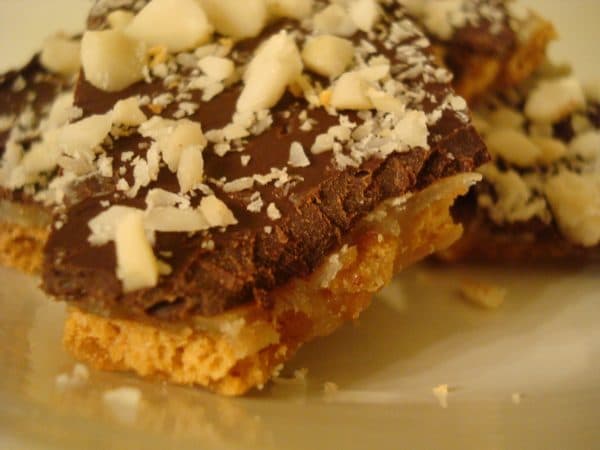 Mock Chocolate Macadamia Toffee
Yield: 11 X 17-inch pan

Prep Time: 15 minutes

Cook Time: 15 minutes

Additional Time: 2 hours

Total Time: 2 hours 30 minutes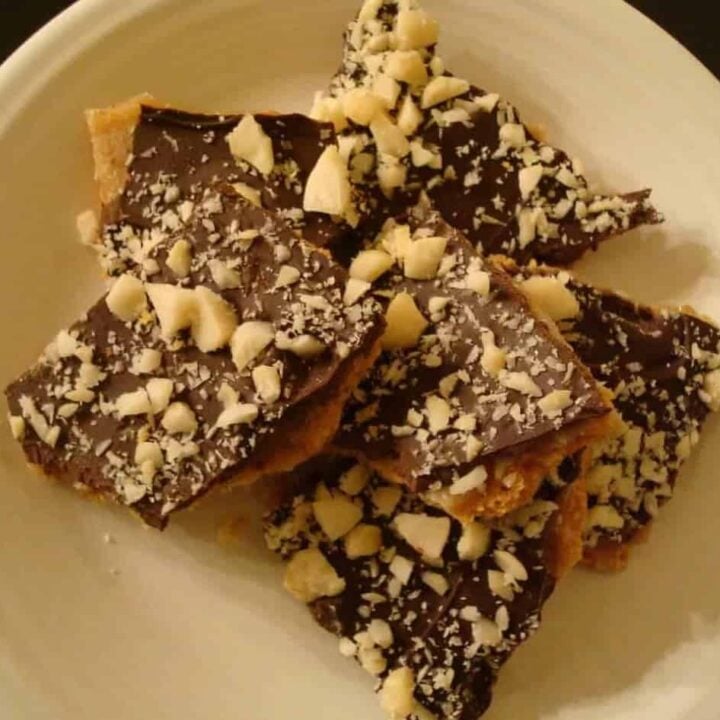 Ingredients
½ box of graham crackers
¼ cup brown sugar
¼ cup sugar
2 sticks butter
1 package semi-sweet chocolate chips
4 ounces roughly chopped macadamia nuts
Instructions
Preheat oven to 350F. Line a lipped baking sheet with a layer of tin foil (I used an 11X17 baking sheet).
Arrange a single layer of graham crackers in the pan without overlapping. In a small saucepan, melt butter and add the sugars. Whisk to dissolve. Let boil and simmer for 5 minutes on low. Very carefully pour mixture onto the graham crackers, working quickly with a spatula to even out the layer. Bake 10 minutes.
Remove and evenly spread out the chocolate chips and leave it to melt for 5 minutes. Using spatula, spread the melted chocolate evenly. Top with chopped nuts. Let cool. Refrigerate for 2 hours. Break into pieces.
Notes
FYI: My preferred brand of chocolate is Ghirardelli.
Recommended Products
As an Amazon Associate and member of other affiliate programs, I earn from qualifying purchases.

Recipe Source:adapted from a recipe found on steamykitchen.com
Disclaimer: I am a participant in the Amazon Services LLC Associates Program, an affiliate advertising program designed to provide a means for me to earn fees by linking to Amazon.com and affiliated sites. As an Amazon Associate I earn from qualifying purchases.