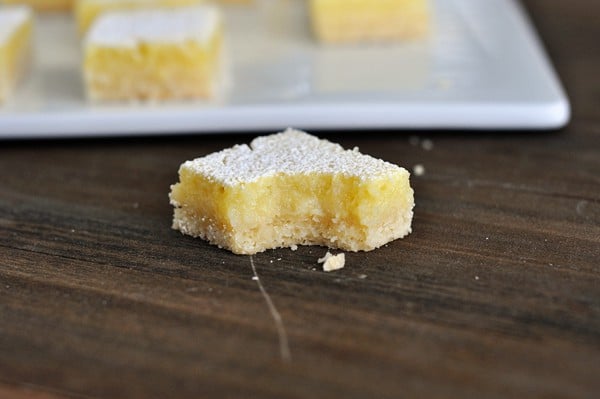 For a very, very long time, I've been on the search for The Perfect Lemon Bar.
There are just certain times when lemon bars, and only lemon bars, will do.
In Brian's words regarding lemon bars, "I never, ever crave lemon bars but when they are in front of me, I can't stop eating them." I, on the other hand, do crave lemon bars.
I remember with fondness growing up and making lemon bars nearly every Sunday, or so it seemed, and then stuffing my face with half the pan while watching Anne of Green Gables and Seven Brides for Seven Brothers week after week after week.
But as I've grown up and matured just oh, so much, the lemon bars of my youth needed a slight upgrade to more lemon flavor and a more delicate crust (although I am still happy watching AofGG and Seven Brides over and over and over; my poor boys).
After tweaking my mom's recipe, I realized it was surprisingly close to the Cook's Illustrated recipe at which point I called off the search. I'd found The One.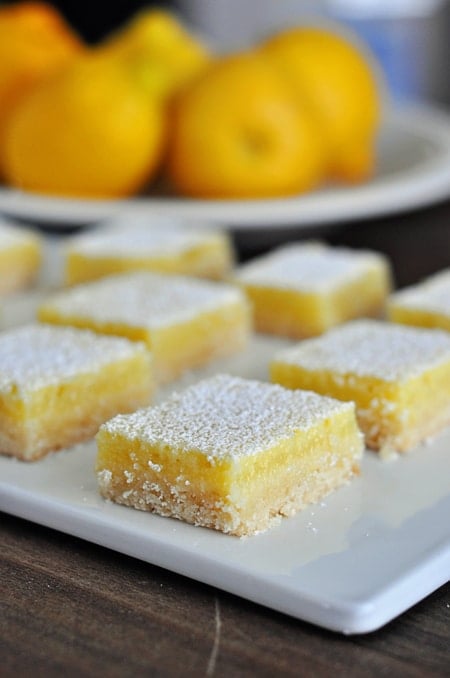 These lemon bars have a wonderfully substantial ratio of crust to filling.
I just can't get enough of that buttery, tasty shortbread (made even more tender with the surprising addition of a bit of cornstarch).
And while the lemon filling is perfectly and very robustly lemon, it doesn't overpower in a way that makes you think "wow, I'm not going to be able to eat anything lemon for a week!" after tasting one.
The play of lemon and sugar and eggs really works resulting in a delightfully creamy, fresh, lemony filling. Yum.
As a sidenote, in my search for The Lemon Bar, I tried a highly recommended recipe by Ina Garten. While I have nothing against her and don't like throwing anyone under the recipe bus, so to speak (I kind of want to be her when I grow up, in fact), her lemon bar recipe, for me, was sickly sweet (3 cups of sugar!) and too tart.
This version, right under my nose thanks to my mom and CI, is perfectly perfect.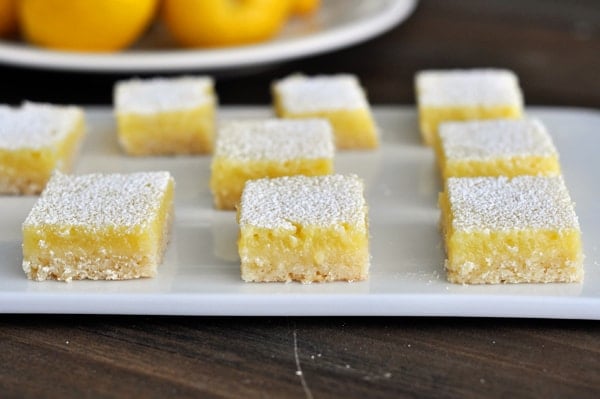 One Year Ago: Make-Ahead Sausage and Egg Breakfast Bake
Two Years Ago: Blueberry Fool
Three Years Ago: Perfect Corn on the Cob
Perfect Lemon Bars
Ingredients:
For the Crust:
1 3/4 cups all-purpose flour
2/3 cup powdered sugar, plus extra to sprinkle on bars
1/4 cup cornstarch
1/2 teaspoon salt
12 tablespoons butter (1 1/2 sticks), at cool room temperature, cut into 1-inch pieces
For the Filling:
4 large eggs
1 1/3 cups granulated sugar
3 tablespoons all-purpose flour
2 teaspoons grated lemon zest, from 2 large lemons
2/3 cup freshly squeezed lemon juice, from 3 to 4 large lemons
1/3 cup milk
Pinch of salt (about 1/8 teaspoon)
Directions:
Place an oven rack in the middle position and preheat the oven to 350 degrees F. Line a 9X13-inch baking pan with foil or parchment paper and lightly grease the foil/parchment.
Stir together the flour, powdered sugar, cornstarch, and salt (this can be done in a food processor or in a large bowl by hand). Add the pieces of butter and cut the butter into the dry ingredients using a pastry blender, two knives or your fingers (taking care not to melt the butter too much – you might try freezing the butter and grating it into the dry ingredients on the large holes of a box grater) or process in the food processor for 8 to 10 seconds and then as needed until the mixture resembles coarse meal. Sprinkle the mixture into the prepared pan and press into an even layer on the bottom and about 1/2-inch up the sides of the pan. Refrigerate for 15-30 minutes. Bake until golden brown, about 20 minutes.
For the filling, whisk together the eggs, sugar, salt, and flour in a medium bowl and then stir in the lemon zest, juice and milk to combine.
Pour the filling onto the warm crust (it's important that the crust is still warm!) and reduce the oven temperature to 325 degrees. Bake for about 18-20 minutes until the filling feels slightly firm to the touch. Cool the bars to room temperature, sprinkle with additional powdered sugar and cut into bars.
All images and text ©
.
Follow @melskitchencafe on Instagram and show me the recipes you are making from my blog using the hashtag #melskitchencafe. I love seeing all the goodness you are whipping up in your kitchens!
Recipe Source: adapted slightly from Cook's Illustrated (used salted butter instead of unsalted, lowfat milk instead of whole milk, and a few other very minor changes) in combination with my mom's 40-year old recipe