Queso Blanco Dip
Not only is it extremely simple to prepare, the absolute delicious creaminess of this queso blanco dip will make you swoon.
So creamy. So smooth and perfectly melted. So flavorful. I've been dying for a good white cheese dip like the kind I crave and order at any and all Mexican restaurants and this did not disappoint in the least.
I really feel that if you and I are able to remain friends, you need to add this dip to your repertoire immediately. Not only is it extremely simple to prepare, the absolute delicious creaminess beholden in the pot of melted cheese is enough to make anyone swoon.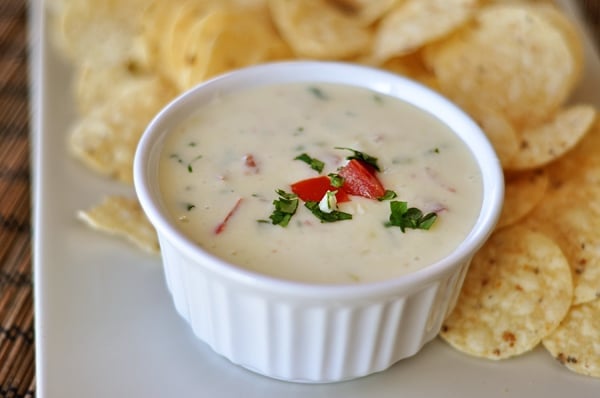 Yield: Makes about 2 cups

Prep Time: 5 minutes

Cook Time: 10 minutes

Total Time: 15 minutes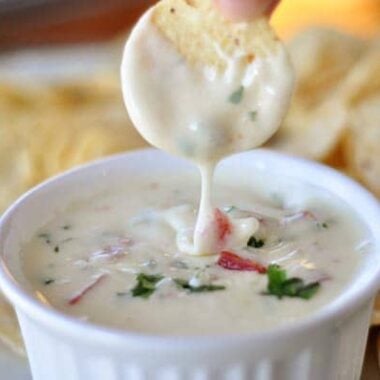 Ingredients
1 tablespoon canola or vegetable oil
1/4 cup finely chopped onion
1 jalapeño pepper, seeded and finely chopped
12 ounces white American cheese, shredded or sliced thinly
4 ounces Monterey jack cheese, shredded
1/4-2/3 cup milk
1 tomato, seeded and finely diced
2 tablespoons minced fresh cilantro
Instructions
Heat the oil in a medium saucepan over medium-high heat. Add the onion and jalapeño to the pan and cook, stirring occasionally, until tender, about 5 minutes.
Reduce the heat to medium-low.
Add both of the shredded cheeses and 1/4 cup of the milk. Whisk or stir until completely melted.
Mix in the tomato and cilantro, and add additional milk gradually as necessary to achieve desired consistency (I added about 1/2 cup total).
Transfer to a warmed serving bowl and serve immediately.
Notes
Cheese: white American cheese can be found at the deli counter in most grocery stores. I could only find it pre-sliced so instead of shredding it as stated in the recipe, I simply cut it into thin strips.

Leftovers: also, this dip reheats beautifully on low in the microwave or on the stovetop. Not that there will be any left...but if there is, now you know how to reheat.
Recommended Products
As an Amazon Associate and member of other affiliate programs, I earn from qualifying purchases.

Recipe Source: from Annie's Eats via Confections of a Foodie Bride
Disclaimer: I am a participant in the Amazon Services LLC Associates Program, an affiliate advertising program designed to provide a means for me to earn fees by linking to Amazon.com and affiliated sites. As an Amazon Associate I earn from qualifying purchases.