Quick Skillet Cheesy Fajita Nachos
This quick and tasty recipe for cheesy fajita skillet nachos is packed with flavor and can be on the table in less than 30-minutes!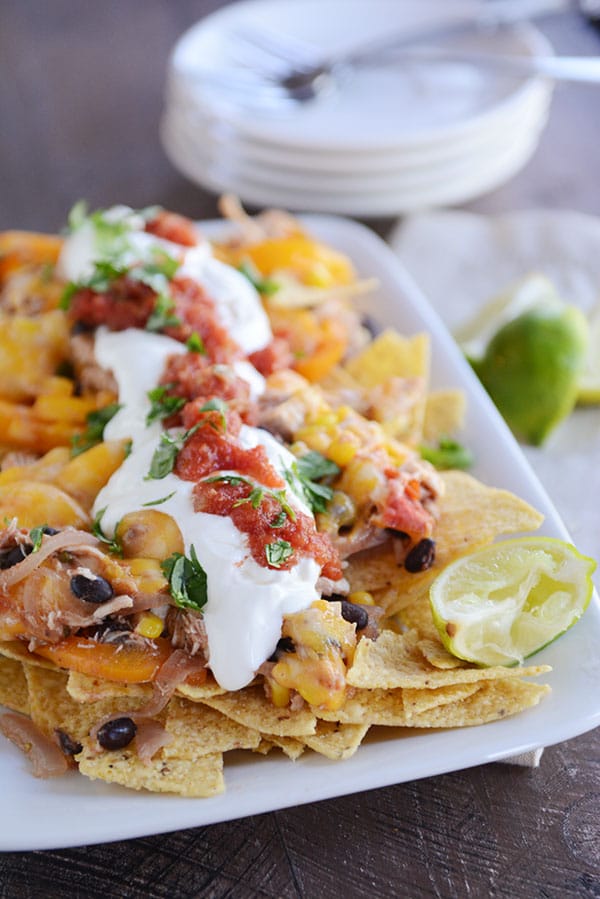 So?? If you were cooking for/celebrating the big holiday last week, how did it go?
I've seriously been dying of curiosity all weekend. If you can spare a few minutes, I'd love to know what you made, how you celebrated, what worked, what didn't! I live for details like that.
Our Thanksgiving holiday was very, very quiet.
It ended up just being our little family, which was wonderful, but we missed out on the crazy energy of a larger Thanksgiving crowd.
We had an extremely simplified Thanksgiving menu (that included hurrying up with the dishes so we could make it to a movie, wherein we were nearly the only ones in the theater).
So tell me everything! I really want to know how it went – your favorite parts. And even maybe some of the not-so-favorite parts, if you have them.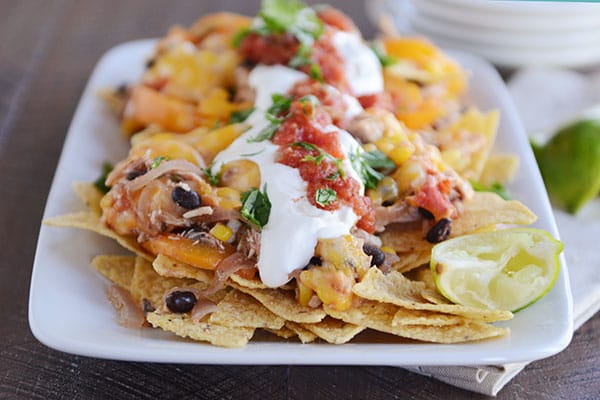 In the meantime, if you are swimming in leftover turkey, I have a super quick and delicious skillet nachos meal for you today (assuming you didn't use all the turkey and cranberry sauce in that life changing sandwich I shared last week).
This works wonderfully with cooked chicken, too…and I've included super simple instructions for cooking the meat in the 1st step if you don't have cooked chicken/turkey on hand.
We love this easy skillet meal over tortilla chips and loaded with all sorts of favorite fajita or taco toppings. However, you could absolutely use the filling in quesadillas, fajitas, tacos, burritos, over rice, or just by itself.
Versatile. Yummy. Easy. Flavorful. Fast. I don't know, could skillet nachos be the perfect meal?
That's a bold statement to make. Let's just say it's the perfect meal for a busy night when you need dinner on the table fast and want it to be exceptionally tasty.
And I don't know about you, but I'm glad the Thanksgiving recipe craze is behind us. I'm ready to chill out and share some of my favorite easy dinner recipes this month + a few holiday treats that will make you cry, they are so delicious.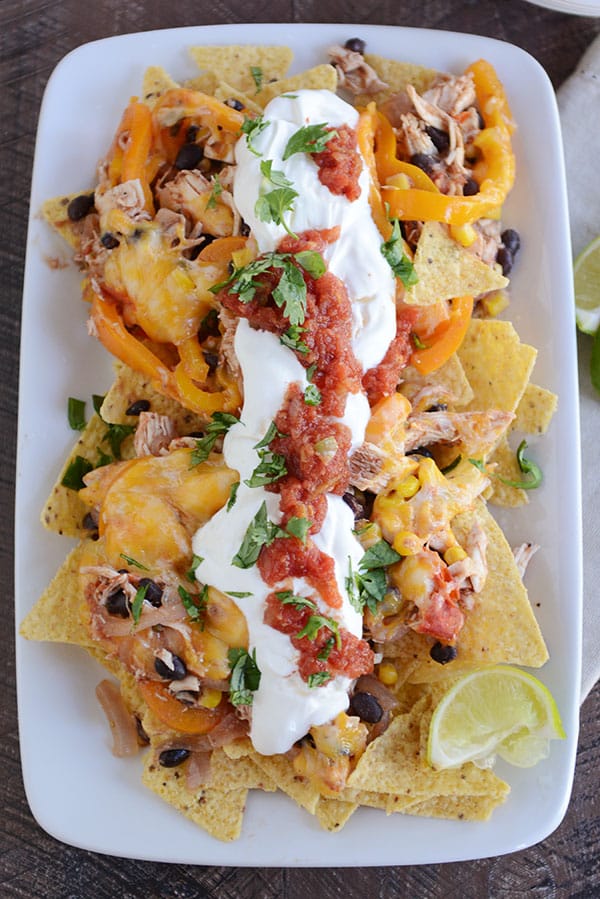 Fresh fruit
Skillet Green Beans
Mexican Rice
One Year Ago: Holiday Fruit Soup
Two Years Ago: Smothered Crispy Pork Cutlets with Cauliflower Mash
Three Years Ago: Chocolate Chip Toffee Blondie Mix in a Jar
Quick Skillet Cheesy Fajita Nachos
Yield: 6 servings

Prep Time: 15 minutes

Cook Time: 15 minutes

Total Time: 30 minutes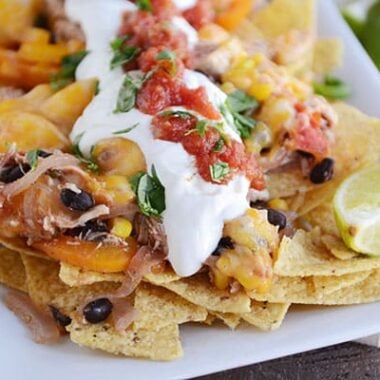 Ingredients
1 teaspoon olive oil
1/2 cup sliced red or yellow onion
1 bell pepper (any color), seeded and sliced or diced
1 cup fresh or frozen corn kernels
1/2 teaspoon salt
1/2 teaspoon black pepper
1 (15-ounce) can black beans, rinsed and drained
1 cup chopped Roma or cherry tomatoes
1/4 cup chicken broth
1/2 teaspoon ground cumin
1/2 teaspoon dried oregano
1 tablespoon fresh lime juice
3 cups cooked, chopped chicken (or leftover turkey!)
2 cups shredded Monterey Jack or sharp cheddar cheese (or a combination)
Tortilla chips
Sour cream, salsa, olives, fresh cilantro, avocado or any other topping you like
Instructions
In a 12-inch nonstick skillet, heat the olive oil over medium heat. Add the onions, bell pepper, corn, salt and pepper.
Saute the vegetables, stirring occasionally, for 3-4 minutes until they have softened and onions have turned translucent.
Add the beans, tomatoes, broth, cumin, and oregano. Bring the mixture to a gentle simmer, and cook for 5 minutes, stirring occasionally to prevent sticking.
Stir in the chicken and lime juice. Cook until heated through, 1-2 minutes. Season to taste with additional salt and pepper, if needed.
Sprinkle the cheese over the top of the mixture and cover with a lid or foil until the cheese is melted, 2-3 minutes.
Serve the fajita mixture over tortilla chips with any taco/fajita toppings you like.
Notes
Adaptations: this recipe is so yummy and adaptable! Serve it in tortillas as fajitas/tacos rather than over chips, if you like. You could probably use canned (drained first) diced tomatoes in place of the chopped, fresh tomatoes, if you want to experiment.

Chicken: also, if you don't have cooked chicken or turkey on hand, you can cook cubed chicken in the hot skillet with a little olive oil until cooked through and browned (or use this method for quick shredded chicken); remove to a plate and proceed with the recipe.
Recommended Products
As an Amazon Associate and member of other affiliate programs, I earn from qualifying purchases.

Recipe Source: from Mel's Kitchen Cafe
Disclaimer: I am a participant in the Amazon Services LLC Associates Program, an affiliate advertising program designed to provide a means for me to earn fees by linking to Amazon.com and affiliated sites. As an Amazon Associate I earn from qualifying purchases.