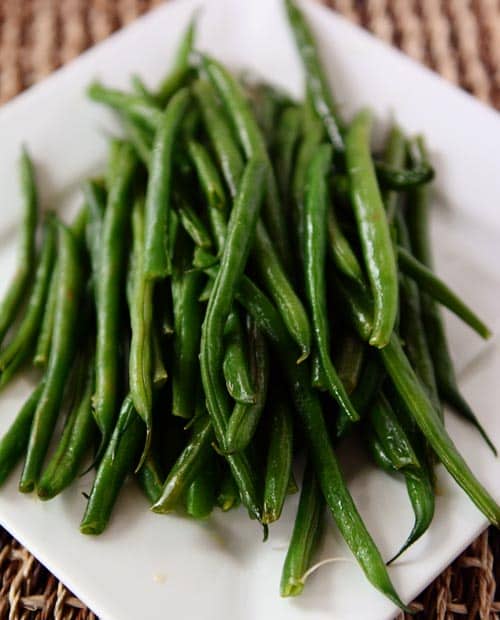 This recipe proves that side dishes for dinner don't have to be fussy or fancy or complicated. You are only three-ish ingredients and 12 or so minutes away from fresh green bean heaven. I'm so lazy I don't even trim the ends of the beans all the time (or very thoroughly) in my haste to get this delectable side dish on the table and they are still wonderful. Untrimming green beaners unite.
What started out a couple years ago as a I-Have-Green-Beans-What-Shall-I-Do-With-Them-That-Doesn't-Involve-Pressure-Canning conundrum has turned into our absolute favorite way to eat fresh green beans as a side dish. With green beans in season and more widely available right now than, say, in mid-January (jealous if you are actually getting them from your own garden!), this recipe just plain makes me happy.
It's not a stretch to say we eat these with any variety of main dishes several times a week and sometimes I whip them up for lunch because…well, it feels weird to say I crave green beans but I guess just really like them and think about them all the time…you know, because that's not a strange thing to confess at all. Plus, no better way to justify carrying around pockets full of dark chocolate chips the rest of the day for instant indulgence than eating a skillet loaded with green beans for lunch.
These simple green beans are definitely not cutting edge or rocket science but that's ok, because squid and chia seed smoothies are pretty highly overrated or so I hear. And if you love fresh green beans, you must (absolutely must) at some point in your life try this Balsamic Fresh Green Bean Salad. Ah, green beans. I'm so glad you are in season.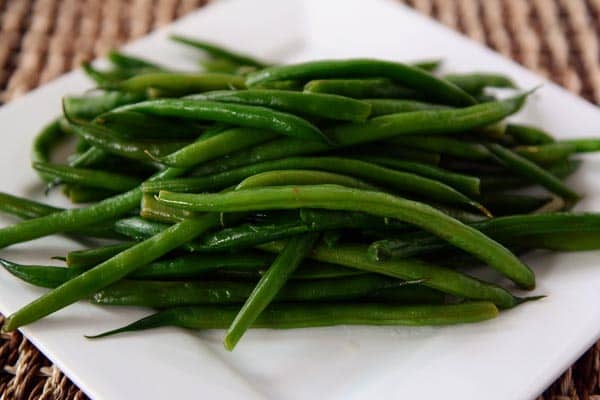 One Year Ago: Fresh Green Bean Salad with Balsamic Dressing
Two Years Ago: Salted Chocolate Toffee Pretzel Bark
Three Years Ago: Turkey Burgers with Romaine and Carrot Slaw
Simple Skillet Green Beans
After trimming the ends of the green beans, you can cut them into 1- or 2-inch lengths, but I usually leave them long so I can maybe, hopefully teach my kids the importance of cutting up food on their plate before shoveling it into their mouths.
Ingredients
1 teaspoon oil or butter
1 pound fresh green beans, ends trimmed
3/4 cup low-sodium chicken or vegetable broth
Salt and pepper to taste
Directions
In a large 12-inch nonstick skillet, heat the oil or butter over medium heat. Add the green beans and cook for 2-3 minutes, stirring often, to crisp up the edges of the beans just slightly.
Pour in the broth and bring the beans/broth to a simmer. Cover the skillet and cook anywhere from 6-10 minutes, depending on how tender you like your green beans. Keep an eye on the skillet - if it is simmering too vigorously and the liquid evaporates out, add a bit more as needed.
Season with salt and pepper to taste and serve immediately.
https://www.melskitchencafe.com/simple-skillet-green-beans/
Printed from Mel\'s Kitchen Cafe (www.melskitchencafe.com)
Recipe Source: from Mel's Kitchen Cafe