Pasta with a unique red brie pasta sauce is perfect for changing up regular ol' noodle night. This meal is quick, simple and satisfying.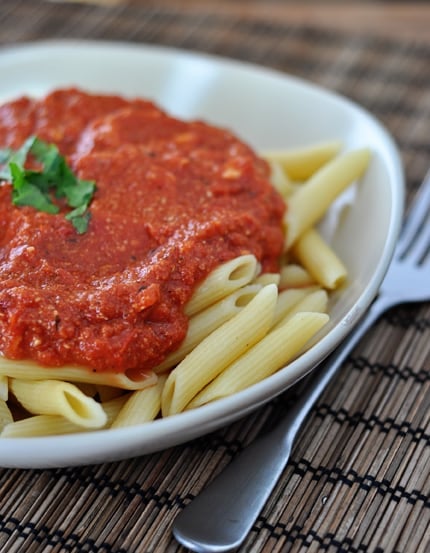 What better way to throw together a delicious weeknight meal than serving pasta with a unique red sauce that is perfect for changing up regular ol' noodle night.
Made in 30 minutes or less, this meal is satisfying and simple. A great combination.
While I love brie cheese in other applications, I've never considered using it as a creamy add-in for a pasta sauce. The medley of crushed tomatoes, simple spices and combination of Parmesan and brie cheese give the sauce a wonderful texture and flavor and because it is so simple, when I make this, I usually serve it alongside the Creamy Garlic Alfredo Sauce (another quick and delicious pasta sauce) for a little variety.
A naturally meatless sauce, you could easily add in some grilled chicken or sauteed ground turkey or beef for extra protein…or leave it meatless like we do to save a few dollars.

I like to serve meatless pasta dishes like this with whole wheat breadsticks, a green salad, and steamed veggies like broccoli or peas.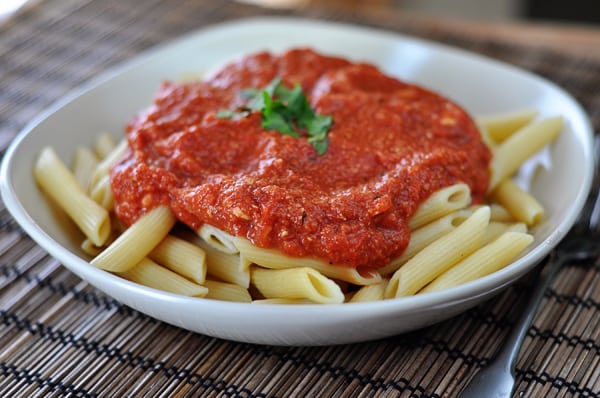 One Year Ago: Indian Butter Chicken
Two Years Ago: Maple Glazed Ham
Three Years Ago: Simple and Delicious Cheese Bread
Yield: Serves 4-6

Prep Time: 10 minutes

Cook Time: 14 minutes

Total Time: 24 minutes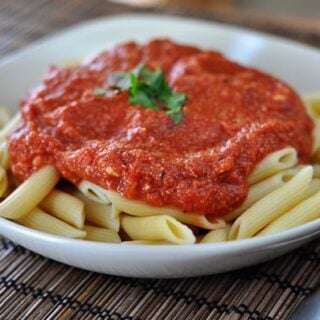 Ingredients
28-ounce can crushed tomatoes
1/2 teaspoon salt
1/2 teaspoon black pepper
1/4 teaspoon dried oregano
1 teaspoon sugar
1/4 teaspoon dried basil
1/4 teaspoon red pepper flakes, optional
1/4 cup freshly grated Parmesan cheese
4 ounces Brie cheese, outer rind removed, cubed
Instructions
In a medium saucepan, combine the crushed tomatoes, salt, pepper, oregano, sugar, basil and red pepper flakes (if using).
Bring the mixture to a simmer and cook for 5-6 minutes, stirring often.
Add the Parmesan cheese and stir well, continuing to simmer for another 1-2 minutes. Stir in the Brie cheese, simmering and stirring until the cheese melts.
Serve the sauce over penne pasta (most any shape of pasta will work well!).
Notes
Flavor: if you want to add yet another dimension of flavor to this sauce, you can start off by sautéing several cloves of minced garlic in olive oil and then adding the rest of the ingredients. I was in too much of a hurry so I simplified and still loved the result.

Olives: also, from what I hear, chopped black olives make a wonderful addition to the sauce.
Recommended Products
As an Amazon Associate and member of other affiliate programs, I earn from qualifying purchases.

Recipe Source: adapted slightly from my friend, Reyna, who originally got it from her friend, Michelle