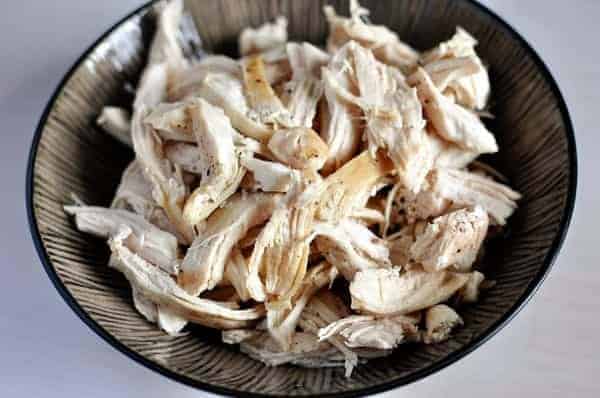 Keeping cooked, shredded chicken on hand is crucial to making dinner night a pleasure and not a pain. There are tons and tons of recipes out there that call for cooked chicken and I'm going to share with you my latest favorite method for getting tender, delicious cooked chicken without a) buying a rotisserie chicken and b) having to plan ahead.
Frequently, if I have happened to plan ahead, I'll throw chicken breasts in the slow cooker with low-sodium chicken broth and some simple seasonings and let it cook on low for 4-5 hours until the chicken breasts are just cooked through (too long in the crockpot and they'll be dry). After the chicken has been shredded and cooled, I will freeze the chicken to use for later. However, I don't always think to plan ahead and so when I came across this latest method from America's Test Kitchen, I knew it would be a lifechanger. And it has been. I've used this method at least 5-6 times in the last two weeks and I love the result. The chicken is moist and flavorful and I can have cooked, shredded chicken for a recipe in less than 15-20 minutes (plus, you can increase the proportions and freeze to use later). To be perfectly honest, I like the finished product of this chicken much more than the crockpot method. It has more flavor and is juicy and delicious. It's my new go-to.
I've included the how-to below. Also, for your viewing pleasure (and because I love these darn collages so much), I've put together a quick view of my top 16 favorite recipes that use cooked, shredded chicken. Armed with this list of recipes and an easy way to get that cooked, shredded chicken, you should be good to go!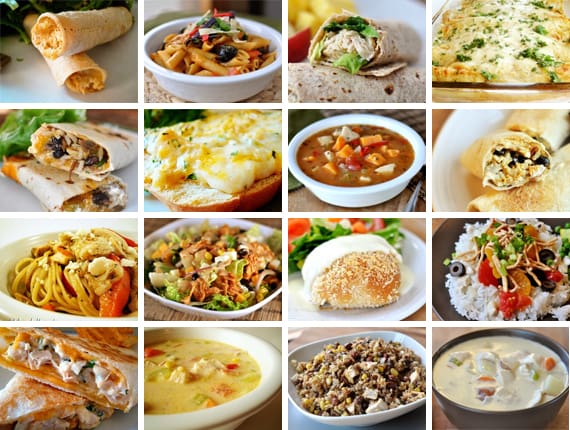 How To: Simple Shredded Chicken
Printable Version with Picture
Printable Version
*Makes 3-4 cups of cooked, shredded chicken
INGREDIENTS:
1 tablespoon olive oil
4 (about 2 pounds) boneless, skinless chicken breasts
Salt and pepper
3/4 cup water or low-sodium chicken broth
DIRECTIONS:
In a large 12-inch nonstick skillet with a lid, heat the olive oil over medium heat until hot and rippling. Pat the chicken dry and season with salt and pepper on both sides. Place the chicken top-side down in the hot skillet and let the chicken cook for 5 minutes until golden brown on top. Flip the chicken, add the water or chicken broth, cover the skillet and let the chicken simmer gently over medium heat for 7-10 minutes until the chicken is cooked through (it will register 160 degrees on a thermometer). Don't overcook or it might be dry. While the chicken is simmering, add additional water 1/4 cup at a time if the liquid evaporates too quickly. Remove the chicken from the skillet. Let it cool slightly before shredding. The cooked chicken will keep well-covered in the refrigerator for up to 3 days or can be frozen for up to 2 months.

Recipe Source: inspired by a method from America's Test Kitchen