Simple Herb Roasted Turkey + No-Fail Gravy Tips
If you need a killer roast turkey without any long, complicated steps, this simple, no-fuss, perfect herb roasted turkey recipe is for you!
You guys. Let's talk turkey.
Who's on turkey duty this year for Thanksgiving?
Who's never cooked a turkey in their life? Come on, raise your hand.
Don't worry. You aren't alone.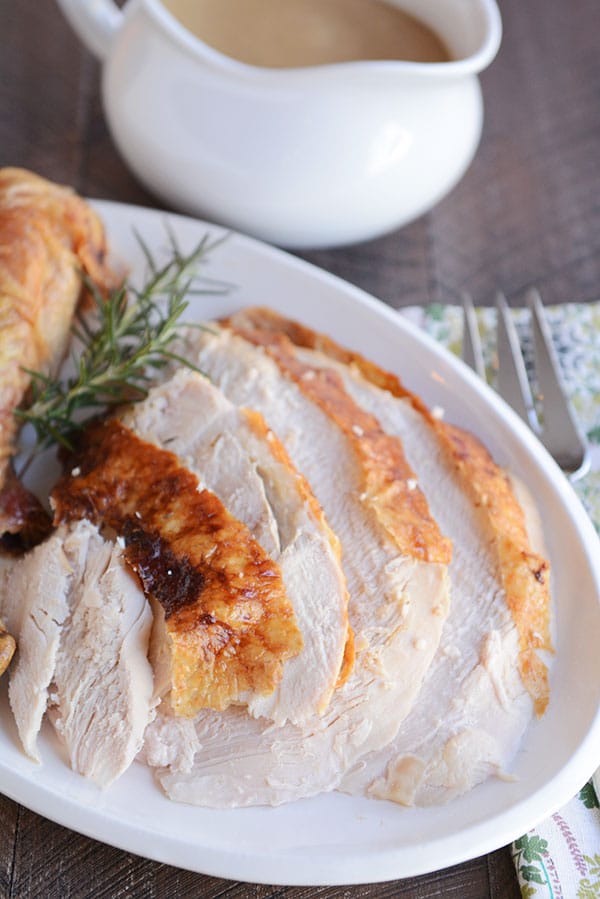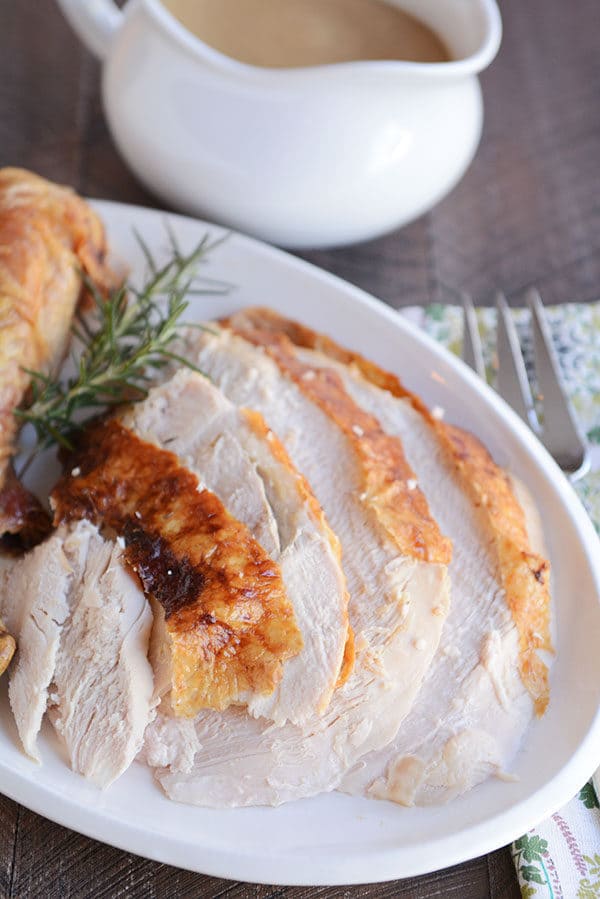 Cooking a turkey scared the bejeebies out of me for years until I finally had to buckle down and do it one year when our little family hosted Thanksgiving with some friends in the midwest, and my mom had better things to do than drive 28 hours to my house to make the turkey for me.
I was scared. Stressed. I over-talked turkey for weeks to Brian (who was soooo over it by the time Thanksgiving rolled around), but what do you know? In the end, I made a turkey!
And not to brag, but it was kind of amazing, and now I look forward to it every year when turkey duty falls on my shoulders.
I've talked turkey before. This brown bag 2-hour turkey revolutionized many of your lives back in the early days of my blog (although please don't send me hate mail about using a real, live brown paper bag in the oven; just make your own informed decision and move forward).
Don't forget this wonderfully simple slow cooker turkey breast. It's crazy tender and makes it's own gravy, which is kind of a miracle in and of itself.
And this brined turkey I posted a couple years ago is incredible. Really amazing.
In fact, it's been my go-to (other than when we smoke a turkey, because that might really be the best thing ever, and maybe some day I'll post about it).
But, I'm not going to lie, sometimes the thought of digging out my ginormous plastic bucket and making and cooling a brine and plunging the turkey into briny ice and making sure it stays cool enough and finding a place for it (bathtub??) overnight and then tackling the whole issue of a wet, dripping turkey all over my kitchen floor whilst transferring turkey from brine to roasting pan totally does not excite me.
Sorry if I just talked you out of making that recipe; it's really not hard, and the results are terribly delicious, but clearly, my coping skills are on the low end this year when it comes to turkey roasting.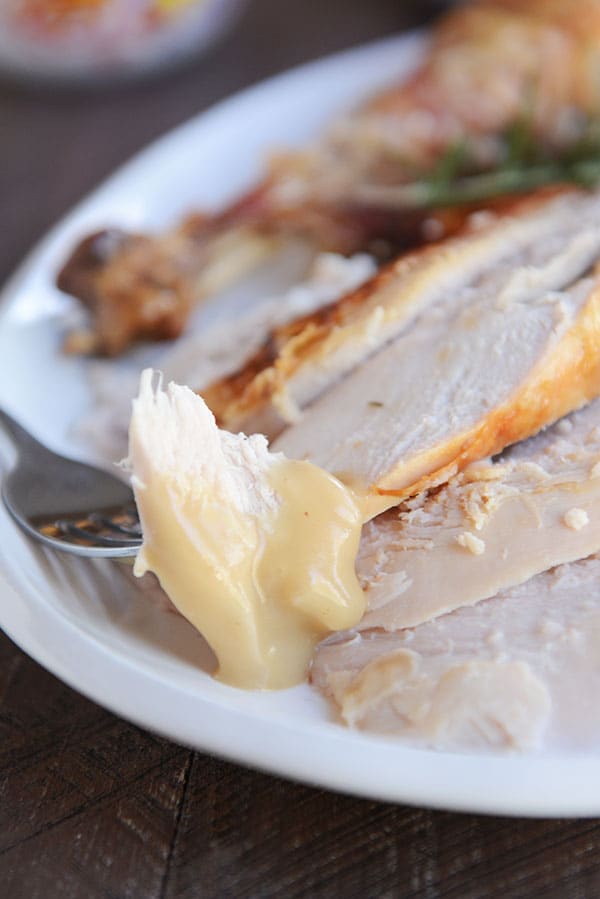 I decided to find the best, simple herb roasted turkey recipe…and this is most definitely it!
Helped along by slathering butter under and over the skin and stuffing the turkey with flavorful aromatics, there's nothing tricky or overly time consuming about this roasted turkey recipe.
It's amazing, and anyone can make this herb roasted turkey and feel like a rock star. Promise.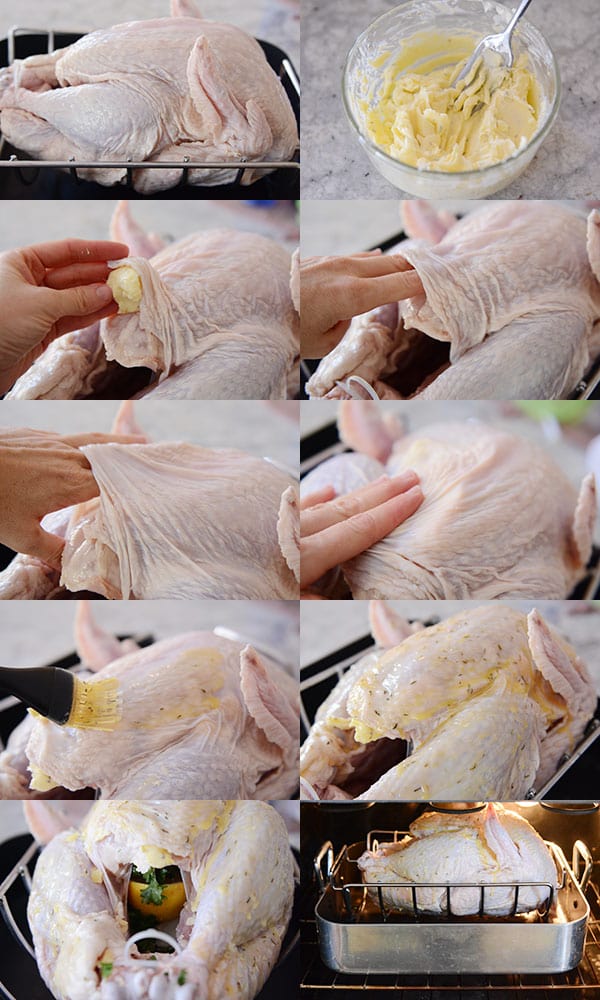 Now let's talk gravy for a second.
Perfect Gravy Tips:
I usually use the easy turkey gravy recipe from this post, but I wanted to give you a few extra no-fail gravy tips today, as well. My go-to method has changed a bit. This makes the best gravy ever:
1) When the turkey is done roasting, I immediately pour 1-2 cups chicken broth into the bottom of the roasting pan over the turkey drippings, and let it all sit for a minute or so.
2) Once the rack/turkey has been removed from the roasting pan, I scrape up the broth and drippings from the bottom of the roasting pan and strain it all through a fine mesh strainer, pressing on those solids to get every last bit of goodness out, into a fat separator (this being a totally essential tool for Thanksgiving, just saying); I discard the solids and use the flavorful broth in the gravy.
3) I've started making my Thanksgiving gravy by melting 6-8 tablespoons butter and stirring in 1/2 cup flour. I cook it, stirring constantly, until golden, maybe 2-3 minutes.
4) Gradually, I stir in the strained broth from the drippings in the roasting pan. And then I whisk quickly and constantly like my life depends on it. I continue to stir while the gravy bubbles and thickens and add additional broth until it's the right consistency.
5) The most important part? Salt and pepper to taste (don't forget this step!). Bland gravy is no gravy at all.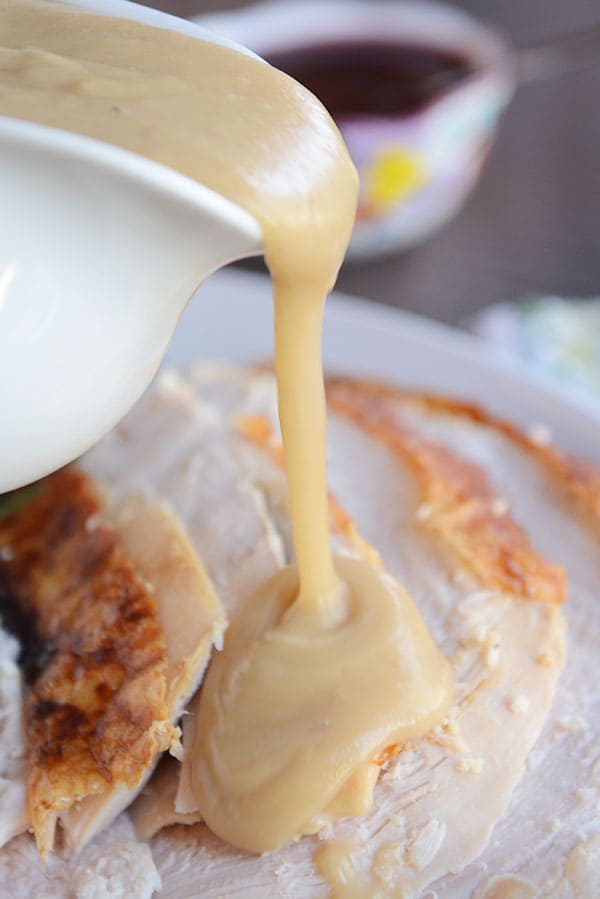 If you need to make a killer roast turkey this year without long, complicated steps, this herb roasted turkey recipe is for you!
And that gravy? Heavenly.
One Year Ago: Stuffed Apple and Bacon Sweet Potato Casserole
Two Years Ago: Classic Pumpkin Pie
Three Years Ago: Smoky Corn Chowder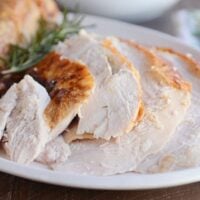 Simple Herb Roasted Turkey
Ingredients
10-13

pound

turkey

,

thawed or fresh

Coarse kosher salt

Freshly ground black pepper

½

cup

(

113

g

)

salted butter

,

softened

1

tablespoon

fresh thyme

,

or 1 teaspoon dried

1

whole lemon

,

zested

1

medium onion

,

skin removed and quartered

Bunch of parsley

1-2

medium carrots

,

chopped into thirds

1-2

celery stalks

,

chopped into thirds
Instructions
Preheat the oven to 350 degrees F.

Remove the giblets and neck from the turkey cavity. Place the turkey on a rack set in a roasting pan.

In a small bowl, combine the butter, thyme, and lemon zest.

Salt and pepper all over the outside of the turkey; also liberally salt and pepper inside of the turkey cavity and stuff with the lemon (that was zested for the butter mixture), onion, parsley, carrots and celery.

With your fingers, gently loosen the skin around the turkey breast. Grab tablespoon-size pieces of the butter mixture and place it in between the skin and the breast meat, going back as far as you can without ripping the skin. You won't use all the butter; there should be about half left over.

Once dots of butter are under the skin, press on top of the skin to mash the butter around into a relatively even layer; it definitely doesn't have to be perfect. You just want little pats of butter all over between the skin and the breast meat (see pictures below for a how-to).

Melt the rest of the butter. Brush it all over the skin of the turkey.

Roast the turkey for 2 1/2 to 3 hours, until the meatiest part of a chicken thigh registers a steady 165 degrees F.

Remove the turkey from the oven and let rest for 15-20 minutes before carving and serving.
Notes
Turkey: I know it might seem like "go big or go home" when it comes to turkey, but the bigger the turkey, the harder it is to cook it evenly and get a great, juicy, perfect result. If you can, follow the size guidelines as closely as possible (although I won't blame you if you get a 25-pounder and just go for it). Gloves: if raw poultry in general kind of creeps you out, feel free to don plastic gloves to do the whole butter-under-the-skin thing. It's a totally acceptable way to get the job done.
Serving:
1
Serving
,
Calories:
455
kcal
,
Carbohydrates:
2
g
,
Protein:
58
g
,
Fat:
23
g
,
Saturated Fat:
9
g
,
Cholesterol:
214
mg
,
Sodium:
372
mg
,
Fiber:
1
g
,
Sugar:
1
g
Recommended Products
Follow @MelsKitchenCafe on Instagram and show me the recipes you are making from my blog using the hashtag #melskitchencafe. I love seeing all the goodness you are whipping up in your kitchens!
Recipe Source: adapted from Ina Garten's Roast Turkey recipe
Disclaimer: I am a participant in the Amazon Services LLC Associates Program, an affiliate advertising program designed to provide a means for me to earn fees by linking to Amazon.com and affiliated sites. As an Amazon Associate I earn from qualifying purchases.