Turkey
The turkey is usually the main attraction of the Thanksgiving feast, so if you want a no-fail, delicious Thanksgiving turkey look no further!
I used to be scared of cooking turkeys. They frightened me. They are big. They have the potential to transmit food-borne illnesses if cooked improperly. They are heavy. They are unattractive in their naked, uncooked form. I was intimidated.
That is, until my Aunt Marilyn pulled through with her incredible 2-hour turkey recipe/method.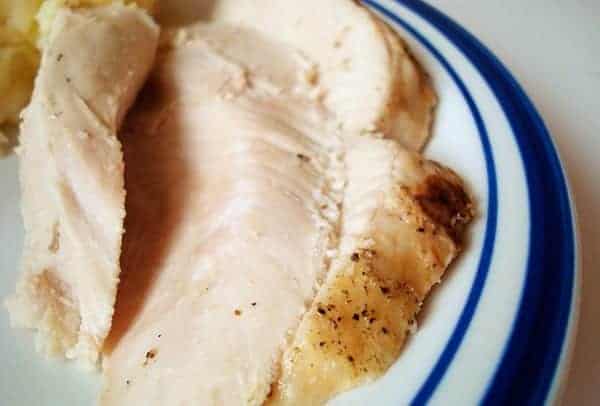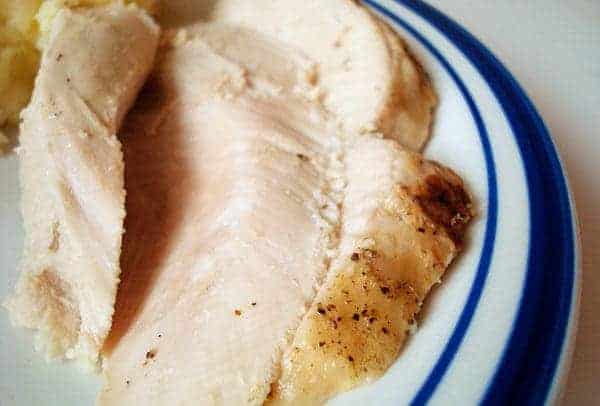 For the record, I've made this twice now (my Aunt has made it numerous times).
The first time I happened to set my oven on fire, but let's not dwell on that, because the second time, this turkey was undeniably the juiciest, most tender, flavorful turkey I've ever had.
No brining, no overnight bakes and soaks, just old-fashioned seasonings and a unique cooking method.
The name is a tad misleading because with oven preheating time included, it takes a bit longer than two hours, but the result is well worth it. It is the main attraction, after all, so it does deserve some extra TLC.
I'm no longer afraid of the Thanksgiving bird and I will never need another turkey recipe. This one's a keeper. Oh, and the drippings make unbelievably delicious gravy.
Make Ahead Tip:
The only tip I'll mention is to be sure and plan ahead for defrosting your turkey! The safest way to defrost a turkey is in the refrigerator. If your turkey is frozen, the best method to plan on is to place the turkey in the refrigerator and allow approximately 24 hours of defrosting for every 5 pounds of turkey. That means, plan ahead! If your turkey weighs 20 pounds, you'll need four days of defrosting time.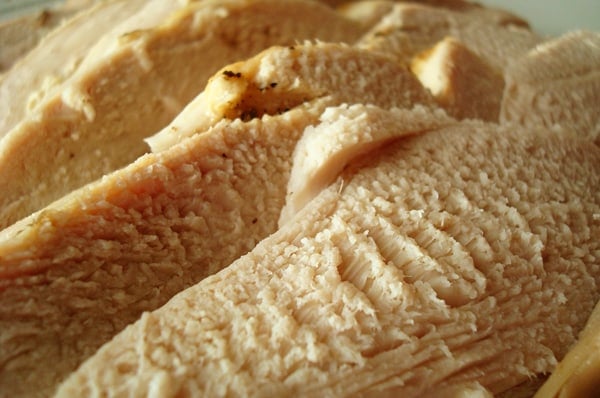 Turkey
Ingredients
1 (18-22)

pound

turkey

,

I've used a 14-pound turkey with great results, also

Carrots

,

celery (cut into large chunks), onion (peeled and cut into large chunks), garlic cloves (peeled and smashed)

Juice of 1 lemon

1

tablespoon

salt

1

tablespoon

pepper

1

tablespoon

poultry seasoning

Butter

Brown paper bag
Instructions
Preheat the oven to 500 degrees and let it heat for one hour. Meanwhile, remove giblets and neck and wash the turkey. Fill the cavity of the turkey with carrots, celery, garlic and onion. Combine the lemon juice, salt, pepper and poultry seasoning in a small bowl. With your hands, rub the entire turkey with the lemon juice mixture.

Place the turkey breast down (this is opposite of how a turkey is normally cooked – so just flip the turkey upside down) in a large roasting pan. Place the roasting pan in the hot oven for as many minutes as the turkey weighs (ie. 19 lb. turkey = 19 minutes). Bake for the allotted time.

Meanwhile, grease a large brown paper bag with butter on both sides. Remove the roasting pan from the oven and carefully (because the turkey and roasting pan are HOT) make a tent out of th paper bag and drape it over the turkey, taking care to tuck the sides of the bag into the roasting pan (otherwise, the butter will drip off the bag, leap onto the oven burner and possibly create a large fire…I may or may not know this from experience). See pictures below for a visual image. Turn the oven down to 400 degrees and cook the turkey for two hours.

Remove the roasting pan and turkey from the oven and let turkey sit for 20 minutes. Remove turkey from the roasting pan and pour the drippings into a medium-sized saucepan. Bring to a boil. Make a slurry from flour and water (to the consistency of thick, heavy cream) and add to the drippings until desired consistency is reached.
Recommended Products
Follow @MelsKitchenCafe on Instagram and show me the recipes you are making from my blog using the hashtag #melskitchencafe. I love seeing all the goodness you are whipping up in your kitchens!
Recipe Source: adapted slightly from Aunt Marilyn
*There is information, like this link, that recommends not using grocery store paper bags for cooking. If you are concerned about that, you can try a large oven bag, but I've never tried it and can't attest to how it would work.
Here is a sideview of the roasting pan with the paper bag tucked INTO the sides. The paper bag should be greased with butter on both sides and tucked in like picture below. With my large roasting pan, I still had to trim about four or five inches off the side of the paper bag so it wasn't too long to tuck in.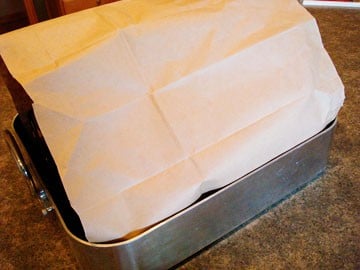 Front View. No biggie, I promise!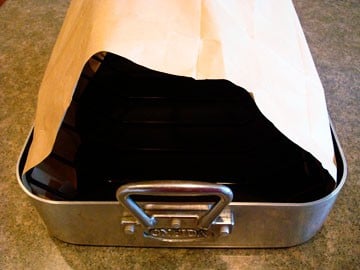 Disclaimer: I am a participant in the Amazon Services LLC Associates Program, an affiliate advertising program designed to provide a means for me to earn fees by linking to Amazon.com and affiliated sites. As an Amazon Associate I earn from qualifying purchases.