I know, I know, applesauce is applesauce. But actually, I'm here with breaking news that this (yes, this Slow Cooker Applesauce) is not just applesauce. It's the best applesauce ever. There, I said it. Ever. <–Despite the over usage of this "best ever" descriptor, you have to believe me on this one.
Every year we pick loads of apples, lightly steam them, watch the magic of the food mill turn them into applesauce and then water bath process them so our food shelves look pretty with bottles of applesauce sitting next to the peaches. And it's great applesauce. Really, it is. But there must be something magic in slow cooking the apples with a bit of cinnamon and nutmeg to crazy tenderness and then blending until silky and smooth because this crockpot version is, dare I say, decadent. Can applesauce be decadent? I hereby declare it to be so, especially when eaten warm. So, so yum.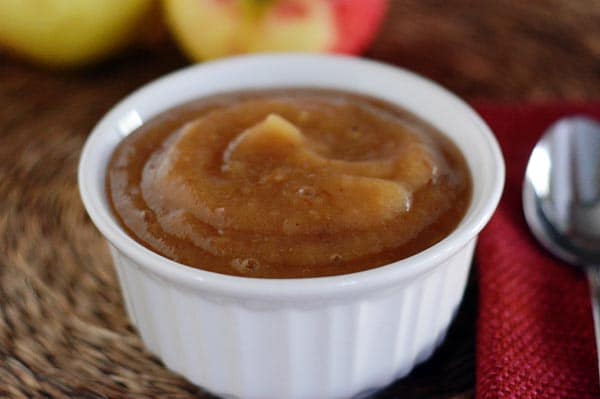 I've made this several times since my friend, Heather, sent me the recipe, and I finally landed on the perfect mix-and-match of apples. It's sweet (with no added sugar – hooray!) and still slightly tart while the cinnamon and nutmeg give that great nutty warmth that makes me want to wear a snuggie and sit in front of the fireplace while eating.
I'm sure this could be bottled/canned, but for us, we've just been making it to enjoy. It goes very, very quickly which is ok since it's a total breeze to throw together (I mean, hello, slow cooker) and plus, the house smells all sorts of amazing while it cooks. Homemade applesauce should totally become your thing this fall. People are going to love you for it, mark my words.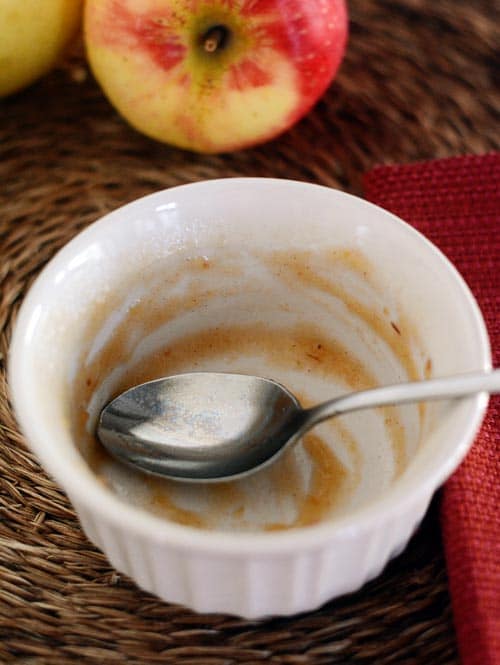 One Year Ago: Green Lentil Soup with Curried Brown Butter
Two Years Ago: Red Chicken Chili
Three Years Ago: Spooky Eats: Mummy-Dogs and Mummy Cookies
You could obviously experiment with any type of apple here, but after making this several times, the apples noted below are my favorite blend.
Ingredients
2 Honey Crisp apples
5 Golden Delicious apples
7 Gala apples
2 tablespoons fresh lemon juice (from about 1 large lemon)
1 teaspoon ground cinnamon
1/8 teaspoon ground nutmeg
Directions
Cut the apples into quarters and slice out the pieces of core in each one. Leaving the peels on or off is your choice. If leaving them on, be sure to wash the apples very well (even if buying organic). I usually leave the peels on about half of the apples and blend it for a minute or two longer after cooking so it's ultra-smooth. If you want a chunkier applesauce, I'd suggest peeling all the apples so you can leave the sauce with texture and not get bits of peel all over.
In a large, oval slow cooker (about 7- to 8-quarts), toss the apples with the lemon juice, cinnamon and nutmeg. Cover and cook on low for 4 hours.
Blend with a handheld immersion blender or by scooping the applesauce into a blender (may need to do this in batches - take care since hot foods expand in a blender so only fill it half full).
Serve warm, room temperature or chilled. This will keep well-covered in the refrigerator for a week or two and can be frozen for a couple of months.
https://www.melskitchencafe.com/slow-cooker-applesauce-no-sugar-added/
Printed from Mel\'s Kitchen Cafe (www.melskitchencafe.com)
Recipe Source: adapted from my friend, Heather (who always sends me the best recipes like this cream cheese banana bread!)